(Step by step photos on how to pickle wild leek bulbs or ramp bulbs)
[imagebrowser id=20]
It's the end of wild leek or ramp season, and what's left in some markets are just the bulbs, which last much longer than the entire thing. For these strays, it's best to pickle and preserve so that you'll get to enjoy them all year long.
I just learned that in the South, where they are harvested in April, they are called RAMPS. In the north, they are called WILD LEEKS. Why the difference? I really don't know….readers?
If you've never had wild leeks/ramps before, here's what they look like fresh – a photo I found at a great website called The Forager Press: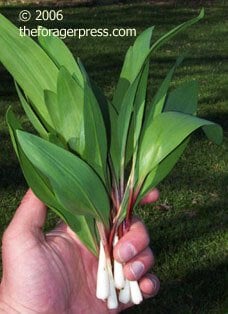 From what I understand, Wild Leeks have a bigger bulb and more pungent flavor. Leeks have skinnier, smaller bulbs (like that photo right above)
Wild Leeks or Ramps are basically a wild onion – and the taste is like if you smashed an onion with a clove of garlic. Yes, quite pungent. Eat too many of these babies…and let's just say…don't plan on any nookie tonight.
If you're lucky to find ramp bulbs or wild leek bulbs, PICKLE THEM!! I seared for a perfect Asian-style recipe and BINGO – found it on Chow. And get this…the recipe originates from picklin' god himself, David Chang of Momofuku Noodle Bar.
Momo-frickin'-fuku!
Yeah, recipe is a definite keeper – FANTASTIC.
Momofuku's Pickled Wild Leek/Ramp Bulbs Recipe
recipe adapted from David Chang of Momofuku Noodle Bar via Chow. You can find wild leek/ramp bulbs from Earthy.com. Hurry – only a few more days left before they run out!
This is a perfect pair-with-beer or pair-with-sake type of little pickle. Just make sure your girlfriend or boyfriend is eating the same thing as you. If you are using whole ramps (bulb and leaves, you can use the entire thing, unless the leaves are old…then in that case just use the bulbs and trim off the leaves)
1 pound ramps bulbs (or whole ramps), trimmed and washed
1 cup granulated sugar
1 cup rice wine vinegar
1 cup water
1 tablespoon kosher salt (or 1/2 tablespoon table salt)
1 tablespoon Japanese seven spice (Shichimi Togarashi)
1 1/2 teaspoons Korean crushed red pepper (kochukaru) or other mild crushed chili pepper
1. Bring a saucepan of water to boil. Briefly blanch the ramp bulbs in salted water. If using entire young ramp (small bulb + leaves) no need to blanch. Drain and set aside.
2. Combine all ingredient except the ramp bulbs in the saucepan over medium high heat. Bring to a boil, whisking until the sugar has dissolved. Turn off the heat and add the ramp bulbs to the brine mixture in the pan. Let cool to room temperature and then transfer to a smaller nonreactive container, cover tightly, and place in the refrigerator overnight. You could also can the pickled ramp bulbs.
Another great recipe using ramps is No Recipes' Ramp Kimchi