Last week, I was in Asheville North Carolina with a few of my very favorite bloggers. I do travel quite a bit, so when I have a chance to invite along Diane and Todd of White On Rice, I always do. And has nothing to do with how fantastic, gorgeous and radiant I look when the duo works their camera magic…

(Scott and I last month at Todd and Diane's house)
Though is nice to have a friend that makes you look goooood.
Then, there are bloggers whom I've only have known through pixels, but thought it would be really interesting to meet in person, like these two:

(Helen of Tartelette and Brian of The Food Geek)
Oh, you wonder at what Brian is eating? That be a Bacon-Egg-Croissant with Homemade Chipotle Grits from Sunny Point. Feast Your Eyes.
And I got to meet some new friends. From the left is Alison of The Humble Gourmand , Brian of The Food Geek, Tami of Running with Tweezers, and Diane and to the right of me Todd of White on Rice.

(Helen if you're reading this, I think you'll understand and appreciate why this photo is cropped just so, sparing you and your lovely bosom from embarrassment.) <- i can't believe i just typed that
On our trip, I did discover that I don't belong in a restaurant kitchen, for starters they frown upon hair jewelry and whispy bangs.
Oh, yeah. Hot pink nail polish wouldn't work with a hairnet.
But, a chef/blogger Iron Chef-like competition is much more fun when you're working with a hot, young chef and sneaking a few glugs of cooking wine in little plastic condiment cups…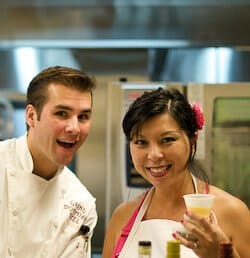 Speaking of alcohol, I think we had plenty of it, and the best was artisan beer brewed by a Chinese man born in Jamaica who owns a Scottish brewing company called Highland Brewing Company. But then we topped his beer off with hand-made ice cream by Ultimate Ice Cream Company.
Oh, so much for a job at the brewery…
Apparently I gave too much ___. <– my husband made me delete that word
The Grove Park Inn Resort and Spa was so gracious to host our group, and so I decided to return the favor and treat them all to an Japanese Artisan Sake Tasting, courtesy of Vine Connections. Look at the sea of glasses!
See what I mean about Diane and Todd making me look so damn good, even when I'm drunk off my ass?
Even Dodie, who organized our entire trip, couldn't help but fall under Diane's magical beauty spell…
Anyways, I have more to share…including photos and stories about goats, cattle and trout…but another time. I need to make myself a cocktail!
Here's a recipe for you, from Grove Park Inn – this Xanadu cocktail is a must-try. The flavor combination of fresh grapefruit juice and basil leaves are incredible – perfect for hot weather.
Xanadu Cocktail: Basil and Grapefruit
recipe from Grove Park Inn, Asheville North Carolina
2 basil leaves
1/2 grapefruit, juiced
1 1/2 ounce Hendricks Gin
1/4 ounce simple syrup
club soda
1 thin slice grapefruit
In a rocks glass, muddle 1 basil leaf with symple syrup. Fill the glass with ice. Add fresh squeezed grapefruit juice and gin. Stir and top with club soda. Garnish with basil leaf and sliced grapefruit.