Asian Salmon Burgers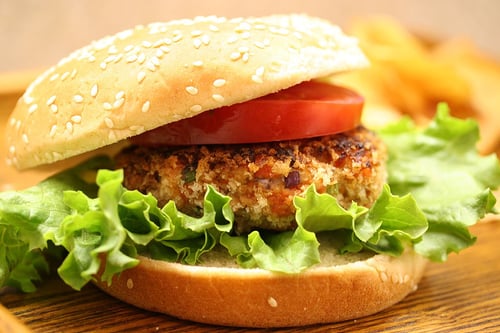 Asian Salmon Burgers
Servings: Makes 4 patties
Prep Time:
Cook Time:
Ingredients:
1 lb Salmon Filet, minced into 1/4" dice or smaller
1 teaspoon grated fresh ginger
1 teaspoon finely minced garlic (best to use a garlic press)
1 tablespoon soy sauce
2 tablespoons Hoisin
1 teaspoon Sesame Oil
1 cup Panko breadcrumbs
1/4 cup Red Onion, minced
1 Egg, beaten
Additional 2 tablespoons Hoisin sauce to brush on burger
4 Burger buns, lettuce, tomato slices, mayonnaise


Directions:
1. In a small bowl, combine ginger, garlic, soy, hoisin, sesame oil, and egg.
2. In a large bowl, combine the salmon, red onion and 1/4c of the Panko. (Set aside the remaining Panko in a shallow bowl.)
3. Add the liquid ingredients to the salmon mixture. Shape the salmon into 4 burger patties. Carefully dredge each burger in the remaining Panko.
4. Cover and refrigerate burgers for at least 1 hour up to 4 hours. 5. Preheat oven to 375 degrees. Heat oil in a non-stick fry pan over medium heat. Fry burgers (don't overcrowd!) 2 minutes on first side, Turn. Fry second side 1 minute. Brush a small amount of Hoisin on the tops of the burgers. 6. Bake in oven for 3 minutes, or until cooked through. If you like your salmon medium rare, only bake for 2 minutes. Serve with buns, lettuce, tomato slices.