Bursting with plenty of lean protein from the shrimp, this Pad Thai Salad recipe is fit as a main course. This recipe is courtesy of celebrity chef Bobby Flay's new cookbook Bobby Flay Fit: 200 Recipes for a Healthy Lifestyle.
Learn how to make a spicy, nutty salad dressing
Instead of shrimp, you can add grilled chicken breast!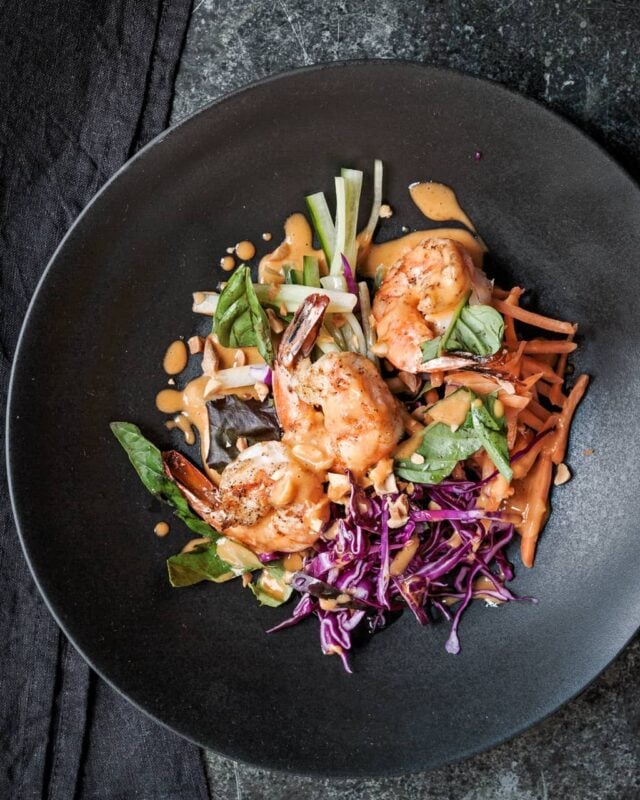 "Pad thai, the peanut- and egg-laden Thai noodle dish, is a carb-lover's dream, but man, is it calorically dense! But I love all those nutty, sweet, spicy, and savory flavors. This salad is the healthy and delicious answer to all your cravings. It's fresh, crunchy, full of flavor, and loaded with lean protein — totally satisfying." – Bobby Flay
We're a few weeks into 2018, and if your new year's resolution is to eat healthier, this book is perfect. Bobby Flay's mastery of big flavor using spices and fresh ingredients makes eating healthy easy, and not a sacrifice.
One of the biggest bonuses to Bobby Flay's cooking method is that he considers not just how each bite tastes, but also interesting textures and flavor combinations. For example, toasted Parmesan cheese adds nuttiness, chopped nuts add crunch, dried cherries add a chewy tartness. You won't miss the fat or the calories in these recipes!
In Bobby Flay Fit: 200 Recipes for a Healthy Lifestyle, Bobby shares smoothies and juices, breakfast bowls, snacks to fuel workouts, hearty salads, nourishing soups, satisfying dinners, and lightened-up desserts. With fitness tips and a look into the chef's daily healthy routines, this cookbook is for those who want to eat right without overhauling their pantries or sacrificing taste.
Here are some of my favorite recipes from the book. The recipe text has been blurred….we encourage you to buy the book if you like what you see!
For breakfast, Spelt Waffles with Blueberry Compote and Lemon Ricotta Cream.
Bobby's Roasted Green Beans with Tomatoes and Hazelnuts recipe is brilliant. Grape or cherry tomatoes are roasted in the oven to bring out the mellow sweetness. Take half of the roasted tomatoes and blend them with fresh parsley, garlic, vinegar and some hazelnuts to create a rich, nutty sauce to serve alongside the dish.
The book also features low-carb ways to enjoy your favorite dishes, like Eggplant Parmesan. Instead of breading and deep frying the eggplant, Bobby teaches you how to make this dish the authentic Italian way, no deep frying!
In the dessert section, how about Bittersweet Maple Bark with Quinoa, Cashews, Apricots and Cherries? At first, I was like "quinoa in chocolate?!" but Bobby says to think of this as "grown up rice crispies!" The quinoa is roasted to become crispy and crunchy.
Shrimp Pad Thai Salad
Reprinted with permission from Bobby Flay Fit © 2017 by Bobby Flay (Clarkson Potter/Publishers, Penguin Random House). http://amzn.to/2mBrQE1
Ingredients
FOR THE SPICY PAD THAI DRESSING
1/4

cup

rice wine vinegar

or white wine vinegar

Juice of 1 lime

1 1/2

tablespoons

natural nut butter

cashew, peanut or almond butter

2

teaspoons

chile-garlic sauce

(such as Sriracha)

1/4

cup

canola oil

or other neutral flavored oil (I like grapeseed oil)

2

tablespoons

water

sea salt and freshly ground black pepper
FOR THE SALAD
12

extra-large or jumbo shrimp

(about 1/2 pound, peeled)

1

tablespoon

canola oil

or other neutral flavored oil (I like grapeseed oil)

6

ounces

baby greens

1/2

cup

shredded carrot

(about 1 large carrot)

1/4

small head of red cabbage

finely shredded

1

medium English cucumber

diced

2

ounces

bean sprouts

1/4

cup

torn fresh basil

sea salt and freshly ground black pepper

1/4

cup

chopped toasted nuts

cashews, almonds or peanuts
Instructions
Make the dressing: In a blender, combine the vinegar, lime juice, nut butter, chile sauce, oil, and water, season with salt and pepper, and blend until smooth.

Cook the shrimp: Toss the shrimp with the 1 tablespoon of cooking oil. Heat a grill pan over high heat. When hot, add the shrimp. Cook 2 minutes, then flip shrimp and cook an additional 1 minute, or until cooked through.

Toss the salad: In a large bowl, mix together the greens, carrot, cabbage, cucumber, bean sprouts, and basil, add some of the dressing, and toss to coat. Season with salt and pepper.

Transfer to a platter and top with the shrimp, additional dressing and the chopped nuts.

Nutrition
Calories:
314
kcal
Carbohydrates:
15
g
Protein:
9
g
Fat:
25
g
Saturated Fat:
2
g
Cholesterol:
45
mg
Sodium:
330
mg
Potassium:
490
mg
Fiber:
3
g
Sugar:
5
g
Vitamin A:
3900
IU
Vitamin C:
47.9
mg
Calcium:
84
mg
Iron:
1.9
mg
In an effort to curb food waste and encourage adding variety to your diet, we've come up with a Buddha Bowl initiative.
Buddha bowls always have their place at the table, whether you're repurposing leftovers from this recipe or making them for the first time.
It's basically a big bowl full of whole foods, mostly vegetables, atop a bed of grains – super customizable for any meal and anybody!
Use these easy tips to turn this Shrimp Pad Thai Salad into a Buddha Bowl!
1. Just add a grain base >
In keeping with the slow-carb-friendly recipe, here are some slow-burning options:
Quinoa – 10-15 minutes typically; can't go wrong with directions from the box!
Barley – We like cooking barley in vegetable broth instead of water. This grain also takes about 40 minutes to cook.
Bulgur – Fast and tasty. I like Bob's Red Mill brand.
Farro – Bon Appetit has the perfect recipe for cooking farro.
Freekeh – This one is my favorite! See if you can find cracked freekeh at a health food store. Here's how to cook it.

2. Top with your pad Thai salad – shrimp, veggies, and sauce! >

3. Follow up with a crunchy topping if you like! >

Sesame seeds
Chopped peanuts
Slivered almonds
Pumpkin seeds
Flax seeds
or Fried noodles/wontons

4. Still need a little color? Maybe nestle in some fleshy vegetables! >

Tomatoes – cherry or Roma, halves or chunks
Bell peppers – 2″ square
Zucchini – chunks
Mushrooms – halve button mushrooms or quarter larger mushrooms
Broccoli & Cauliflower – 1.5″ pieces
Green Beans

Usually a dead giveaway for a Buddha Bowl is how colorful it is, but it's all up to you. There's more than one way to enjoy this Shrimp Pad Thai Salad recipe!