In the Tampa, Florida, Summer began sometime like in March. No kidding. The season RIGHT NOW is called too "*!%!$@*$ HOT." The moment you step outside into 99.9% humidity coupled with 98F temps, you wonder why you even bothered to dry yourself after a shower.
But never mind, because while Summer Fest is almost unbearable in my backyard, it's in full-swing over at friends White On Rice and Matt Bites. Also, the rain didn't flood out Margaret Roach's Away to Garden in New York (though for a few weeks I almost was expecting Margaret to rename the blog Away Washed the Garden due to the non. stop. rainfall.
The four of us (actually five because Todd and Diane are separate people, not Toddiane, though they are so well fit that sometimes it's just easier to say it like that in one lovely breath) teamed up to bring you Summer Fest 2009, a four-week celebration of fresh-from-the-garden food: recipes, growing tips, even tricks for storing and preserving summer's best. Each week we'll have a different theme, this week is herbs.
The Summer Fest is all about blog cross-pollination…meaning we want to hear from you! The secret to this recipe is for you to play along…I'll give you details at the end.
To kick of Week 1 of Summer Fest: Herbs, I've made a Peanut Pesto and Peas Pasta Salad.
It's pabulously peasy and pealicious.
and easy, too.
Fortunately for me, basil is thriving right now in my garden, one of the few things that actually are doing well in this extreme Florida summer heat. Instead of the boring pine-nut pesto, I make variations by substituting different nuts – like peanuts today.
Pesto comes together really easy in a food processor – here I've added basil, peanuts, garlic, salt and a bit of olive oil (to lubricate and get things moving)
Let the baby whirrrrrrrrr!! Dang it, pesky leaf didn't want to get chopped up. You can also spice things up by adding some red pepper flakes. Drizzle in the remaining olive oil slowly.
Stir in the Parmesan (hey! another P word!!)
and here you go – a beautiful Peanut Pesto.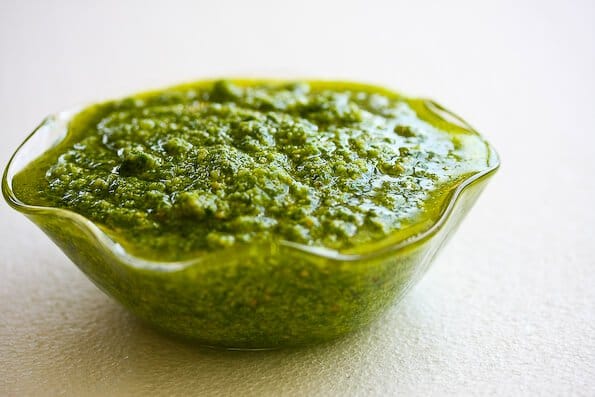 To Store: You can take this Peanut Pesto and freeze them in little freezer baggies – seal tight and lay flat in your freezer so that they freeze flat. I know some of you freeze them in ice cube trays too – but I find that it's more convenient to use quart freezer bags, as it's the perfect amount to toss with pasta.
To make the Peanut Pesto and Peas Pasta Salad – boil some pasta, chop up some tomato, add some frozen peas, corn. Then toss with some of the peanut pesto. Really, that's it! You can sub with ANY other pasta shape, vegetables etc. I'm easy like that.
Voila! You'll end up with a big bowl.
This is summery, fresh and colorful…it's a great way to use up all your basil too!
Don't forget, you can use any type of nut that you want….macadamia nut would be too fabulous for words.
Peanut Pesto and Peas Pasta Salad Recipe
1 pound dried pasta (any shape)
1 cup frozen peas
1 cup frozen corn
1 pint grape tomatoes, cut into quarters
1/2 cup (or more) of the Peanut Pesto Recipe (below)
Combine all ingredients together.
Peanut Pesto Recipe
You'll have some pesto left over – freeze the remaining pesto
3 ounce block of parmesan or romano cheese (1/2 cup finely grated)
2 cups loosely packed fresh basil leaves, thick stems discarded
1 teaspoon kosher or sea salt (1/2 tsp table salt)
2 cloves garlic, peeled
2 tablespoons unsalted dry-roasted peanuts (if using salted, cut amount of salt measurement in half)
1/2 cup extra virgin olive oil
juice of 1/2 lemon
1. If using pre-grated cheese, skip this step. Cut the parmesan or romano cheese into 1/2-inch chunks and put into a food processor. Process until the cheese is very fine. Remove to a bowl and set aside.
2. To the food processor bowl, add the basil leaves, salt, garlic, peanuts and only 1/4 of the olive oil. Process, stopping to scrape down the sides of the container halfway. Stir in the remaining 1/4 cup of oil, the cheese and the lemon juice.

How you can join Summer Fest

Summer Fest 2009 is a four-week, cross-blog celebration co-created (alphabetically listed) by A Way to Garden, Matt Armendariz of Mattbites, Jaden Hair of Steamy Kitchen, and Todd and Diane of White on Rice Couple, with guest appearances from Shauna and Daniel Ahern of Gluten-Free Girl, Simmer Till Done's Marilyn Pollack Naron, and Paige Smith Orloff of The Sister Project. And from you, that's critical. Your contributions are desired, and needed.
Will you play along? Have a recipe or tip that fits any of our weekly themes? Starting today, with the subject of herbs, you can contribute in various ways, big or small. Contribute a whole post, or a comment – whatever you wish. It's meant to be fun, viral, fluid. No pressure, just delicious. The possibilities:
Simply leave your tip or recipe or favorite links in the comments below a Summer Fest post on my blog, and then go visit my collaborators and do the same.
The cross-blog event idea works best when you leave your recipe or favorite links (whether to your own blog or someone else's) at all the host blogs. That way, they are likely to be seen by the widest audience. Everyone benefits, and some pretty great dialog starts simmering.
Or think bigger: Publish entire entire posts of your own, if you wish, and grab the juicy Summer Fest 2009 tomato badge (illustrated by Matt of Mattbites).
Summer Fest 2009 Schedule:
Tuesday, July 28: HERBS. Any and all.
Tuesday, August 4: FRUITS FROM TREES (also known as stone fruits, but we won't scream if you toss in a berry or another fruit, promise).
Tuesday, August 11: BEANS-AND-GREENS WEEK (either or both, your choice).
Tuesday, August 18: TOMATO WEEK. How do you like them love apples?
What did my co-conspirators make this week of Herbs?
Away to Garden: Roll your herbs! (no, not THOSE kind of herbs!)
Growing and Storing a Year of Parsley
White On Rice:
Vietnamese Vegetable Summer Rolls!! You must see their lovely garden.
Matt Bites:
Rosemary Salty Dog Cocktail GORGEOUS!