This is an Anolon Advanced Bronze Hard-Anodized Nonstick Cookware Set Review, with both PROs and CONs after 3 weeks of testing. – jaden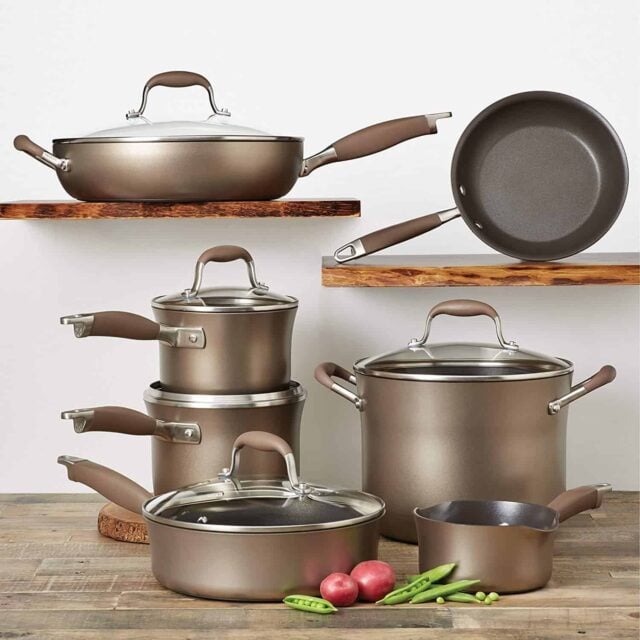 Anolon Advanced Bronze Hard-Anodized Nonstick Cookware Set Review
I tested the Anolon Advanced Hard Anodized Nonstick Cookware in Bronze. You'll have to excuse the poor quality of the photos I took below…I was staying with a friend in Canada and my phone camera was acting up!
But first, here are the specs of the cookware set:
DURABLE CONSTRUCTION: Hard-anodized construction provides efficient, even heat distribution

PREMIUM NONSTICK: High-quality, metal utensil safe nonstick delivers superior food release and effortless cleanup

COMFORT AND CONFIDENCE: The cookware set's Anolon SureGrip handles offer a solid, comfortable grasp and are dual riveted for strength

CONVENIENT AND VERSATILE: Shatter-resistant glass lids retain heat and moisture during cooking, and the pots and pans are oven safe to 400 degrees F

ESSENTIAL COOKWARE: Set includes 1.5- and 3-Quart Covered Saucepans, 8-Quart Covered Stockpot, 8-Inch and 10-Inch French Skillets, 12-Inch Grill Pan, and 3-Quart Covered Sauté
One of my first impressions with this set is how big and generous the cookware is. The Anolon Advanced Hard Anodized Nonstick Cookware is made for people who cook for a crowd. Let's go straight to my favorite piece in the set.
It's called a 12-Inch Deep Skillet with Helper Handle a.k.a cross between a wok and a deep sauté pan. It's a very versatile pan with sloped sides, a helper handle and a glass domed lid. At the house I was staying in, I didn't have a wok, and this doubled as my everyday pan for cooking fried rice, scrambling eggs for a crowd, steaming broccoli and browning taco meat.
Both come with their own lids.
The pan is very similar to the large sauté pan that's included…the difference is straight sides versus a sloping sides.
However, the pans are so similar, that I would have liked a standard wok instead of the wok-ish Deep Skillet. Anolon actually has an amazing hard anodized wok in the same finish. See how similar the pans are:
Both come with their own lids, so you can cook at the same time.
Speaking of lids, the Anolon Advanced Hard Anodized Nonstick Cookware lids feature a comfortable handle that doesn't get hot. There's enough clearance in the handle so that you can sear bulky oven mitts and still get a good grip on the lid.
I love that the lids are glass – I can see what's going on in the pan without lifting the lid.
The rubbery texture that's on both the handle and lid ensure you a really good, solid grip, even if you have damp hands.
The stockpot also features grippy, large handles on the sides. They don't get hot, and even with oven mitts, I always felt I had a secure grip.
The helper handle is perfect for the larger sauté and deep skillet. It allowed me to pour this onion and mushroom in Jack Daniels over a platter of grilled steak, with ease and without spilling.
Cleanup of the Anolon Advanced Hard Anodized Nonstick Cookware is simple because of the nonstick surface. The set is not dishwasher safe though…but I never put cookware in the dishwasher anyways. My general rule is – clean the cookware while it's still hot, and you'll never need to scrub. The water hitting the hot pan produces steam, dislodging any food bits from the cookware.
Just water from the faucet, no sponge or dish soap yet.
The Anolon Advanced Hard Anodized Nonstick Cookware set is sold at Amazon.
Be aware, each retailer has different configurations of the set. Some come with a grill pan, Anolon sells the set with a skillet and sauteuse (I like this set too).
Thank you for supporting Steamy Kitchen!
Even if you don't buy the product shown, starting your Amazon shopping here helps our small family business. We get a small commission from Amazon that helps keep this site running free!