Win Bobby Flay's newest cookbook + $100!
Sponsored by Clarkson Potter.
Bobby Flay is one of the country's most celebrated chefs, restaurateurs, media personalities, and authors. He is a James Beard Award winner, the author of 13 cookbooks, and has starred in 14 Food Network programs. In 2015, he became the first chef to be awarded a star on the Hollywood Walk of Fame.
His newest cookbook, Bobby At Home, Fearless Flavors from my Home Kitchen is on sale now (Amazon link). He's given us a recipe for you to try from the book, his famous Crispy Coconut Scallion Rice Recipe. It's a dish that's helped him win Beat Bobby Flay contests!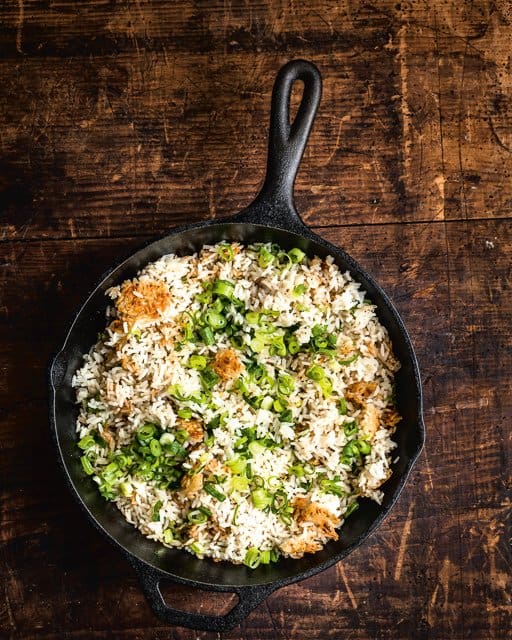 About the Bobby at Home Cookbook
With 165+ recipes, Bobby Flay opens up his home and shares his bold, approachable style of cooking for family and friends, along with his no-nonsense, essential advice for home cooks.
Welcome to Bobby's, where powerhouse flavors rule the day. In his most personal cookbook yet, Bobby shares over 165 bold, approachable recipes he cooks at home for family and friends, along with his well-earned secrets for executing them perfectly. Everyday favorites–from pan-seared meats and hearty pastas to shareable platters of roasted vegetables, bountiful salads, and casual, homey desserts–go bigger and bolder with Bobby's signature pull-no-punches cooking style. Expect crowd-pleasing classics taken to the next level with exciting flavors, such as Spanish-style shrimp and grits, pumpkin pancakes with apple cider syrup, and sticky-savory-sweet Korean BBQ chicken. Riff on go-to dishes just as Bobby does with his master recipes for essentials, along with creative variations that take the base recipe in a range of directions to suit your mood, such as crispy bacon glazed with pomegranate molasses, deviled eggs topped with fried oysters, and mussels steamed in a heady green curry broth. With Bobby by your side, cooking at home just got a lot more exciting.
Bobby Flay at Home Cookbook and $100 Kirkland's Gift Card Giveaway
We're giving away a copy of this cookbook, along with a $100 gift card to Kirkland's so you too can get cozy at home this winter.