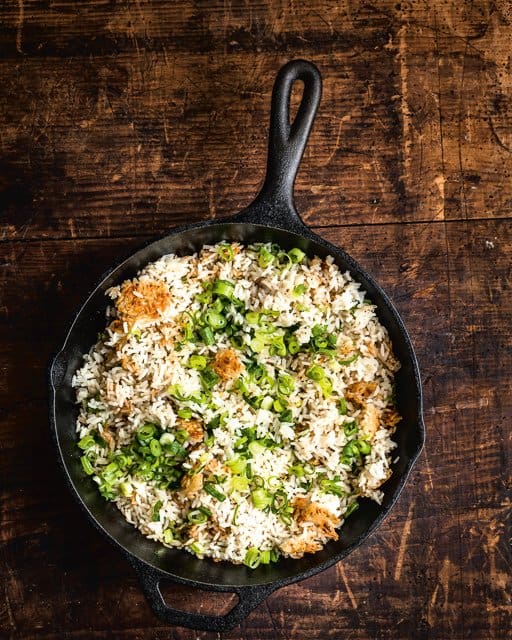 Bobby Flay's famous rice recipe
Chef Bobby Flay's newest cookbook features 165 recipes he cooks at home for family and friends….and a few recipes that have made it from home kitchen to the Beat Bobby Flay television show.
"This recipe for Coconut Scallion Rice only takes 4 ingredients. "If there is one single dish that is responsible for me winning on Beat Bobby Flay, it is this one. Not served on its own, obviously, but alongside braises and Asian-inspired dishes. If the judges were tied on their decision, this coconut rice, with its crispy bottom, was the deciding factor. It should come as no surprise that it is just as popular when I serve it at home." — Bobby Flay
Tips for Crispy-Coconut Scallion Rice
Use day-old rice. Well, any leftover rice that has been refrigerated for a few hours. Fresh, warm rice will not work well with this recipe, or any type of fried rice recipe. Why? The rice is too "wet" and cooking it again will make the Coconut Scallion rice soggy, not crispy. Refrigeration dries out the rice, which is what we want.
What if I don't have leftover rice? You can cook rice, once cooked, immediately spoon out on a baking sheet, spread all the rice out. Bobby Flay recommends just leaving it out on the counter for 30 minutes. Personally, I let the rice cool on counter, then put the whole baking sheet in the freezer or refrigerator to further cool and dry out a bit.
What kind of rice can I use? For Bobby's recipe, he uses Carolina long-grain rice. The recipe is made for long-grain rice. You can also use Thai jasmine rice.
Can I add other ingredients to this recipe? Yes! I love adding egg. Cook scrambled eggs in a bit of oil or butter. Season lightly. Once set, but not cooked all the way through, remove the egg and just add it to the large bowl with scallion and rice (beginning of step 3). Give it a good stir and proceed with recipe.
How about bacon????? Double yes! Cook the bacon, chop finely, then add it to the large bowl. Basically, any ingredient that you'd like to add, cook it first, then add it to beginning of step 3.
Can I use any pan? I highly recommend a cast iron pan….and get that baby searing hot. It will provide you with maximum crispiness.
About the Bobby at Home Cookbook
With 165+ recipes, Bobby Flay opens up his home and shares his bold, approachable style of cooking for family and friends, along with his no-nonsense, essential advice for home cooks.
Welcome to Bobby's, where powerhouse flavors rule the day. In his most personal cookbook yet, Bobby shares over 165 bold, approachable recipes he cooks at home for family and friends, along with his well-earned secrets for executing them perfectly. Everyday favorites–from pan-seared meats and hearty pastas to shareable platters of roasted vegetables, bountiful salads, and casual, homey desserts–go bigger and bolder with Bobby's signature pull-no-punches cooking style. Expect crowd-pleasing classics taken to the next level with exciting flavors, such as Spanish-style shrimp and grits, pumpkin pancakes with apple cider syrup, and sticky-savory-sweet Korean BBQ chicken. Riff on go-to dishes just as Bobby does with his master recipes for essentials, along with creative variations that take the base recipe in a range of directions to suit your mood, such as crispy bacon glazed with pomegranate molasses, deviled eggs topped with fried oysters, and mussels steamed in a heady green curry broth. With Bobby by your side, cooking at home just got a lot more exciting.
About Bobby Flay
Bobby Flay is one of the country's most celebrated chefs, restaurateurs, media personalities, and authors. He is a James Beard Award winner, the author of 13 cookbooks, and has starred in 14 Food Network programs. In 2015, he became the first chef to be awarded a star on the Hollywood Walk of Fame.
Bobby Flay at Home Cookbook and $100 Kirkland's Gift Card Giveaway
We're giving away a copy of this cookbook, along with a $100 gift card to Kirkland's so that you too can get cozy at home this winter. Giveaway sponsored by Clarkson Potter. Enter the giveaway here.
Bobby Flay's Crispy Coconut Scallion Rice Recipe
Reprinted from Bobby At Home. Copyright © 2019 by Boy Meets Grill, Inc. Photographs copyright © 2019 by Ed Anderson. Published by Clarkson Potter, an imprint of Penguin Random House, LLC
Ingredients
1

cup

unsweetened full-fat canned coconut milk

2

cup

Carolina long-grain rice

1/2

cup

scallions

thinly sliced

salt and pepper

1/4

cup

canola oil
Instructions
Combine the coconut milk, 2 teaspoons salt, 1/4 teaspoon pepper and 1 cup water in a medium saucepan and bring to boil over high heat. Stir in the rice and bring back to a boil. Reduce the heat to medium-low, cover, and cook until the liquid has been absorbed and the rice is tender, about 18 minutes.

Remove the pan from the heat and let sit, covered for 5 minutes. Remove the lid and fluff the rice with a fork. Spread the rice in an even layer over a large baking sheet and let cool completely, about 30 minutes. The rice can be made up to 24 hours in advance; store it on a baking sheet, covered with plastic wrap, in the refrigerator.

Combine the rice and scallions in a large bowl. Heat the oil in a large cast-iron or nonstick pan over high heat until it begins to shimmer. Add the rice and, using a heavy-duty metal spatula, immediately press the rice down into the pan until the top is flat. Cook, without stirring, until the bottom has become golden brown and crispy, about 5 minutes (start checking at 4 minutes, making sure not to burn it). Turn the rice over and press down firmly on the top again. Cook until the bottom is golden brown and crispy, about 5 minutes more. Transfer to a platter, sprinkle with more scallions, and serve.
Nutrition
Serving:
-44
g
Calories:
368
kcal
Carbohydrates:
26
g
Protein:
4
g
Fat:
29
g
Saturated Fat:
14
g
Sodium:
12
mg
Potassium:
220
mg
Fiber:
2
g
Sugar:
2
g
Vitamin A:
125
IU
Vitamin C:
4
mg
Calcium:
27
mg
Iron:
1
mg