I'm a firm believer that if you want to learn something, find a pro and ask them to teach you. Of course, you've got to find a nice pro who's willing to share.
For eight years now, I wanted to learn how to make a savory breakfast-y cheese soufflé, but never really found the right person to ask. I was seeking something easy, fool-proof and a method that didn't deal with delicately folding egg whites.
It's breakfast, it shouldn't be complicated and I certainly don't do "delicate" anything early in the mornings. After all these years, I finally found my Cheese Souffle pro in Mount Dora.
We took a family trip to the very charming historic village last month and stayed at the quaint Tremain Street Cottages owned by friends Brian and Rachelle:
Oh, before I go on, don't be fooled the town's name, as there isn't really a mountain at all. The town is 184 feet above sea level, and in flat Florida's record books, that counts as a mountain.
Brian introduced us to Jim, innkeeper of the Mount Dora Historic Inn who invited us over for breakfast and cooking lesson. Eureka! Jim is a gourmet chef and lavishes his inn guests with homemade breakfast every morning.
The best part about his method is that there's no stiff peaks, no delicate folding and Jim's method only uses one mixing bowl. And it works, I witnessed the quick making of and the rise of the savory Three Cheese Soufflé.
***
How to Make Cheese Souffle
Really, only one mixing bowl. All of it comes together so quickly and effortlessly! This foolproof method only works for savory cheese souffle – not the chocolately sweet souffle.
Basically, shredded cheese goes into the bottom of the souffle dish, eggs are cracked into a mixing bowl, beaten. Then spices are added to the mixture and beaten one more time. Pour that egg mixture into the souffle dish and bake!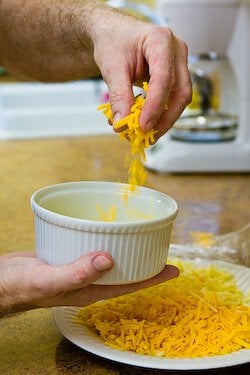 After 55-60 minutes in the oven at 350F….this is what comes out:
Guys, I doubt you can find an easier method of making cheese souffle…totally easy.
Three-Cheese Soufflé Recipe
Recipe by Jim Tuttle of Mount Dora Historic Inn
Ingredients
7

large eggs

4

ounces

sour cream

1/3

cup

whole milk

freshly ground black pepper

1

teaspoon

dry mustard

1/4

teaspoon

ground nutmeg

1/4

teaspoon

Tabasco (or other hot sauce)

1

tablespoon

butter, softened

1

ounce

grated cheddar cheese

1

ounce

grated muenster cheese

1

ounce

grated gruyere cheese
Equipment needed:
1

medium soufflé dish (holds approximately 22 ounces, for Williams Sonoma brand, it's the #4 size)
Instructions
Pre-heat your oven to 350F.

Using an electric blender, blend together the eggs, sour cream and milk for 30 seconds. Blend in the black pepper, dry mustard, nutmeg and Tabasco.

Brush the butter all over the inside of the soufflé dish. Layer the cheese in the soufflé dish, then pour the egg mixture gently over the top. Leaving 1-inch of space at the top to prevent spillage as you carry it to the oven.

Place the soufflé dish in the oven, then carefully pour the remaining egg mixture to fill to the tippy top of the dish.

Bake for 55 to 60 minutes—the soufflé will be golden brown, puffy like a balloon, and will have risen up to three inches above the ramekin.

Present immediately to guests, as this dish will begin to fall in about 45 seconds. (if the soufflé does not fall, then the second law of thermal dynamics, does not exist in your home—if this occurs, call NASA right away)
***
Mount Dora, Florida
If you're in Florida, I highly recommend taking a visit to Mount Dora, we stayed for the weekend and just had one of the best mini-vacations ever.
Quiet, quaint and small-town. The downtown area is packed with fantastic eats – including some of the best sushi I've had in Florida at Mount Dora Sushi
Uni Shot with Quail Egg, Ponzu Sauce and Sriracha Chili Sauce:
Crusty, fresh pizzas at Pizza Amore
A dog-lovin' town…we happened to crash the "Yappy Hour" in downtown (yes, they really do have a Yappy Hour!)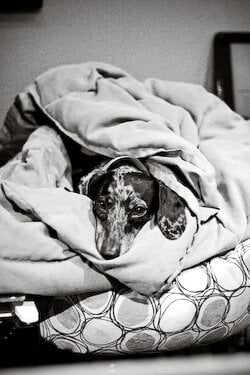 But most importantly, good karma. Rock on, Buddha…rock on.
More information on Mount Dora at What To Do In Mount Dora.