Microwave steamed zucchini is the perfect addition to just about any dinner, Buddha Bowl, and a quick way to prep zucchini boats, a fun low carb option!

This foolproof way to cook zucchini is the quickest and easiest method. Zucchini, not very strong in flavor, can be a vehicle for just about anything and everything. Whether you use them as zoodles, for calabacitas (our favorite), or just to snack on with some stellar dip, the options are endless! This convenient recipe will be a fun new go to for you.
Why This Microwave Steamed Zucchini Recipe Works
Using the microwave to cook zucchini is the fastest, easiest and most energy efficient method.

You will have cooked zucchini in under 4 minutes with no mess!
Our recipe testers say,

"I use this method all the time to make stuffed zucchini boats! I steam them first then slice down the middle and hollow out and stuff, then I finish them in the oven – sooooo easy!."

"I try to eat low carb as much as possible and this zucchini recipe has been a game changer for me."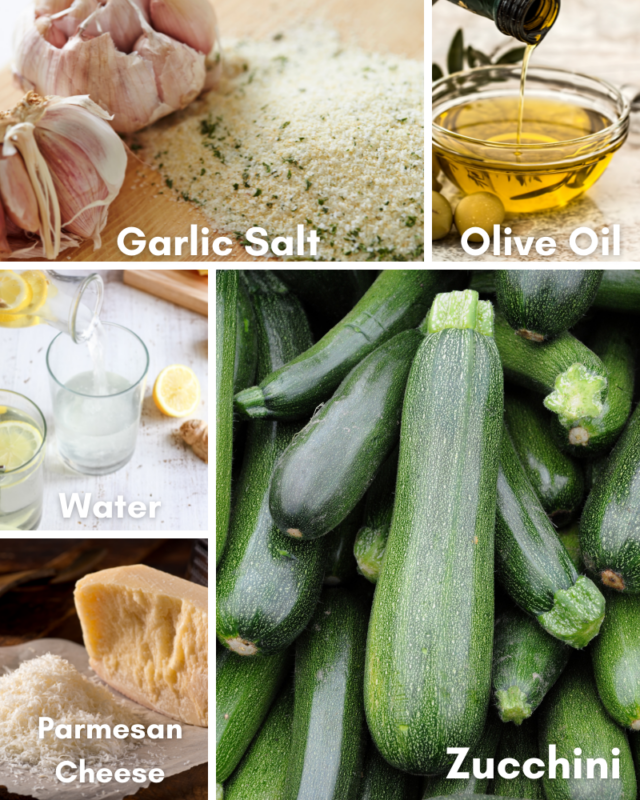 Ingredients For Steamed Zucchini in the Microwave
Zucchini

Water

Olive oil or Butter

Garlic Salt

Parmesan Cheese
How to Steam Zucchini in the Microwave
Slice the small stems off of the zucchini, then continue slicing them into coins.

Add zucchini coins to a microwave safe dish with water and cover with a lid or plate.

Microwave on high for 3-4 minutes.

Remove from the microwave and drain the water.

Transfer to a serving dish and toss with butter or olive oil, garlic salt, and Parmesan cheese.

How to Choose Zucchini at the Grocery Store

For the most flavor, search for a rich, dark green colored zucchini that is relatively thin and about 7 inches long. Larger and lighter colored zucchinis tend to have less flavor so aim to pick one on the smaller side.
Various Ways to Serve Steamed Zucchini
Zucchini Orzo Pasta! Try a bright colored dish to pair with any protein for dinner or to have for lunches all week long, like this Zucchini Orzo Pasta recipe. Orzo is incredibly delicious rice like pasta that is silky and luscious. Pair the orzo pasta with fresh tomatoes and herbs for a true summer knock out dish.
Calabacitas Tacos. Calabacitas, also known as zucchini, are small diced filling with fresh summer zucchini, yellow squash, corn, chilis, onion, and cilantro. Sautéed together for an irresistible flavor that gets all filled inside of a warm tortilla. Try this Calabacitas Tacos recipe to see just how good they areQ
As a snack! The sliced zucchini coins are perfect snacking. Instead of tossing them with any olive oil or butter, toss with fresh grated garlic and salt. Make this easy Garlic Aioli for the perfect low carb snack you've been wanting.


Tips to Perfect Steamed Zucchini in the Microwave
Set your microwave

on full power and start checking the zucchini at exactly 3 minutes.

Carefully remove the lid so the steam

doesn't burn your hand.

Always check to see if the zucchini is tender, but crisp

enough for your liking.

Every single microwave is different. If you have a lower voltage one, it may take the full 4 minutes. If you have a

higher voltage microwave,

it would take under 3 minutes.
Print
How to Steam Zucchini in the Microwave
Steam zucchini in your microwave in just 4 minutes for a delicious side dish! Depending on how many watts your microwave is, cook time may vary.
Materials
2

zucchini

(mediuim sized)

3

tablespoons

water

1

tablespoon

butter or olive oil

2

tablespoons

grated parmesan cheese

1/4

tsp

garlic salt
Instructions
Slice zucchini into coins. Transfer to microwave safe dish, add water. Cover with large plate or lid and microwave on high for 3-4 minutes. Remove from microwave and drain all of the water. Transfer to serving dish, mix in the butter to melt, toss with garlic salt and parmesan cheese