Learn how to roast garlic in the microwave in just minutes! If you are a garlic lover, this is a recipe you absolutely need in your back pocket. You will be topping all of your Buddha bowls, enhancing your pasta sauces, and so much more with perfectly roasted garlic in no time.
Why This Microwave Roasted Garlic Recipe Works
Sure roasting garlic in the oven works too, but microwave roasted garlic is the easiest and fastest way to get it done.

Roasting garlic in the microwave requires little prep time and minimal clean up, a true win-win in our book!

Supple, golden roasted garlic is the perfect addition to any meal you can think of.

Our recipe testers say,

"Anything this flavorful that saves me time will be used over and over again in my house."
"Mine took a little longer than the recipe called for because my microwave is lower voltage, but I waited it out a few extra minutes and it was incredibly perfect!.
Ingredients for Roasted Garlic in the Microwave
One head of garlic
Olive Oil
A little bit of water
Different Garlic Types
Marbled Purple Stripe – The prettiest of all garlic is off white with bright purple or red streaks through it. They typically have 4-8 large bulbs and are strong in flavor. If they are stored properly, they can last up to 6 months.
Rocambole – Our absolute favorite! Earthy, rich, and a little spicy and truly has the best flavor, even raw! They produce about 8-12 bulbs and are definitely juicy!
Silverskin – Silver white bulbs and somewhat misshaped. 12-20 cloves of garlic is typical for Silverskin garlic.
Artichoke – White or off-white with up to 25 cloves of garlic. Cloves may be a bit smaller and not quite as 'juicy'.
How to Roast Garlic in the Microwave
Start by cutting the top pointed end off of the head of garlic so you are able to see the cloves.
In a small, shallow microwave safe dish, place the garlic cloves side up and pour the water in the bowl.
Drizzle with a generous amount of olive oil, and I mean generous!
Microwave at 50% power for about 8 minutes.
Tools Used in This Recipe
Best Ways to Use Microwave Roasted Garlic
Make Mashed Potatoes! Try our best ever Roasted Garlic Mashed Potatoes by using our quick method for roasting garlic rather than wasting time in the oven. They really are best ever!
Homemade Pizza! Use it as a base for homemade pizza. Try this Roasted Garlic Goat cheese Pizza using your microwave roasted garlic for a buttery and strong base. Homemade pizza dough is definitely not necessary, but high quality toppings definitely are!
Garlic Bread! Is there anything better? Grab a loaf of your favorite bread and slice it up to your preferred thickness. Take a handful of your microwave roasted garlic and smash them onto the bread with a sprinkle of salt and herbs of your choice. Toast them up and enjoy!
Faqs
How long to microwave a head of garlic?

Well, this depends on your microwave voltage! After the first initial 8 minutes, open your microwave and give them a little poke with a fork to check for tenderness and take note of its color too. We want a lightly golden color and very supple, tender cloves. Microwave intervals of 30 seconds until they reach your desired texture.
Can you use any oil to roast garlic?

In theory, yes, but I wouldn't suggest it. Olive oil adds a deep, beautiful richness that lends so much flavor to the overall recipe. Not to mention, you can jar that extra olive oil and have roasted garlic olive oil ready to use in flash, like on pizzas or on salads!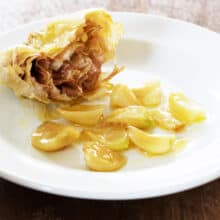 Print
How to Roast Garlic in the Microwave
Learn how to roast buttery tender garlic in just 10 minutes! Depending on how many watts your microwave is, cook time may vary.
Materials
1

head

garlic

3

tbsp

water

olive oil
Instructions
Cut the top (pointed end) off of the head of garlic so you can see the cloves

In a small, shallow, microwave safe dish (or mug) place the garlic and pour the water in

Drizzle with a decent amount of olive oil (I like to use a pretty generous amount)

Microwave at 40% power for about 10 minutes, enjoy!