Uni Shooter with Ponzu Sauce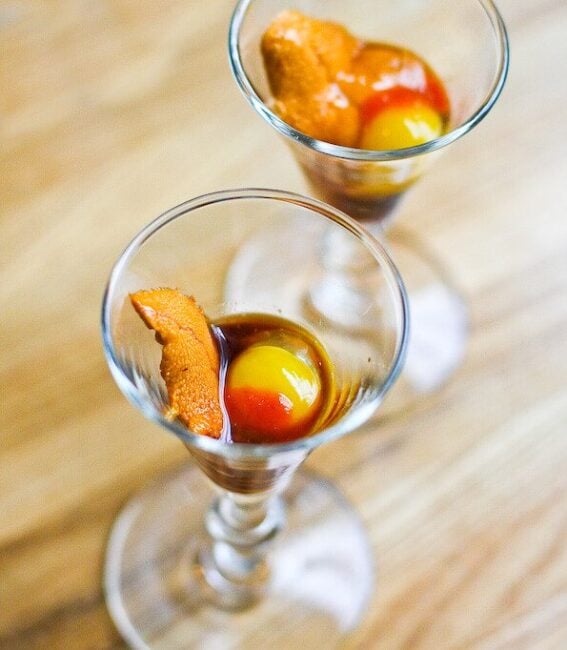 We're currently spending the long weekend at Mount Dora again with good friends Brian and Rachelle.
Despite being smack dab in the middle of Florida, I was floored by the fresh sushi at Mount Dora Sushi. Owner Janet Craig, who is half-Japanese runs this restaurant with her family. It's one of the most popular dining destinations in the area, some drive over an hour away just to sample the best sushi around.
So, lets talk about Uni, or sea urchin. Thank goodness for my friend, Casson Trenor, author of Sustainable Sushi and an activist with Greenpeace. Through his book and through the Monterey Aquarium iPhone app, I can usually navigate through a sushi menu pretty well and choose to dine on delicacies that are sustainable. I wanted to call Casson and be sure though, since Uni's situation is a little more complicated.
Uni that we enjoy here in the U.S. comes from several places, Alaska, California, Canada and Maine, for example. Yes, it also comes from Japan but is extremely expensive, and usually out of pocket book reach of many diners… which is good because we know very little about the harvesting practices and regulations in Japan (pssst…pass on Japanese Uni until we know more information!)
According to Casson, Uni from Maine should be avoided at all costs. There is little regulation, management and stock strengths are at approximately 10% of what they once were. Uni from Canada is excellent, as they enforce strict quotas on the hand-harvesting of Uni. California is a good resource for the delicacy as well.
It's wonderful to see this small sushi company in the middle of Florida doing whatever they can to protect the sustainability of sushi. While their menu list isn't absolutely perfect, Janet assures me that every day they do what they can as a small company to respect the environment, including specifically sourcing Uni from California and Canada. Here is the recipe for their Mount Dora Sushi Uni Shooter, one of the best I've ever had.
===
Mount Dora Sushi with Chef Kobayashi doing his magic:
Vivid purple flowers and a yummy vegetable flower made from celery, tomato and green onion:
I loved these Japanese ramune soda drinks as a kid – A glass marble seals the top of the bottle, which is held in place by the carbonation. To open, you have to push the glass marble down into the neck of the bottle. Andrew thought it was the coolest thing in the world.
Uni Shooter with Ponzu Sauce Recipe
Recipe from Mount Dora Sushi
1 piece very fresh, firm Uni (Sea Urchin from California, Canada-New Brunswick)
1 Quail egg yolk only
1 drop Sriracha hot chili sauce
1 tablespoon Ponzu Sauce (equal parts soy sauce, mirin, rice vinegar, and splash lemon juice)
In a shot glass or martini glass, layer the ingredients in the order that they appear in the list.