Jump to Recipe
These easy spiced nuts are the perfect crunchy snack or topping for your Buddha Bowl to always keep at arms length! This versatile recipe is a little sweet, a little spicy, and nice and toasty. Easily change up the nuts and spices by raiding your pantry for what you have!
Tips for Perfect Spiced Nuts
Use One Kind of Nuts or a Mixture of Nuts and Seeds: Using one kind of nut works great here if that's all you have, but a mixture of different nuts and seeds can really ramp up your spiced nuts. All nuts and seeds have different flavor profiles and will add different taste and textures beyond the spices you add to them!
So, What Kind of Nuts and Seeds Should You Use: Pecans are typically the most widely used nuts when it comes to making spiced nuts.However, walnuts, almonds, cashews, and hazelnuts make great whole nuts for roasting and toasting too.Almonds have a great depth of flavor, while walnuts are a bit more mild. Cashews and Hazelnuts are great for throwing into the mix if you're aiming for a sweeter spiced nut recipe. Pepitas and pumpkin seeds are perfect for rounding out the large nuts in the bunch. They get crispy and add a nice crunch to your spiced nuts mix.
Timing for Your Spiced Nuts: Timing can vary depending on what type of nuts you use. If you are using pepitas, pumpkin seeds, or slivered almonds they will be added a bit after the larger nuts. For the oven version, add them to your sheet pan in the oven after the first 10 minutes of baking and continue to cook them as the recipe calls for. For the stovetop version, add them to your skillet to toast for the final 2 minutes and continue cooking them as the recipe calls for.
How long will homemade spiced nuts keep? If stored in an airtight container, spiced nuts can last 2-3 weeks at room temperature. Once the nuts completely cool before placing them in containers.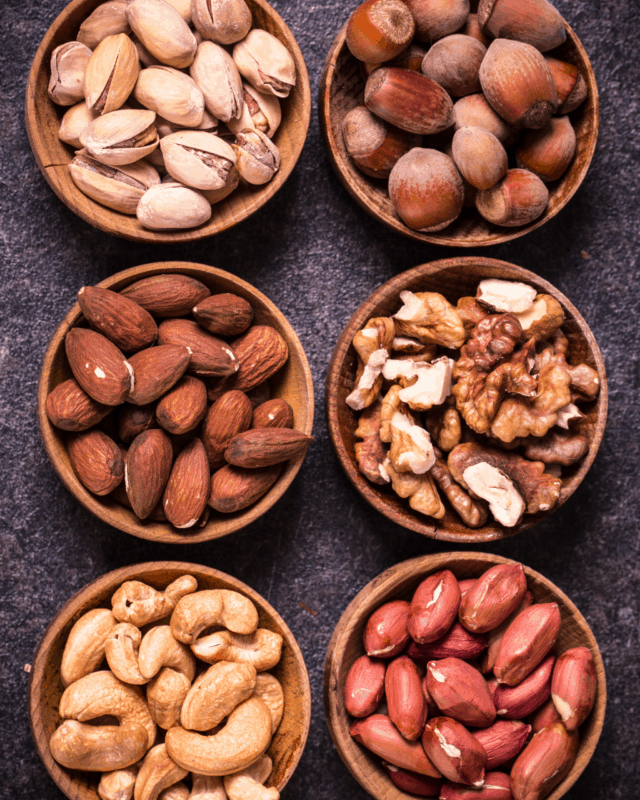 What is a Buddha Bowl?
A Buddha Bowl is simply a one-bowl meal!
Start with a base of grains or greens, then add veggies – cooked or raw, and a lean protein. Wrap it all up with a signature sauce and a fun, crunchy topping like these spiced nuts!
Use what you have in your refrigerator and customize your bowl:
last nights roasted chicken

leftover roasted veggies

last carrot in the drawer

extra basmati rice that you cooked the day before or greens that need to be used up
The game changer will a delicious crunchy topping: these Easy Spiced Nuts and an unexpected yummy sauce – Nuoc Cham (Vietnamese Dressing).
Flavor Variations of Spiced Nuts
Spiked spiced nuts: Add 1 to 2 teaspoons of bourbon in place of, or in addition to the vanilla extract, to taste.
Spicy or not-so-spicy nuts: Adjust the amount of cayenne pepper. Double the amount, or adjust to taste. Add it in with your maple syrup mixture (oven version) or brown sugar (stovetop version) and taste to adjust, adding a little at a time. Simply omit the cayenne for no spice.
Sweeter party nuts: Double the maple syrup for the oven version as these are lightly sweetened. Add an additional 2 tablespoons of brown sugar to the stovetop version.
Herby spiced nuts: Stir in 2 tablespoons finely chopped fresh herbs, like thyme and rosemary.
Pumpkin spiced nuts: Add 1/2-1 teaspoon of pumpkin pie spice in place of, or in addition to the cinnamon. Taste to adjust.
These versatile, easy spiced nuts are a complete game-changer for your buddha bowls and make the perfect crunchy topping! Our spiced nuts are bursting with flavor, loaded with warm spices and will be a recipe you keep coming back to to make time and time again.
Easy Spiced Nuts
Ingredients
Oven Roasted Spiced Nuts
4

cups

pecans

walnuts and almonds work great

2

tablespoons

maple syrup

2

tablespoons

unsalted butter

melted

1

teaspoon

salt

1

teaspoon

vanilla extract

1/4

teaspoon

cayenne pepper

optional

¼

teaspoon

ground cinnamon

optional

¼

teaspoon

ground nutmeg

optional
Stovetop Spiced Nuts
4

cups

pecans

walnuts, or almonds

6

tablespoons

brown sugar

packed

4

tablespoon

unsalted butter

2

tablespoons

water

1

teaspoon

vanilla extract

1

teaspoon

salt

1/2

teaspoon

cinnamon

1/4

teaspoon

cayenne

optional

1/4

teaspoon

nutmeg

optional
Instructions
Oven Roasted Spiced Nuts
Preheat the oven to 325 degrees and line a large rimmed baking sheet with parchment paper or a silicone baking mat.

In a small bowl combine maple syrup, melted butter, salt, vanilla, and cayenne if using. Whisk to combine well.

Add the nuts to the prepared baking sheet and pour the maple spice mixture over the nuts and stir well until all of the nuts are lightly coated.

Spread the mixture in a single layer across the pan.

Bake for 20-25 minutes, stirring after the first 10 minutes and then every 5 minutes until almost no maple syrup remains on the baking sheet and the buts are a deep golden color.

Remove the pan from the oven and stir the nuts once more, spreading them to an even layer. They will be a bit sticky right out of the oven. Let them for about 8 minutes and separate any large clumps while the nuts are slightly warm if necessary.

Let the nuts cool completely on the pan and store in a sealed bag or jar at room temperature.
Stovetop Spiced Nuts
Line a sheet pan with parchment paper and set aside.

In a large skillet or cast iron pan over medium heat, add nuts and and toast 4-5 minutes, stirring frequently, until they just start to brown and smell toasted.

Add butter and vanilla, and toss the nuts until the butter it melts. Add salt, cinnamon and any other additional spices and stir to coat the nuts. Add the brown sugar and water, constantly stirring until the mixture thickens and coats the nuts entirely, about 2-3 minutes.

Transfer the finished nuts to the baking sheet and separate them with a spatula.

Cool the nuts completely before transferring to an airtight container and store at room temperature.
Nutrition
Serving:
4
cups
Calories:
6480
kcal
Carbohydrates:
210
g
Protein:
74
g
Fat:
639
g
Saturated Fat:
92
g
Cholesterol:
181
mg
Sodium:
4686
mg
Potassium:
3433
mg
Fiber:
77
g
Sugar:
126
g
Vitamin A:
2959
IU
Vitamin C:
9
mg
Calcium:
671
mg
Iron:
21
mg