Bread. Is there anything better than bread? We often buy or make a lot during the holiday season to have on hand for making sandwiches and toasts especially when you have some family over and someone needs a snack right away, but maybe you have too much bread and you don't know what to do with it? I've rounded up my favorite ways to use leftover bread for you here! Throwing out any food is absolutely sad, but throwing out bread? No no no no we can never let that happen! With tons of sweet and savory leftover bread recipes, you will never run out of ideas, and you will never get bored!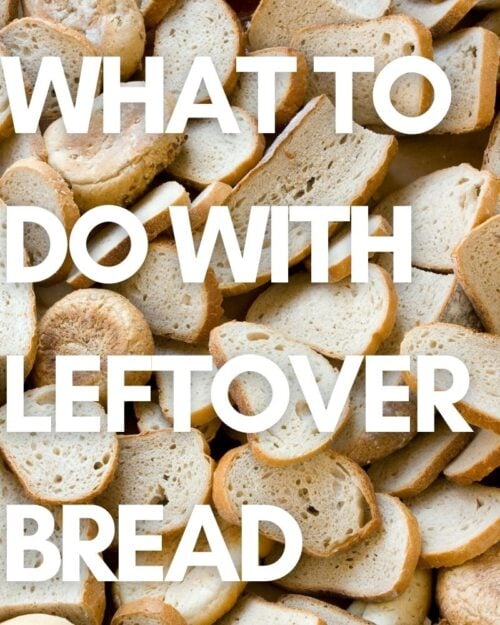 Our Mission: Help give new life to your leftovers!
Our mission is to stop food waste at home! We have tons of ideas for proteins, but what about leftover bread?
Give New Life to Leftovers
If there is one thing we really don't like, it's food waste. Repurposing these leftovers in creative ways ensures that nothing will get wasted, which makes us totally happy! So much food is wasted in the US, but we are here to make sure that never happens again by bringing your leftovers back to life!
Leftover Bread Ideas

#1: Make a Sweet French Toast Breakfast with Leftover Bread
I think we can all agree, a sweet french toast gives us all the warm and fuzzies. This well known breakfast food is tied with a lot of memories for people. Having it for family breakfast on Saturday mornings or learning how to make it on your own!
French toast is incredibly easy to make, and such a fun breakfast to teach your kids to make too! Bonus, they will know how to make it for you! That's what I call a win! This is pretty much the sweetest way to use leftover bread. Our favorite sweet versions are topped berries, maple syrup, and a little powdered sugar, but check out some of our other favorite recipes for sweet french toast below:

#2: Make a Savory French Toast Breakfast with Leftover Bread
French toast, but make it savory. Not feeling a sweet breakfast, but still craving something soothing and filling? Savory french toast is the perfect breakfast using leftover bread! Instead of mixing your eggs with cinnamon, we love using chipotle and smoked paprika.
Top with savory french toast with whatever your heart desires! Our preferred version uses avocados, tomatoes, black beans, and lots of cilantro! It's a super filling and super flavorful way to start your morning! Check out some of our favorite savory french toast recipes below:

#3: Make a Fresh and Bright Panzanella Salad with Leftover Bread
I know what you're thinking. Soggy bread salad, why would I ever eat this? First, it's not soggy if done right, and second, don't knock it til ya try it! This salad soaked dried bread. Tomatoes, cucumbers and onions are one of the most traditional mix-ins, but there are no rules when it comes to panzanella. Put whatever you have hanging out in your fridge in it!
It is typically dressed in olive oil and vinegar and has a subtle little sour kick to it. It's salty, savory, and truly a perfect salad. I mean, aren't all salad dreams made of bread? To round out the meal, add some leftover protein you have from the night before and you're good to go! Check out some of our favorite Panzanella salad recipes below:
#4: Make an Easy Strata with Leftover Bread
Stratas are the overnight breakfast casserole your family or guests will think you worked so hard on all morning. Coming together the night before, Stratas are layered bread, with met and vegetables, cheese, or something entirely sweet, like berries and sugar! Once all components are layered, you pour an egg mixture over the top.
The magic happens overnight! The egg mixture soaks up all of the flavors from the layers and in the morning when its baked off, it's like a fresh casserole! Did I mention the leftovers are ridiculously good? Check out some of our favorite Strata recipes below:

#5: Make a Sweet Bread Pudding with Leftover Bread
Bread pudding is simply, a bread based dessert. Have you ever heard words more beautiful than that? Bread and dessert in the same sentence, truly a dream! It's quite similar to a Strata, but is not put in the fridge overnight. Sweet bread puddings use sugar, maple syrup, and tons of warming spices. Apples and berries are a perfect fit for bread puddings to as they release their own juices, providing delicious natural sweetness.
Old school bread puddings are baked off and then finished with a vanilla cream sauce or bourbon glaze. There is really no wrong way to make a sweet bread pudding. The only thing you need to start is some leftover bread. Even stale bread works fabulous here! Check out some of our favorite sweet bread puddings below:

#6: Make a Savory Bread Pudding with Leftover Bread
Savory bread puddings have the same concept as sweet ones. Stale or old bread layered with stuff, to put simply. Instead of using sugar, warming spices, and fruit, we love using sausage, fresh tomatoes, spinach, and lots of cheese.
Savory bread pudding can be made with virtually any veggies you have in your fridge that need to be used up. Even pre roasted or cooked vegetables work great here. Check out some of our favorite savory bread pudding recipes below: