Hello there, today we are giving away a LifePro Waver Vibration Plate Exercise Machine. This exercise machine vibrates while you work out in order to activate all muscle groups. Make working out in the new year easy and fun!
LifePro Waver Vibration Plate Exercise Machine
BUILD MUSCLE. IMPROVE YOUR FITNESS & FLEXIBILITY – No matter who you are you deserve to feel great and have a healthy lean physique. Jump on your fitness platform to instantly begin sculpting the body and booty of your dreams! The Waver creates a full-body vibration that stimulates musculature causing extra muscle contraction and increased activation at all stages of your workout!

LOSE WEIGHT BURN FAT & CELLULITE – The benefits you'll get from your vibration platform go far beyond building muscle – boost your metabolism and improve circulation to burn unwanted fat increase bone density & suppress joint stress levels. In addition to your yoga straps our resistance bands make the perfect at-home gym cardio bundle to tone and strengthen your upper and lower body.

UNIQUE DESIGN. USER-FRIENDLY DISPLAY. MULTI-SPEED. With a wide range of speed settings from 1 to 99 you can maximize your workouts regardless of your ability level. For your convenience wheels are attached are for easy maneuverability and storage. With our easy to use display screen and remote control you'll get the most efficient results in the shortest amount of time possible.

SPECIAL BONUSES. ONLINE PROFESSIONAL TRAINER MANUAL & EBOOK – When purchasing our product we at LifePro want you to receive as much value as possible. We have designed our manual to be extremely user-friendly. In addition With each purchase you get instant access to free online workout videos that offer instructions and ideas from professional coaches that will help you along the way to get fit lose weight and recover from injuries.
At Lifepro, we believe our minds are the most powerful piece of equipment we own, which is why we've created a target approach to physical recovery that harnesses the body's built-in repair and recovery mechanisms, activating its latent powers to accelerate recovery rates for those who believe, like we do, in taking an active role in gaining and recovering strength, momentum and the capacity to do more, achieve more, and get more out of life.
Lifepro vibration plates provide whole body and multidirectional vibrations to calm the nervous system, drain the lymphatic system for improved metabolism and weight loss, improve bone density, and strengthen the core for greater balance.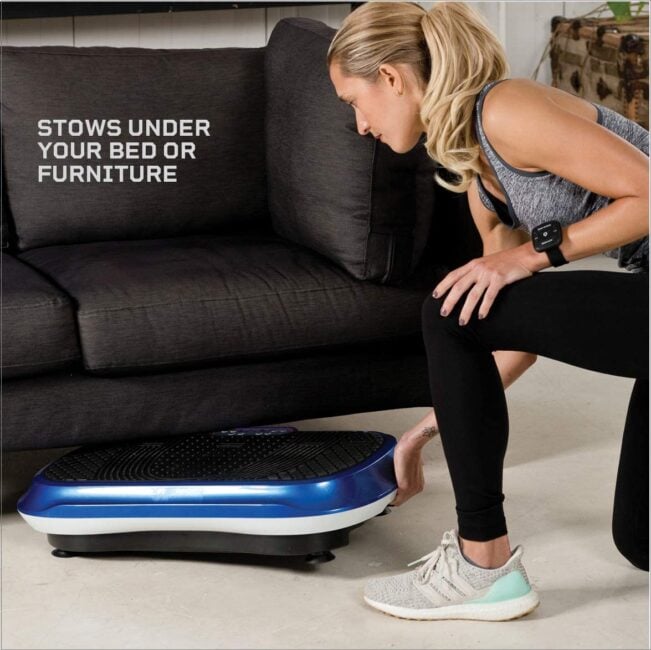 If you enjoy working out at home, this vibration plate is perfect for you. It can easily intensify any at home workout so that you get into shape faster. You can also easily store the vibration plate anywhere in the house, it is a convenient size and weight!
LifePro Waver Vibration Plate Exercise Machine Giveaway
Enter the giveaway below.