As promised, I'm doing a series of simple Chinese dishes as we lead up to the 2008 Beijing Olympics. I'm hoping to post a new recipe at least 4 times a week, though that might be a little ambitious and make my family very hungry for something like spaghetti or meatloaf. This dish, Ground Beef with Beijing Sauce over Noodles is so flexible – you can use ground turkey, chicken or even pork.
If you don't have Chinese noodles, serve over rice or any type of pasta. The greatest thing about this recipe is that the entire thing comes together in 15 minutes (if using noodles) and costs around $5 to feed a family of 4. How can you beat that?!
Normally, I'd serve this over rice, but I had a batch of noodles already in the refrigerator. You can do either. There are certain dishes that my Mom always says in Chinese, "goes very well with rice," meaning, You're going eat A LOT of it and won't be able to stop. This is one of those dishes where before you even know it, you've eaten the entire pot with rice or noodles!
This recipe is adapted from:
Chinese Rice and Noodles: With Appetizers, Soups and Sweets, published by the famous Wei Chuan Cooking School.
What is Chinese

Ground Bean

Sauce
There are several different kinds of bean sauce, the one I used is "ground bean sauce" made by Koon Chun, the "ground" referring to a smooth paste vs. having whole soybeans inside the sauce. Either one is fine. If it doesn't say "ground," chances are that it does include whole soy beans in the sauce.
If you prefer spicy, you can use the "hot bean sauce."
On using frozen vegetables
I always have a package of peas/carrots in the freezer. One, they're cheap; two, they are almost just as nutritious as fresh vegetables; and three they require no cooking.
Dried Chilies
There are many different kinds of dried chilies, most Asian markets will have a finger length dried chili – about the size of your pinky. Though if you look in the dried chili section of your regular supermarket, you can use any of those. In a pinch, just use a teaspoon of regular chili flakes.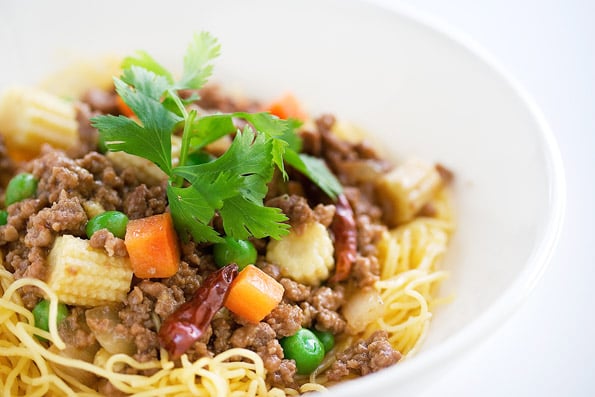 Beijing Noodles
If you don't have bean sauce, you can substitute with hoisin sauce or oyster sauce and omit the sugar. To save time, boil your noodles according to package instructions while you're cooking. I've added dried peppers, but of course you can leave out if you'd like. If you enjoy spice, try the "hot bean sauce" instead of the regular bean sauce, add more dried chilies and leave the seeds in or use chopped fresh chilies instead. (For GF - Ground bean sauce I use (see above) contains wheat flour. Here is a list of GF products from Lee Kum Kee - use the oyster sauce instead of bean sauce. Or, you can increase the soy sauce amount and just leave out the bean sauce. Serve over your grain of choice)
Ingredients
FOR THE SAUCE:
1/2

cup

low-sodium stock (chicken/beef/vegetable)

1

tablespoon

soy sauce

2

tablespoons

ground bean sauce

1/2

teaspoon

sugar

1

teaspoon

cornstarch

1-2

cloves

garlic, minced

1/2

medium onion, chopped

4

dried chili peppers, cut in half, seeds shaken out/discarded (optional)

1

pound

ground beef (or ground pork, chicken or turkey)

1

cup

frozen vegetables (I used carrots and peas), no need to defrost

1

cup

chopped baby corn

Vegetable oil, for stir frying (canola, vegetable, rice oil)

Cooked rice or noodles of your choice
Instructions
Mix the Sauce ingredients together, set aside.

In a wok or large sauté pan over medium heat, add the cooking oil. When the oil is just getting hot, add the garlic, onions and the chili peppers, fry until fragrant about 30 seconds. Add the ground beef and stir fry for 1 minute until browned.

Add the frozen vegetables and baby corn and stir well. Pour in the sauce and turn the heat to medium. Bring sauce to a simmer.

Continue to simmer for another 30 seconds, until sauce has thickened. Taste and adjust for seasoning – you may add a little more soy sauce if needed. Serve over noodles or rice.
Other great Chinese dishes
Martin Yan's Pan Seared Steak Rolls
Baby Back Ribs with Orange Ginger Glaze
Stir Fried Shrimp, Eggs and Peas + Stir Fry Secrets
Pan Fried Shrimp and Pork Potstickers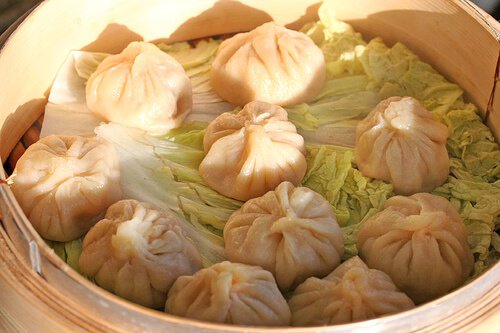 Xiao Long Bao – Steamed Shanghai Soup Dumplings