If you are not up to making pumpkin pie (me) these little treats are perfect. Bite sized, filled with pumpkin puree, cream cheese and pumpkin spices- like clove, nutmeg and cinnamon.
Fry 'em up and an instant dessert that even the kids will love.
Oh, and serve them with a scoop of ice cream and you're golden.
I made these this morning on Fox13 Tampa Bay along with Turkey and Roasted Chestnut Lettuce Wraps. Both recipes are a riff from recipes from The Steamy Kitchen Cookbook!
When you're shopping for wonton wrappers, pick out the THICKEST wonton wrappers possible – because the pumpkin/cream cheese mixture is not solid but creamy, the thin wrappers may burst in the hot oil. You can find these wonton wrappers in the refrigerated produce section of your grocery store – sometimes in the tofu section. The brand I used is Nasoya, which is thick enough.
I definitely want to stress how important it is to seal that baby tight. Paint each edge with egg wash…spoon just a teaspoon of filling in the middle. Lift up a corner to seal tightly, and then pinch together again to make sure the edges are sealed.
Then you can fry them up in cooking oil (canola, vegetable, peanut) for a minute or so each side. Any wontons that are NOT closed properly will leak and possibly splatter!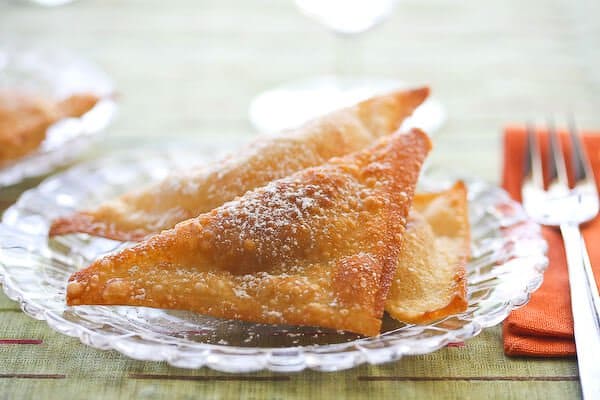 Sweet Pumpkin Fried Wonton Recipe
makes 40
You can find wonton wrappers in the refrigerated produce section of the regular supermarket or the frozen section of an Asian market. These wrappers were provided by Nasoya.
3/4 cup canned pumpkin puree
3 tablespoons brown sugar
1/4 teaspoon ground cinnamon
1/8 teaspoon ground nutmeg
1/4 teaspoon ground cloves
1/4 teaspoon vanilla extract
1/4 cup cream cheese, softened at room temperature
40 wonton wrappers
1 egg
1 tablespoon water
oil, for frying (canola, peanut, vegetable)
powdered sugar
Mix together the pumpkin, brown sugar, cinnamon, nutmeg, cloves, vanilla and cream cheese. Set aside.
In a small bowl, whisk together the egg and the water for the egg wash.
Place one wonton wrapper on a clean, dry surface. With a small pastry brush or a spoon, paint the edges of the wonton wrapper with the egg wash. Then spoon 1 teaspoon of the pumpkin filling in the middle. Fold over to form a triangle and seal very well. Repeat for remaining.
It's important to make sure you have a good, tight seal, otherwise the filling will leak out and cause oil splatters.
Heat 1 1/2-inches of oil in a pot, wok or small frying pan. When the oil reaches 300F, carefully slide in a few wontons into the oil with a long-handled spoon. It's best to use a screen to protect you from the oil. Fry for 1 minute on each side, until golden brown. Drain on rack to let cool.
Sprinkle with powdered sugar.