Hello, crispy skin.
We're in K-k-k-kansas, celebrating the holiday at my brother, Jay's new home. I'm dressed in every bit of warm clothing that I own and have decided that the down comforter doesn't look so bad at all as a cape.
The kids loved the cool weather and the massive backyard.
Nice for running around and playing…but THERE'S NOWHERE TO HIDE!
Gotcha!
This is my bachelor brother. He's handsome, a doctor and available. He even cooks too.
Jay's making spaghetti squash. How can you not love a man who cooks spaghetti squash!???
Every year, it's tradition that my husband deep fries a turkey for Thanksgiving at our home and since we're in Kansas this year, I asked Jay if he'd like a deep fried turkey for dinner which would guarantee a perfect turkey or we could experiment with smoking a turkey in a grill.
Jay has just moved from his posh Los Angeles condo and as a bachelor who's lived in small, urban space for the past 10 years, his only appliance for outdoor cooking was a mini grill with a propane tank the size of a small fire extinguisher. It would cook a quail nicely. But not a turkey.
So, I told Jay to buy simple turkey deep fryer.
But my brother is not a simple gadget man. His refrigerator TALKS. His coffee machine has so many knobs and buttons that it looks like an airplane cockpit instrument panel.
He bought one of those infrared no-oil turkey fryer contraptions. I was highly suspicious of the thing — especially with an appliance named "The Big Easy" and had really wished Jay would have just gotten the big vat of oil because the whole entire goal of cooking a turkey is CRISPY SKIN. I could care less about the meat. I WANT MY CRISPY SKIN.
All morning and afternoon I was so nervous and distracted about this turkey cooker and the fact that I might not get the crispy skin that I accidentally cut my finger pretty deep. But no worries. My brother is a first-class doctor, double major and past cardiology fellow. Surely he would be able to fix this problem with his fancy at-home medical kit.
Dr. Jay. YOUR FIRST-AID KIT SUCKS DONKEY ASS.

Seriously. This was all he had at home.
Scott said I might need stitches, but since we had more pressing matters to tend to…like cooking a Thanksgiving dinner for 14 guests, I opted to bandage the hell outta the finger and saran-wrap it.
Dr. Jay assured me that dinner guests would include a medical clinic administrator, family doctor,  a surgeon and an oncologist.
Onward with dinner making.
So, it's 4pm, the turkey has been in the suspicious contraption for 45 minutes. It looks exactly the same as when it came out of the refrigerator.
Check again at 70 minutes….
Now I'm getting a bit freaked out.
Check at 100 minutes (with 40 minutes left to go):
SHITSHITSHIT!!!!
Sun is setting…getting dark…guests will be arriving soon…
Well at least the wingtips are cooked through. 2 wingtips divided by 14 hungry people = no chance that me and my lame finger would stand a chance fighting for a bite.
I hide back in the kitchen. Too scared to look again.
40 minutes later…times up. I see my husband go outside to get the turkey. I'm fretting. Start calculating how long it would take if I just hijack the turkey and stick in the oven. Realized that eating a oven-roasted turkey at 11pm would be a no-go.
Door opens back again…and Scott presents….THE TURKEY!!!! (sidenote: for Christmas, I need to get my brother a MANLY oven mitt. No man should ever have to wear this, especially when frying infrared'ing a turkey. Oh yes, and I'm also getting him a real first aid kit.)
Cooked through perfectly. Infrared thingy….I'm so sorry I ever doubted you.
Hello, CRISPY SKIN!!!!!
Dinner was a success – and only after our meal, after the plates were cleared – did I present to my personal Thanksgiving medical team of 4 doctors and a medical clinic administrator….my lame finger.
They all hovered around, examined, consulted, debated….stiches? amputation? radiation? finger transplant?
and after 40 minutes, they all came to a consensus that I should continue to use a band-aid and ointment.
It should heal fine.
My brother's lame first-aid kit was really all that was needed.
And then I was presented with a bill for $827.00 (JUST KIDDING!!!!)
***
Martha Stewart Holiday Gift Guide
has just launched! The fine people at MS asked me to contribute my favorite gift ideas along with Etsy, Design Mom, Modern Cat, Black Eiffel, Desire to Inspire and Momologie.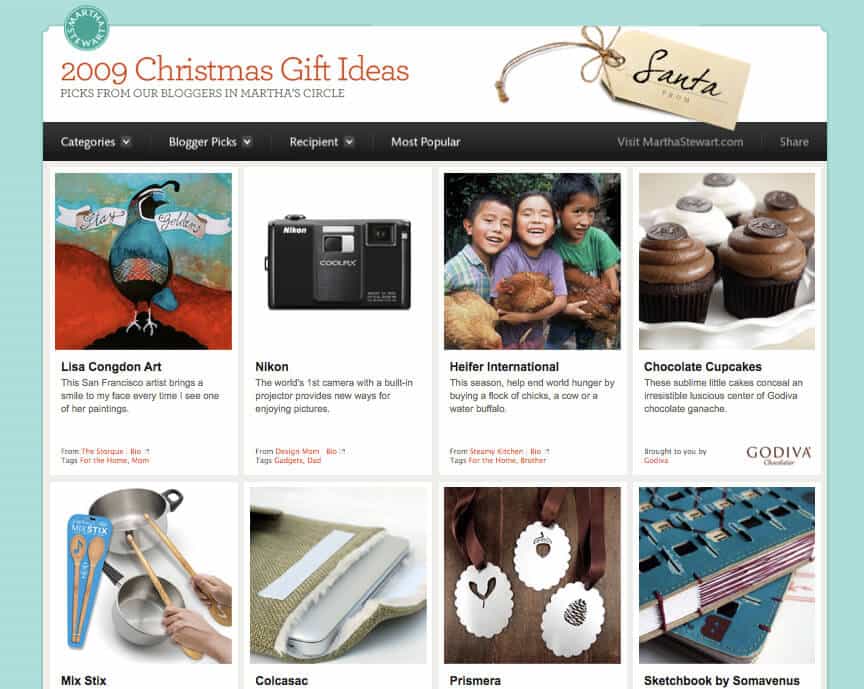 ***
The Day After Good Eats
If you've kept the turkey bones — make Turkey Congee (Chinese Rice Porridge)!