Making your own potato chips is so incredibly easy. There are 2 pieces of equipment that you should have:
1) Mandoline
2) Deep Fryer
(or) you could use a big heavy pot & thermometer
Here's my weapon of choice: Pampered Chef Mandolin
The biggest secret to making light as air potato chips is to soak the potato chips in water to wash away the excess starch. You can even soak them overnight. Usually, I'll soak for 30 minutes. If you don't have the time, then place all the potato slices in a big bowl of water and rub gently to wash each slice. Drain the potato slices super dry, as water + oil = flying splatter = burnt spot on arm and face. (oops)
If you have any left over, and thats a big if….they'll last another day. Don't cover them tightly, which causes them to get soggy. I usually just them in the bowl and drape a towel over them. In the morning before my kids get up, I tiptoe into the kitchen…they make a great breakfast for me. (hey, I dip in ketchup to get my serving of vegetables!)
My favorite dip is a Cumin-Sweet Smoked Paprika Aioli that I got from Florida Trend Magazine's Top New Restaurant Martini's & Tapas where I teach cooking classes at. Instead of making aioli fresh from eggs, I cheat and use store bought mayo. Two unlikely spice combinations of Cumin and Sweet Smoked Paprika just go together but you just don't know why, kinda like Travis and Shannon.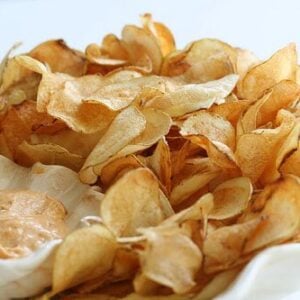 Light as Air Potato Chips with Sweet Smoky Paprika & Cumin Aioli
Ingredients
For the Chips:
1

large russet potato for every 2 people

oil for deep frying

salt
For the Dip:
Dip (Sweet Smoky Paprika & Cumin Aioli)

1

cup

good mayonnaise

1

teaspoon

cumin

1

teaspoon

smoked sweet paprika

1

large clove

garlic, minced with garlic press

1/2

teaspoon

salt

freshly ground pepper
Instructions
Chips:
Using mandoline set at 1/16th inch, slice potatoes. Put all slices in a big bowl of water. Let sit for 20 minutes - 24 hours. Heat fryer to 375. Drain as much water as you can from the potato slices. Use paper towels to absorb any additional water on the surface. Place a batch of potato slices into the fryer (batch size really depends on big your fryer or pot is - just make sure that the slices do not stick to each other and all are under the oil. Fry until golden brown. Drain on a baking sheet with rack. While chips are hot, season with salt.
Dip:
In a bowl, combine all of the above. If have the time, I recommend that you make your own aioli. But, if you're like me and crave potato chips and MUST HAVE THEM NOW, store bought mayo will do.