Where was David Lebovitz when we took this photo? He's nowhere to be found!
By now, you're all probably sick of hearing about our fantab time at the Club Med Food Blogger Camp. That's what I get for waiting until this long to post about it! The good thing is that I can be lazy and just link to everyone else's post and say, "See? That's what we did!"
But before you roll your eyes and think that you cannot stand reading another post of us bragging about the sun, sand, surf and hot trapeze instructors, I want you to take a little peek at a video that White On Rice Couple have created.
During first 4 days of "camp", while the rest of us were lounging, gorging and enjoying various alcoholic bevs, Diane and Todd were very busy working. But you couldn't really tell that they were working. I call it stealth photography. Each of them would lug a beach bag the size of a microwave oven, bulging at the seams, being filled with "stuff" that I thought was beach gear. But nope. Two digital SLRs, a lens as long as an elephant's trunk, camcorder, tripod, monopod and 2 laptops.
They were able to catch every single moment that mattered.
A big thanks to Club Med for having us; David for being my co-host for the Food Blogger Camp and Matt for pitching in to help; Elise for her sunny friendship; Michael and Donna Ruhlman for their wisdom; Dianne for sensualizing corn pops; Adam for letting my kids tattoo the only available spot left on his body and Diane/Todd for creating a video that we'll watch over and over again.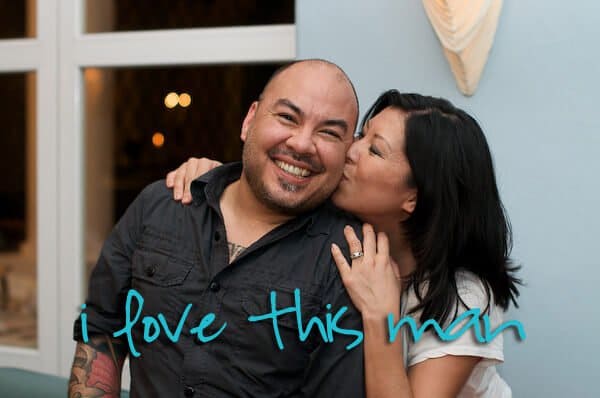 Yo! My sistah! Don't mess with her – Diane kick ass!
This is what happens when two goofballs try to tickle each other simultaneously during a photoshoot. We know each other too well!
What pigs we are! I think I ate more than Ruhlman.
I loved hanging out with friends, Diana, Stephanie, Garrett, Fran, Perre, Stephanie M, Diane, Casey, Lori, Brian, Claire, Cecilie, Jane, Richard, Gary, Brooke, Nancy, Brook, Justin, Lauren, Sarah, Sonnda, Owen, Steve Anna, and Ronn.
And here's to my hero, my husband for teaching the boys the thrill of the boogie board and how to make architecturally sound sand castles.
Will we have Food Blogger Camp #3? You betcha! David and I are already working on it! Next time we'll open the camp to more participants and choose another Club Med location…batting around ideas….Thailand? Brazil? Dominican Republic?….hmmmm….
And more…