Firecracker Shrimp with Sweet Chili Sauce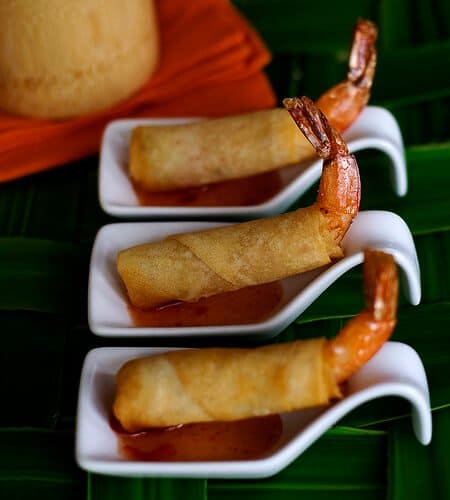 Ooooohhhh – these were so delicious! These Firecracker Shrimp with Sweet Chili Sauce almost didn't make it to the dinner table – we were eating them as they came out of the fryer – not even minding that we burnt our tongues! The reason I love this dish so much is because the ingredients are so simple and I almost always have frozen shrimp and a packet of Eggroll/Springroll wrappers in the freezer. I was inspired by these two lovely ladies – after seeing their photos and realizing, "hey, I got those ingredients!" I scurried to the kitchen to start. Note: For another recipe using egg roll wrappers, try My Mother's Famous Egg Rolls !
Here are my secrets to Firecracker Shrimp with Sweet Chili Sauce:
Coat the shrimp: I marinate the shrimp in garlic, ginger, sesame oil, soy sauce, and sweet chili sauce. The recipe is flexible. If you don't have all those ingredients, change it up! I promise you it will taste just as delicious. Other creative ideas for marinade: Moroccan spices, curry powder, cajun seasoning, garam masala, etc. Whats your favorite seasonings for shrimp? Ok, back to "coating": if you use liquid ingredients in the marinade (such as soy or sesame oil) – add a little cornstarch. This does something important – it thickens the marinade so that it clings to the shrimp. Oh, and while we're talking about marinating shrimp – don't use wine in your marinade for seafood. If you want to use wine in a seafood dish, add it towards the end of cooking process or even in the marinade right before you cook the seafood. Wine in a marinade changes the texture of the delicate seafood, especially shrimp. It makes it a little mushy – not good!
Pat the shrimp dry: After swimming in the marinade for 20 minutes, you should pat the shrimp as dry as possible. Don't worry about wiping off the marinade – the shrimp has already been infused with the flavors during the 20 minute soak. Plus, the cornstarch will keep some of the marinade clinging to the shrimp. Whenever you make something that involves wrapping and frying, the ingredients should be dry to prevent the wrapper from getting soggy and I'm sure you know what happens when you put something wet into hot oil.
Nick the shrimp: Taking a cue from the Japanese shrimp tempura, score or nick the shrimp several times along the inside of the "curve." This lets you straighten out the shrimp so you don't get a short, curly roll. Just be sure not to cut to far…three little nicks is good.
Roll tight: When you roll, try to make the roll tight and compact, like a joint ….um….er….cigar….. You don't want the shrimp falling out when you put it in the fryer. See that wrapper corner? That is where you need to brush your cornstarch "paste." Not too much though! Just enough to keep the wrapper in place and seal.
The sweet chili sauce that I use is Mae Ploy. Its sweet and tangy, not too spicy.
Firecracker Shrimp with Sweet Chili Sauce
Servings: 4-6
Prep Time: 10 minutes
Cook Time: 20 minutes
Ingredients:
25 large tail-on shrimp, deveined and nicked (see above)
15 eggroll/springroll wrappers, cut in half diagonally (2 triangles)
oil for frying
Marinade
1 tsp minced garlic
1/2 tsp grated ginger (using rasp grater)
1/2 tsp sesame oil
1 tsp soy sauce
1 tsp sweet chili sauce
1 tsp cornstarch
Cornstarch "paste" (mix well to form paste)
1 Tb cornstarch
1/4 cup water


Directions:
1. Combine marinade ingredients in bowl, marinate shrimp for 20 minutes.
2. Pat the shrimp dry with a paper towel. Wrap each shrimp in a eggroll/springroll wrapper half. (see instructions above) Seal with cornstarch paste.
3. Fry in hot oil (375) for 3 minutes, until golden brown and shrimp is cooked through. Serve with sweet chili sauce for dipping.