What could make salmon even more perfect than a 15-second Dijon mustard sauce, accompanied with egg, avocado, tomato, and greens over seedy bread (or grainy grains!)? Read ahead for all the steps.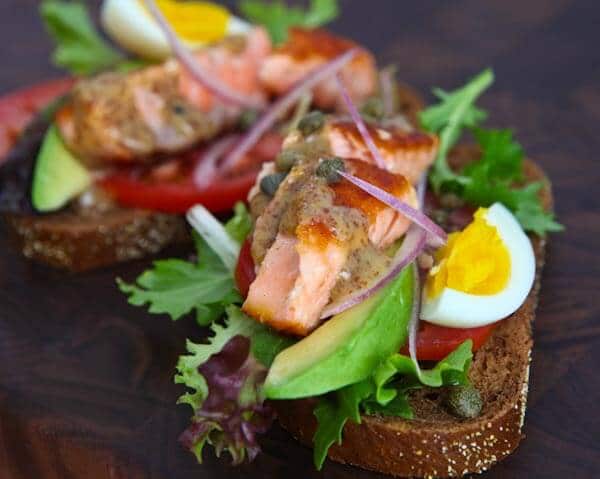 I can be pretty boring with salmon, it's so easily mastered with just the bare-bones salt, pepper and a hot grill. So why mess with simple and perfect?
Well, because chef Marcus Samuelsson says so….and I agree. Marcus' Sweet Mustard Sauce is a 15-second whisk of Dijon mustard, honey, olive oil and a squeeze of lemon that's a perfect addition to grilled salmon.. In fact, whisk in a more olive oil and it turns into a fantastic honey mustard salad dressing if you want to ditch the sandwich idea and serve the salmon on a bed of lettuce instead.
Marcus Samuelsson on Blogging
A few weeks ago, my good friends at Be Everywhere social media agency (hey James, Danica and Tamara!) invited me to a Macy's Culinary Council event in D.C. I couldn't go, so I sent two bloggers to go my place, Mrs. Wheelbarrow and and the mysterious W. Mark Felt. Mrs. Wheelbarrow shot a quick video, asking Marcus about blogging (see below) and I'll publish Felt's article later this week.
Sooooo….Marcus, what do you think of blogging?
YES! Marcus blogs and tweets! Though, someone needs to tell him that he'd be much more successful at social media if he actually talks back with people once in a while. Open up comments on the blog! Respond to nice tweets! There's a reason why the word "social" is in social media….it's not soapbox media.
Okay, getting off my little rant and onto the recipe…simple ingredients…
And of course the sweet mustard sauce….
Turn this Open Face Salmon Sandwich into a Buddha Bowl!
Protein, veggies, healthy fats – this salmon sandwich has all the makings of a balanced meal. Why not make it last even longer by turning it into a Buddha bowl? If you have leftover mustard sauce – even more reason to do so!
Just replace the bread with some whole grains and load up on mixed greens if you wish!
Tips for the best Salmon Avocado Buddha bowl
Food Styling: Salmon Sandwich
If you're interested in seeing my step-by-step food styling and photography leading up to the money shot, I've posted on Food Blog Forum.
I'll show you the itty-bitty details that I notice when I'm looking through the lens as I'm taking the photo.
Open Face Salmon Sandwich with Sweet Mustard Sauce Recipe
What could make salmon even more perfect than a 15-second Dijon mustard sauce, accompanied with egg, avocado, tomato, and greens over seedy bread (or grainy grains!)? Read ahead for all the steps.
Ingredients
For the Sweet Mustard Sauce
2

tablespoons

Dijon mustard

1

tablespoon

honey

2

tablespoons

olive oil

1/2

teaspoon

lemon juice

1/4

teaspoon

salt

Freshly ground black pepper
For the Sandwich
1

egg

4

4-ounce

salmon fillets

about 1 inch-thick, skin removed if desired

3

tablespoons

olive oil

divided

2

tablespoons

Sweet Mustard Sauce

(see above)

Salt and freshly ground black pepper

1

tomato, cut into four 1/2 -inch slices

1/4

red onion

sliced thinly

8

slices

dark rye bread

or multi-grain bread

Mixed leafy greens

1

avocado

halved, pitted, and cut into 1/2 inch slices

2

teaspoons

capers

drained
Instructions
To make the Sweet Mustard sauce, whisk together the mustard and honey in a small bowl. Slowly drizzle in the olive oil, whisking continuously. Stir in the lemon juice and season with salt and pepper.

To hard boil the egg, put the egg in a small pot and fill with water to cover the egg by 1-inch. Bring the water to boil and immediately turn the heat off. Let the eggs sit in the hot water for exactly 7 minutes. Drain, rinse under cool water and peel when cool enough to handle. Cut the egg into quarters, lengthwise.

Heat a grill pan over high heat. Brush salmon fillets with 2 tablespoons of the olive oil and grill for 2 minutes on each side.

Wipe the grill pan clean, brush the remaining 1 tablespoon olive oil on the bread and grill the bread for 30 seconds each side, until nicely toasted (or use a toaster)

To assemble sandwiches, first cut each piece of salmon into 2 pieces. Layering leafy greens, tomato, avocado, egg, red onion, grilled salmon and capers on each bread slice. Spoon the sweet mustard sauce on top and serve, opened faced.
Notes
Nutrition information includes full values for Sweet Mustard Sauce. Actual amount consumed may vary.
Nutrition
Calories:
448
kcal
Carbohydrates:
42
g
Protein:
9
g
Fat:
28
g
Saturated Fat:
4
g
Cholesterol:
41
mg
Sodium:
666
mg
Potassium:
458
mg
Fiber:
8
g
Sugar:
8
g
Vitamin A:
389
IU
Vitamin C:
10
mg
Calcium:
66
mg
Iron:
3
mg