I met award-winning cookbook author Virginia Willis about a month ago at IACP Portland, and within seconds of meeting, we were giggling about….oh I don't even remember! After a couple glasses of wine, chocolate bar and bite after bite of seafood cooked on salt blocks, courtesy of the fabulous Mark Bitterman, selmelier (yes! a salt expert!), specifics were forgotten and all I can say was that a good time was had by all.
Virginia was Martha Stewart's former kitchen director, and book, Bon Appetit, Y'all: Three Generations of Southern Cooking was an instant hit…and now it's become one of my favorites. So far, Cola Glazed Baked Wings and Dirty Rice have each been made and ravenously consumed by my family.
How can you not love a woman dressed in nothing but collard greens!? If you have a chance, come and visit her blog. If I lived next door to this lady, I'd never leave her doorstep.
I'm planning a trip to Atlanta soon, and she doesn't know it yet, but I'm stopping at her house first to get fed. We vowed that the next time we would see each other, I would teach her more about blogging and she would bake me a pie.
Don't tell her I've got the better end of the deal!
How to make Cola Glazed Baked Wings
Simple ingredients! I bet Dr. Pepper would work just as well.
Simmer the sweet cola sauce:
Stir in as much jalapeno as you want:
Let cool a bit and then toss with wings: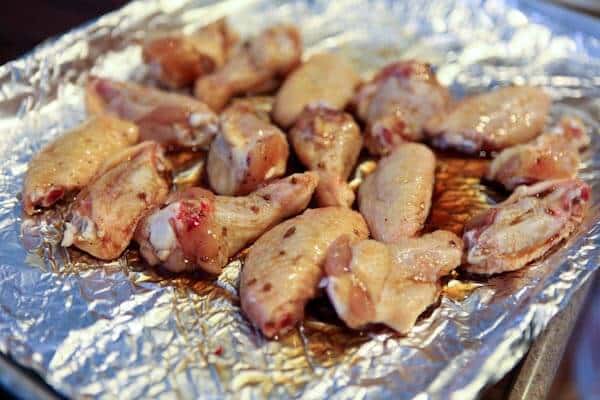 Bake, flip and bake more:
And that's it!
Virginia Willis' Cola Glazed Wings Recipe
Ingredients
1

cup

cola

Juice of 2 limes

1 1/2

cups

firmly packed light brown sugar

1

jalapeno, finely minced (discard the seeds)

2

pounds

chicken wings

1/4

teaspoon

coarse salt

Freshly ground black pepper
Instructions
To make the glaze:
In a small sauce pan, bring the soda, lime juice, brown sugar and the minced jalapeno to a boil over high heat. Decrease the heat to medium-low and simmer until the mixture is syrupy, about 30 minutes; keep warm over low heat.
To prepare the wings:
Cut off the wing tip (reserve the tips to make stock), and separate the wings at the joint. Place the wing pieces in a large bowl and season with salt and pepper. Pour about half the glaze over the wings and toss to coat Keep the remaining sauce warm over low heat.
To bake the wings:
Position an oven rack 4 inches below the broiler element in the oven. Preheat the broiler. Line a baking sheet with aluminum foil. Place the glazed wing on the baking sheet and broil for 10-12 minutes per side, brushing twice on each side with the reserved glaze. Transfer to a platter.
Notes
Recipe from Bon Appetit, Y'all: Three Generations of Southern Cooking
I've cut the amount of jalapeno chilies in a recipe (original called for 3 whole chilies) just to tame the heat, but feel free to use as much as you'd like. You can also add some thinly sliced jalapenos with the wings too.