Steamy Kitchen is giving away a Bread Maker and we are also going to share a bread recipe with you along with some other warm delicious Steamy Kitchen baking recipes.
Hamilton Beach Bread Maker Machine 2 Lb Capacity
FRESH HOMEMADE BREAD IN JUST 3 STEPS: Just add your ingredients to the bread maker, select the cycle and press start. Choose between making either 1.5 or 2 lb loaves.

12 CYCLES: Bread maker settings include: basic, French, gluten-free, quick bread (no yeast), sweet, 1.5-lb express, 2-lb express, dough, jam, cake, whole grain and bake.

GREAT FOR DOUGH PREP: Prepare a variety of yeast doughs such as dinner rolls and pizza crusts in the bread maker machine to be baked in a conventional oven.

CONTROL THE NUTRITIONAL CONTENT OF YOUR BREAD: Prepare healthy homemade breads without preservatives or trans fat using this bread machine.

EASY TO CLEAN: Non stick, dishwasher-safe pan & 2 kneading paddles interior pan removes for easy cleaning in the dishwasher two kneading paddles let you use one while the other is in the dishwasher

LARGE DIGITAL DISPLAY: Makes it easy to view and select the cycle, crust, and loaf size. The Delay Timer allows you to add ingredients and begin the baking process later, perfect for breakfast and entertaining.

RECIPES INCLUDED: More than 25 bread maker recipes are included to help get you started, ranging from basic white, gluten-free and French breads to cinnamon-raisin buns, Italian Parmesan and onion poppy seed loaves.
Top Steamy Kitchen Baking Recipes
Bake someone's day, bake a sweet treat and share with family and neighbors!
This recipe is a guest post written by Tory Avery. Enjoy her writing as she gives step-by-step instructions to make sweet airy Bourekas. These flaky pastries are usually filled with a savory flavor like meat, but Tory has put a sweet apple cinnamon twist on this recipe!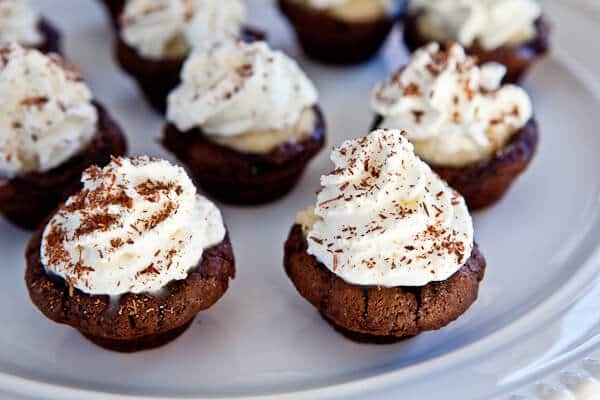 These cupcake will satisfy your sweet, salty and boozy tooth! Though it does not haas the traditional Tiramisu layers, these cupcakes still have layers of: rich, fudgy chocolate cake, coffee liqueur, creamy mascarpone cheese, whipped cream and lastly chocolate shavings.
Mmmm perfect loaf of French Bread, crisp on the outside, warm and soft on the inside. This recipe is a step by step for how to bake the perfect loaf in the oven. If you are looking for a bread maker recipe check out this one from The Country Cook for Easy Homemade French Bread.
Chinese sweet buns are Jaden's mom's delicious recipe with a simple sweet dough plus one option for a sweet filling and one for savory. The delicate soft buns hold flavors of coconut and sugar. Or you can choose to fill your buns with a savory ground beef and soy sauce mix.
The perfect summer evening dessert recipe. It's fun to make s'mores over an open flame, but it's sooo hot (yes, even at night) in Las Vegas so I love that this s'mores recipe can be baked indoors! Cake like cookies with a piece of chocolate and roasted marshmallows–yum!
Bread Maker Giveaway
Enter the giveaway below!