Baked Spaghetti Squash with Garlic and Butter
The easiest way to cook spaghetti squash is just to bake it whole. Use a sharp paring knife to pierce the skin a few times all around, bake at 375F for about 60 minutes. That's it! If you're short on time, you can microwave the ENTIRE thing for 10-15 minutes and save about 45 minutes.
Why bake spaghetti squash whole?
Uncooked, whole spaghetti squash is very difficult to cut open, without the help of a chainsaw! The squash is heavy, the skin is thick, and it's very dangerous to cut through a wobbly, round object! Oh yes, it also hurts when you drop the bastard on your foot *!@#!*%Y&!!!
In reality, as intimidating as a squash looks, it's strangely simple to cook. Just pierce a few times all around with a sharp paring knife and plop it on a baking sheet. No cutting, no peeling, no marinating, no yelling, and no bruised foot.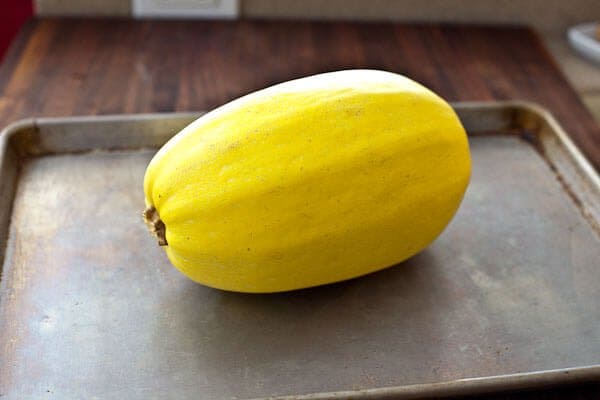 Bake 375F for about an hour. Just until you can pierce it easily without resistance, with a knife.
Let it cool, then slice open and rake out the seeds.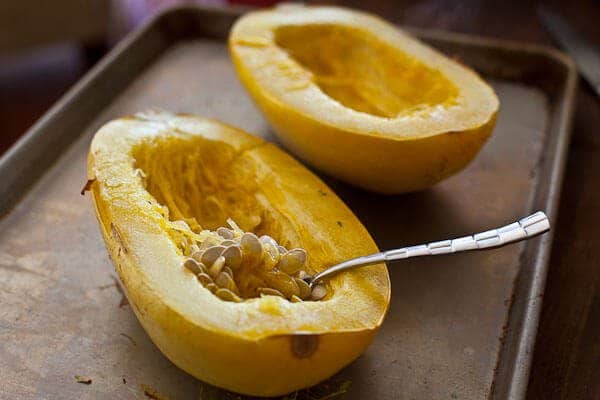 Then use your fork and scrape away….look at those pretty strands! If it seems really hard to scrape out the squash, return to the oven for another 10 minutes. The squash shouldn't be mushy — taste it — it should still have a nice, slight crunch.
One squash will feed lots of people.
Loads of butter, loads of garlic.
Loads of parsley or basil.
Toss in the squash, season with salt.
And loads of grated parmesan cheese.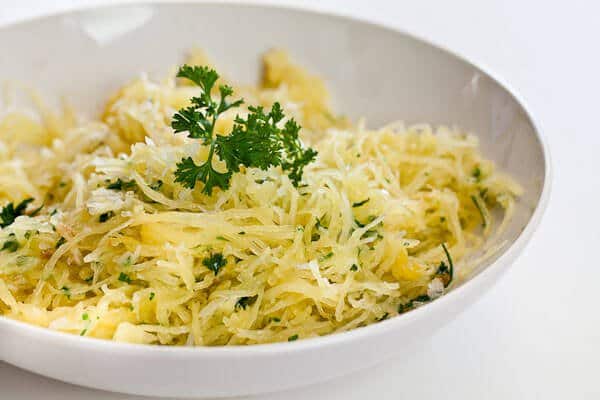 My favorite garlic tool and baking sheets.
More Spaghetti Squash Recipes

Microwave Spaghetti Squash with Tomatoes and Basil from Steamy Kitchen (cook the squash whole in the microwave!)
Spaghetti Squash with Pomodoro Sauce from Whipped
Spaghetti Squash and Chard Gratin from Kalyn's Kitchen
Moroccan Spiced Spaghetti Squash from Smitten Kitchen
Stuffed Squash Boats from Dine & Dish
Spaghetti Squash with Crispy Bacon & Turnip Greens from Cooking by the Seat of my Pants
Spaghetti Squash with Tomatoes, Basil, Parmesan from Love & Olive Oil
Zucchini & Spaghetti Squash "Lasagne" from Green Lite Bites
Baked Spaghetti Squash Recipe with Garlic and Butter
I prefer to under-bake the spaghetti squash just a bit, so it still retains just a slight crunch. Baking time really depends on how big your squash is - try to get the smallest one, especially if you're only feeding 4 people. The spaghetti squash is ready if you can pierce the squash with a paring knife with little resistance. If you're a garlic lover, don't be shy - use more!
For faster cooking, microwave the whole squash for 2-4 minutes (to soften enough to cut through thick skin). Cut lengthwise, scoop out seeds. Place squash cut-side down on baking sheet and roast for 30 minutes until tender.
Course: Side Dish
Cuisine: American
Calories: 105 kcal
Ingredients
1 small spaghetti squash about 3-4 pounds
2 tablespoons butter
2 cloves garlic finely minced
1/4 cup finely minced parsley or other fresh herb
1/2 teaspoon salt or to taste
1/4 cup shredded parmesan cheese
Instructions
Preheat oven to 375F. Pierce squash a few times with sharp paring knife (to let steam escape). Bake spaghetti squash for 60 minutes, or until a paring knife pierces easily through skin with little resistance. Let squash cool for 10 minutes.

Cut squash in half, lengthwise. Use a fork to remove and discard the seeds. Continue using fork to scrape the squash to get long, lovely strands. If the squash seem difficult to scrape, place squash halves cut side down, and bake for an additional 10 minutes.

To serve 4 people, you'll use about 4 cups of the spaghetti squash strands. Heat a large saute pan with the butter and the garlic over medium-low heat. When garlic becomes fragrant, add parsley, salt and spaghetti squash strands. Toss well, sprinkle in the parmesan cheese and taste to see if you need additional salt. The spaghetti squash should have a slight crunch - but if you like it softer, cover the pan and cook 2 more minutes.
Nutrition Facts
Baked Spaghetti Squash Recipe with Garlic and Butter
Amount Per Serving
Calories 105
* Percent Daily Values are based on a 2000 calorie diet.