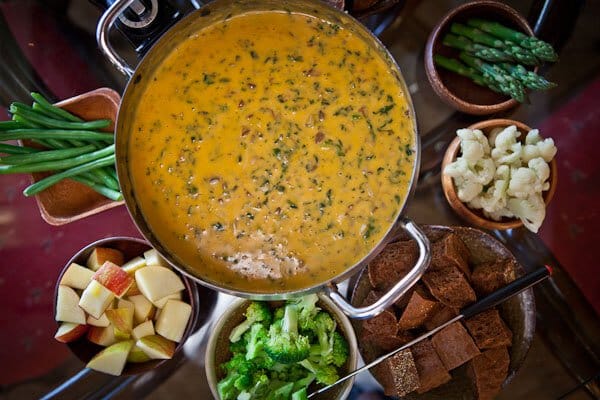 While most of the country is already turned on their heaters and brought out their winter jackets, we've been suffering from the unbearable heat with 10,254% humidity until just a few days ago. I envy those of you in cooler states, you get to snuggle under a fuzzy blanket and drink hot chocolate with the mug cradled in your palms for warmth.
Of course, the grass is always greener on the other side, right?
A few days ago, when it finally dipped below 80F and I could safely open the front door without it feeling like a furnace blast, we made fondue at home as well as on my cooking segment on Daytime television (video below)
First, a little about where this recipe came from. I recently hosted a recipe contest with Pacific Natural Foods where 2 winners got an all-expense paid trip to culinary boot camp at the Culinary Institute of America in Napa Valley.
Lucky winners, Michael Natkin of Herbavoracious and Virginia Slim scored the trips — and I got to choose the "Jaden's Pick" winner, which was this Spinach and Mushroom Fondue by One Spicy Dish blogger, Holly.
I stayed pretty true to her recipe…except for one thing.
I added bacon.
Would you expect anything less from me?
Dipping foods included blanched cauliflower and broccoli florets:
…asparagus spears…
….dunked in the fondue up by happy kid number 1….
…pumpernickel bread chunks, the favorite of kid number 2…
…and apple chunks, my personal favorite.
Spinach Mushroom and Bacon Cheese Fondue Recipe
Ingredients
32

ounces

chicken or vegetable broth (I prefer Pacific Natural Food Chicken Broth)

16

ounces

mild cheddar cheese, shredded

8

ounces

gouda cheese, shredded

2

tablespoons

flour or cornstarch (I prefer flour)

1

tablespoon

butter

3

ounces

frozen chopped spinach, thawed

3

slices

bacon, minced

1

clove

garlic, minced

4

ounces

fresh mushrooms of your choice, chopped

3/4

cup

white wine (or beer)
Dipping foods:
Broccoli florets

Cauliflower florets

Asparagus spears, ends trimmed and cut into 3" lengths

Green beans, trimmed

Granny smith apples, cut into chunks

Pumpernickel bread, cut into chunks
Instructions
Prepare the dipping foods by bringing the chicken stock to a boil in a sauce pot. Add the broccoli, cauliflower, asparagus and green beans and cook for 2 minutes. Using a slotted spoon, strain out the vegetables, reserving the broth. You will use 1/4 cup of this reserved broth in the fondue, but save the rest for another use.

In a large bowl, toss together the shredded cheddar, shredded gouda and the flour until flour is coating cheese evenly. Set aside.

Take the thawed chopped spinach in your hand and squeeze as much water as you can out of the spinach. Set aside.

Heat a fondue pot or medium pot over medium heat with the butter and bacon. Cook the bacon for 2 minutes (make sure the bacon does not burn or cook too quickly). Add the garlic and mushrooms and saute until the mushrooms are softened, about 2 minutes. Pour in wine and 1/4 cup of the previously reserved chicken broth from step 1. Bring to a simmer and in batches, add a handful of the cheese, stirring and letting the cheese melt before adding more. Stir in the chopped spinach. If the fondue becomes too thick, add a couple tablespoons of additional broth.

Serve fondue with the vegetables, apples and bread.
Other Fondue Recipes
Aged Cheddar & Guinness Fondue – Steamy Kitchen
Making Swiss Fondue – David Lebovitz
Crab Fondue – Simply Recipes
Roast Pumpkin & Cheese Fondue – Epicurious
Chevre & Herb Fondue – Je Mange la Ville
***
Tamron Lens Giveaway
pssst….don't forget, I'm giving away a Tamron lens!
Giveaway is open until 11/30/10