Thai Basil Turkey Wraps
I recently took a trip to The Pampered Chef headquarters in Chicago to host their first ever live online cooking show featuring holiday recipes and decor tips. I had great fun, thousands of people watched online and here is one of the recipes that we made on the show.
The original recipe calls for chicken, but since I know that you'll have plenty of turkey leftover from Thanksgiving, this is a great way to use them!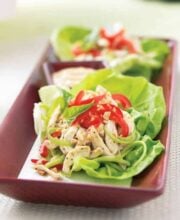 Thai Basil Turkey Lettuce Wraps
Servings: 4
Prep Time:5 minutes
Cook Time:5 minutes
Ingredients:
FOR THE PEANUT SAUCE
3 tablespoons dry-roasted peanuts, chopped
2 tablespoons chopped fresh basil, chopped
1/2 cup store-bought poppy seed salad dressing
1 tablespoon light soy sauce
1 teaspoon grated fresh ginger root
1 clove garlic, finely minced
2 tablespoons rice vinegar
2 tablespoons water


FOR THE SALAD
1 cucumber
1/2 medium red bell pepper
3 cups shredded cooked turkey
8 large Boston or bibb lettuce leaves
Additional chopped peanuts and chopped fresh basil (optional)


Directions:
1. Combine peanuts, basil, dressing, vinegar and water in a small bowl; set aside.
2. For salad, peel cucumber; slice into julienne strips, avoiding seeds. Slice bell pepper into thin strips. Shred chicken; toss with half of the sauce. Set remaining sauce aside for dipping.
3. To serve, divide cucumber among lettuce leaves. Spoon turkey mixture over cucumber. Top with bell pepper. Garnish wraps with additional peanuts and basil, if desired. Serve with remaining peanut sauce.