This giveaways is for all of the cold brew coffee lovers out there! This amazing Vinci Cold Brew Machine will whip up a rich cup of cold brew coffee in minimal time.
Normally, cold brew takes 24 hours to make because it is necessary to steep the beans in cold water for 24 hours. Vinci has created new technology that will have a cup of cold brew in your hand in minutes!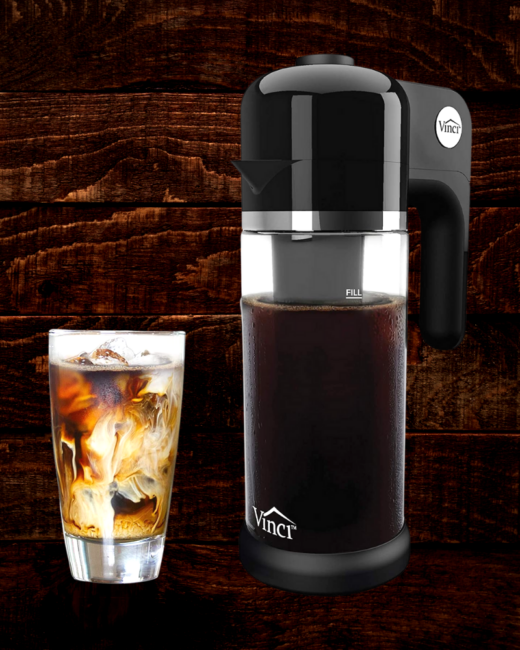 Vinci Express Cold Brew Electric Coffee Maker
Cold Brew Coffee Just Got Faster! The Vinci Express Cold Brew Coffee Maker allows you to make homemade cold brew coffee in just minutes instead of waiting the traditional 12-24 hours.

4 Coffee Brew Strengths to Choose From – Select from Light (5 Minutes), Medium (10 Minutes), Bold (15 Minutes), or Extra Bold (25 Minutes).

New Technology – Vinci's patented Circle Flow brewing technology ensures a Fast, Bold, Delicious Cold Brew with a Smooth, Clean, and Virtually Sediment-Free finish.

Brew, Serve & Store in One Container – Compact for easy storage in the refrigerator for up to 10-days. Includes two lids- one for brewing and one for storing.

Includes Self Cleaning Function – Includes a clean setting that flushes residual coffee from the unit, then cleans with fresh water, and drains the brew path for the most hygienic brewing.
Why We Love The Vinci Express Cold Brew Maker
No patience is needed! First and foremost if you hate waiting (like me) then this cold brew maker is for you. The max time you have to wait is 25 minutes.
Customize your cold brew coffee as bold or light as you like. This machine comes with a little scoop that you can use to measuring out the grounds with. Next, choose the setting "light," "medium," or "bold" to get the perfect blend for you. This feature also gives you the opportunity to try alll the different blends and find your favorite.
It is breeze to assemble this cold brew maker. The filter basket easily pops snuggly into place in the lid with a slight twist. The lid then smoothly clicks into place after setting it carafe. There is no confusing assembly and if you watch our review video–no need for reading directions!
Clean up is a breeze as well and all of the pieces fit together for convenient storage.
The Flip Side
The cold brew that this coffee maker brews up is delicious. However, you will not get the full richness of a cold brew that you make the conventional way. If you are looking to enjoy cold brew every day, this is for you. If a coffee enthusiast looking for a deep full flavored smooth coffee with a taste that you can breathe in and sit with, stick to the conventional method.
Recipes for the Coffee Lovers
Thai Iced Coffee. This recipe is refreshing, creamy, sweet and contains hints of warm cardamom and a touch of almond extract. It is sure to satisfy all of your tastebuds and leave you wanting to make a cup every morning.
Vietnamese Iced Coffee (Cafe Sua Da). This iced coffee is an intensely brewed coffee concentrate that drips down into a tall glass of ice and a big spoonful of sweetened condensed milk. Perfect for an early morning perk and a satisfyingly simple taste.
Cold Brew Maker Review and Giveaway
Enter the giveaway below.