We've been kabob happy lately, and it's all because of this man: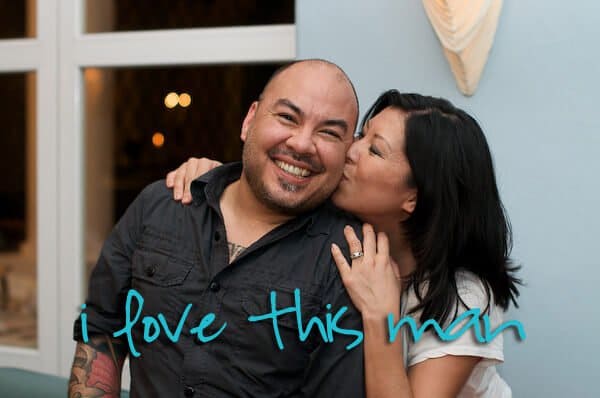 click on photos to see where we were!
and this man:

My kids want to be Adam when they grow up.
These two men wrote this book:
Get this book! I know you'll love it! Chicken and Waffles on a Stick? hells yeah! You can see more photos from the book on Matt's site.
How to make Asian Steak Kabobs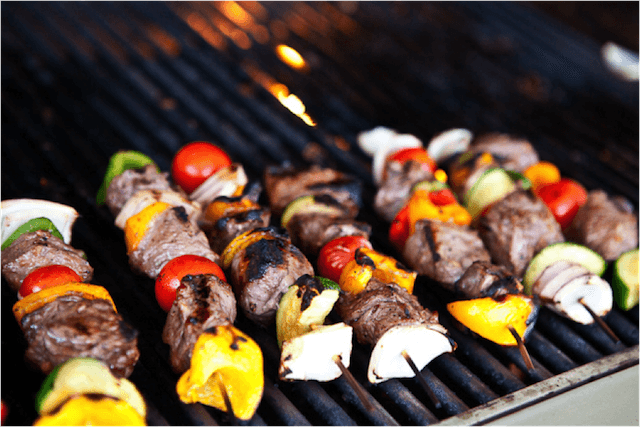 Okay, back to the kabobobobobobs….(I love sayin' that)
Here's what I chose for the kabobs:
The beef
For steak kabobs, I always choose sirloin: it's cheaper, perfectly shaped for cutting into kabob chunks (with virtually no waste at all) and it's got an intense beefy flavor. These black angus sirloin steaks are from my client, Sweetbay Supermarket (by the way, I'm giving away $250 gift certificate to Sweetbay).
There's very little work to be done with the sirloin, except to trim away the outer fat if you'd like.
Then cut into 1½" cubes, oh about this size.
The vegetables
To make the perfect kabobs, it's not just about the right mix of vegetables (the type of vegetables are totally up to you and what your friends and family prefer) but also how you cut the vegetables.
Ideally, the steak and the vegetables cook in harmony, coming to the right temperature and level of doneness at the same time. You wouldn't want charred vegetables and undercooked meat, nor would you want perfectly grilled steak but undercooked vegetables.
I'll go through each type of vegetable for you:
Zucchini or yellow squash should but cut into ¾" thick rounds. If the squash is small, just leave them as rounds. If they're big 'n fat, like mine, I cut them into half-moons. You want to make sure that the squash isn't cut any thinner than ¾" thick – it's a soft, delicate vegetable that breaks easily when skewered.
For bell peppers, I get every single color – red, green, orange and yellow. Slice the pepper in half first.
Then use your fingers (or a paring knife) to remove the seedy section.
Slice each half into 4 strips (3 if your pepper is small)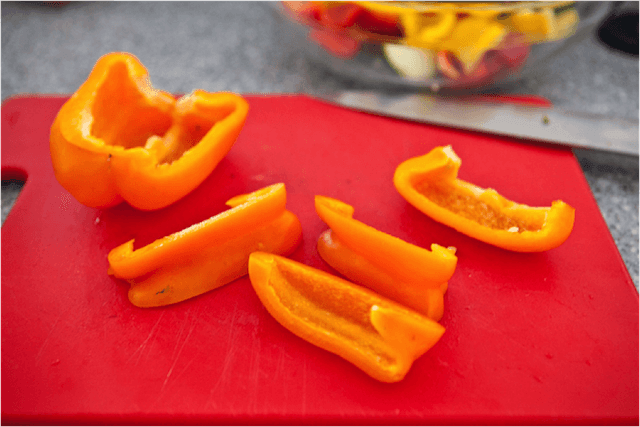 Then cut each strip into 3 squares.
For mushrooms, I prefer the meaty portobello. The problem you might run into with mushrooms is that they're incredibly soft and tear easily when trying to skewer them.
Large portobellos cut thick work great. Slice into 1-inch thick slices, then halve each slice.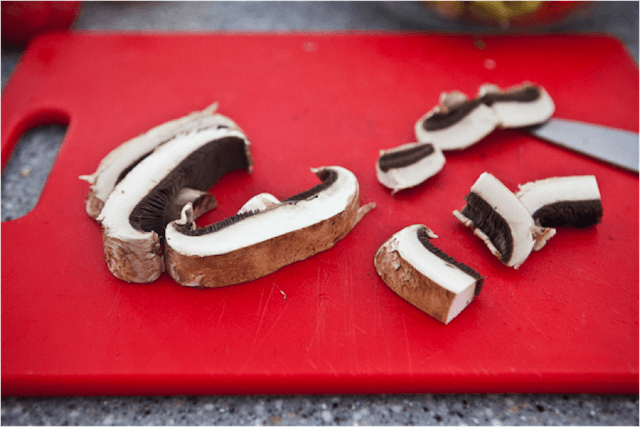 For onions, we enjoy both red onions and sweet Vidalia onions. Cut in half, peel away the skin and cut off the stem.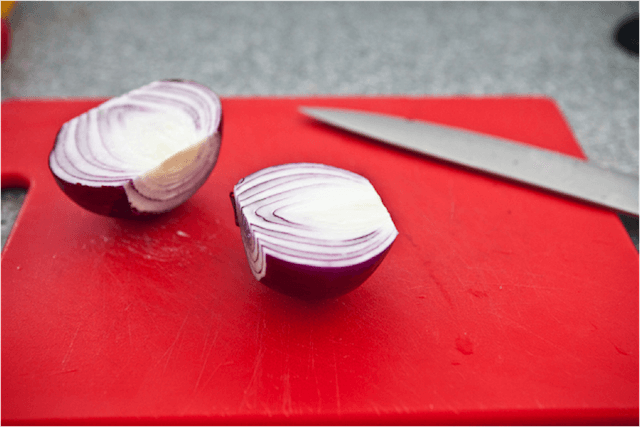 Cut each half into thirds (or half if using small onions)
Then cut each piece in half again.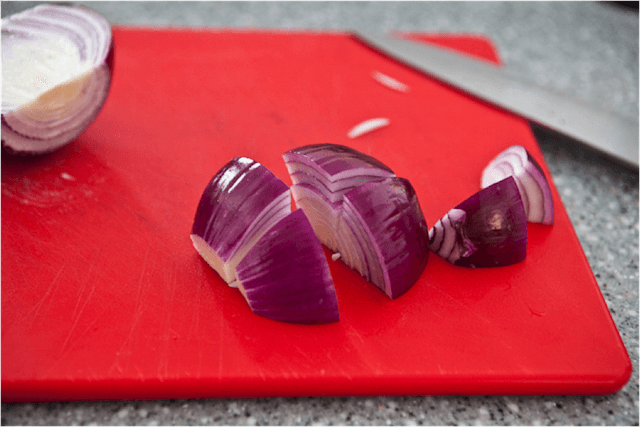 Cherry tomatoes are left whole. The next step is to marinate. Put all vegetables EXCEPT the mushrooms into a big bowl. We'll add the mushrooms in later.
I like having the steak and vegetables marinate separately, and in different sauces. For this recipe, I've got an Asian flair to the kabobs. To make it easy, I use store-bought salad dressing or marinades.
The marinade
You can make your own marinade – it's easy enough (2 tsp freshly grated ginger + 2 garlic cloves, finely minced + 1 teaspoon sesame oil + 2 tablespoons soy sauce)
Or you can cheat and use store-bought dressing:
By the way, San-J has a whole entire line of Asian style gluten-free marinades and dressings – love their stuff. The Makoto Ginger Dressing is found in the refrigerated produce section – you'll love it, it's one of my favorites.
What I like: marinate the sirloin steak in one type of dressing and the vegetables in a different type – that way I get a big hit of flavor, different in each bite.
I place all the sirloin into a large bowl, season with salt, pepper and the ginger dressing. Cover and refrigerate.
For the vegetables, I chose the San-J Orange Sauce. Just season with salt, pepper and toss with the dressing.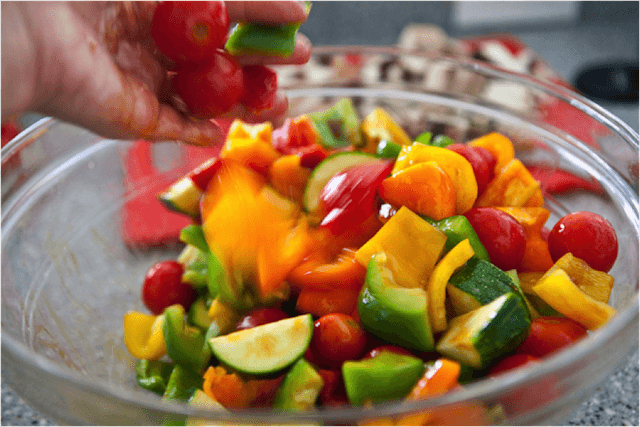 Once you've tossed the vegetables, add the mushrooms on top and just leave them there.
The mushrooms are too delicate to toss and you want to keep the mushrooms relatively dry to stay meaty. Wet mushrooms get soggy, shrink down and are hard to skewer.
Cover and refrigerate if you're marinating overnight. If you're only marinating for a few hours, it's fine to let the bowl sit on your counter. If you're like me, refrigerator space is limited!
When you're ready to cook, skewer the meat and vegetables together. Preheat your grill – one side high heat, the other side on low heat. Start the kabobs on high heat, searing both sides and move them to the lower heat to finish off.
You'll see that the vegetables and the meat cook evenly together when you take the time to cut your vegetables nicely!
Who's comin' for dinner?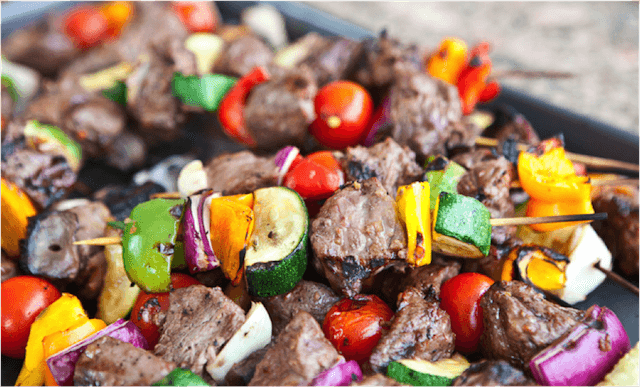 Asian Steak Kabobs Recipe
Ingredients
3

pounds

lean sirloin steak

3

bell peppers

1

red onion

1

sweet onion

1

pint

cherry tomatoes

2

zucchini

2

portobello mushrooms

salt and pepper

1

cup

Asian dressing or marinade of your choice (you can use two different types, ½ cup each)

bamboo skewers
Instructions
Cut the sirloin into 1½" cubes. Place in large bowl, season with salt and pepper. Pour in ½ cup of dressing or marinade of your choice. Cover and refrigerate a couple of hours or up to overnight.

Slice the vegetables as shown in the photos. Add all vegetables except for the mushrooms into a large bowl. Season with salt and pepper. Pour in ½ cup of dressing or marinade of your choice. Toss well. Add the mushrooms on top, but do not toss. Cover and refrigerate if marinating overnight. Otherwise, cover and set on counter until ready to cook.

While the ingredients are marinating, soak the bamboo skewers in water. When ready to skewer, alternate the steak with the vegetables on the stick.

Preheat your grill, high heat on one side and low heat on the other side. Grill the skewers on high heat, covered for 5 minutes. Then flip the kabobs, cover and grill another 5 minutes. Move the kabobs to the low heat, covered, to finish cooking, about another 2 minutes or so, depending on your desired level of doneness.