Green Bean and Shiitake Mushroom Stir Fry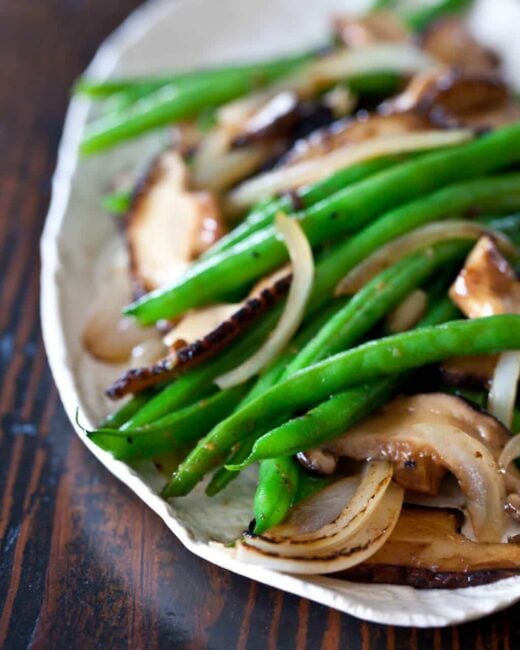 This recipe was originally slated for my cookbook, but I seem to have too many recipes already slated for the Vegetable chapter, so I'm puttin' it here and sharing with you on the blog.
Learning a good stir fry technique for home cooking is important – it will save you from throwing out the odds and ends of vegetables in the refrigerator, and give you countless recipe ideas to whip up at the last minute.
A stir fry usually only takes 10 minutes to cook and can be as flexible as you want. Here's my technique for home cooks.
How to Stir Fry Green Bean and Shiitake Mushrooms
You can use either a saute pan (a fry pan with high straight sides + lid) or a wok. The first step is to cook the green beans because they will have a difficult time cooking in the stir fry without overcooking the rest of the ingredients. Other vegetables that require pre-cooking include: broccoli, cauliflower and any thick, hard vegetable.
I like to steam them instead of boiling/blanching them because it takes less time to bring a small amount of water to boil for steaming.
Fill the wok with about 1 cup of water and bring to a boil. Add in the green beans and cover.
Once the green beans are cooked to crisp-tender (just taste one, if it doesn't taste raw anymore, it should be fine), remove the beans and drain. Wipe the wok clean with a towel and return to the stove.
You need to make sure that the wok has no water – not even a drop – as you'll be adding in cooking oil. Hot wok + water + oil = splatter and burns.
When the wok is hot again, swirl in the cooking oil and add in the mushrooms and onions. Stir fry for a couple of minutes. Then add in the garlic, ginger and green beans.
Why do we not add in the ginger and garlic in an earlier step with onions? Because they'll burn. Burnt ginger and garlic is bitter. So we add it AFTER the mushrooms and the onions have cooked.
The next step is to add in the oyster sauce and water and stir fry until the sauce is just beginning to bubble. That's it!
Stir Fry Recipe: Green Bean and Shiitake Mushrooms
Servings: 4
Prep Time:8 minutes
Cook Time:10 minutes
Ingredients:
1/2 pound green beans, trimmed
2 teaspoons cooking oil
1/2 onion, thinly sliced
6 ounces fresh mushrooms, sliced
1 clove garlic, finelly minced
1 teaspoon finely grated fresh ginger
1 1/2 tablespoon oyster sauce + 2 tablespoons water
Directions:
1. Fill the wok or saute pan with about 1 cup of water. Bring to a boil and then add the green beans. Cover and let steam for 4-5 minutes or until crisp-tender. Drain the beans, wipe the wok dry and return wok to the stove.
2. Heat the wok over high heat and swirl in the cooking oil. When very hot, add in the onions and mushrooms and stir fry for 3 minutes. Turn the heat to medium, add in the cooked green beans, ginger and the garlic and quickly stir fry for an additional 30 seconds or until fragrant. Take care not to burn the ginger or garlic.
3. Stir in the oyster sauce and the 2 tablespoons of water. Cook for 1 minute.