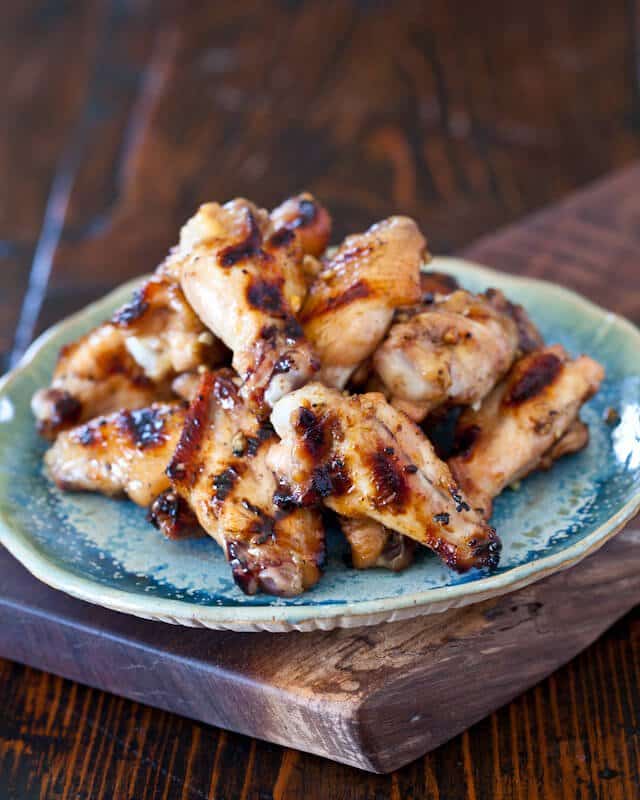 Just when I thought I could devote entire week to writing headnotes for my cookbook, Scott reminded me that corporate taxes were due end of the month. "End of the month!??? That's like in a few days! Why didn't you tell me before?"
Of course, he did. Everyday for the past 10 days he's reminded me, but I'm the mistress of procrastination and born with true talent in only hearing what I choose to (says my mom too)….covering ears…"lalalalalala!"
So this week's recipe development centered on all things grilled….I make it, Scott grills it, the kids clean up. Our entire family understands the "shared responsibility" rule, but what they don't know is that my portion only takes 10 minutes. Shhhh…..we won't tell them, will we?
Grilled Honey Miso Wings
Here are the ingredients. The recipe features either using miso paste that you can fine at most grocery stores, Asian markets, Whole Foods or other health food grocery stores…..or Miso & Easy (you can buy it online at Marukai) which is miso paste in a convenient squeeze bottle.
Miso & Easy is a client of mine – I create recipes for them – if you want more miso recipe, all of them are right here!
Whisk together the marinade ingredients:
Everything goes into a bag to marinate for an hour or overnight:
Throw 'em on the grill:
Tasty!
Grilled Honey Miso Wings Recipe
You can use either Miso & Easy (see product above) or regular miso paste (any kind)
Ingredients
2

cloves

garlic, finely minced

1

tablespoon

soy sauce

1/4

cup

honey

2

tablespoons

Miso & Easy (or 1 tablespoon regular miso paste)

1

tablespoon

water

1 1/2

pounds

chicken wings, separated
Instructions
Whisk together all of the ingredients except for the chicken wings. Pour the marinade in a zip-lock bag and add in the wings. Seal and toss to coat the wings evenly. Refrigerate for 1 hour or overnight.

Preheat grill to high heat. Add the wings and grill for 5 minutes, flip and turn the heat to low. Cover the grill and let cook for 20 minutes. If using oven, preheat oven to 425F. Cover baking sheet with foil or parchment. Lay the wings on the foil or parchment and bake for 20-25 minutes.