Pumpkin Mashed Potatoes Recipe
Transform boring mashed potatoes into a Fall inspired sweet and savory dish! Mash in a can of pumpkin puree to your potatoes (or sweet potatoes). Drizzle with maple syrup just before serving. There's a secret ingredient in this Pumpkin Mashed Potatoes recipe that will add incredible savoriness and depth of flavor.
I don't cook with canned pumpkin nearly enough, it seems most cooks only use it for making pumpkin pie, but since I'm not a pumpkin-pie-kinda-gal (not everyone is, right?) the canned pumpkin rarely ever makes it into my cart.
Well, 2 weeks ago, it finally did. I dared myself to make something with it – and if you can just imagine me at the grocery store, pacing around and around with a can of pumpkin in my hand, mumbling to myself (…I just dare you, Jaden, double-dare!), you've got the right mental picture.
We spent 5 hours, 20 pounds of potatoes and 4 cans of pumpkin, testing and re-testing this recipe. Our first version stuck included a spice combination of  ground ginger, cinnamon, nutmeg and clove….in addition to heavy cream and butter to mash.
We added maple syrup for a tiny hit of sweetness. But the flavor was still flat. Normally, that means it's missing "umami" – and when cooking Asian dishes, I reach for soy sauce or miso paste. For non-Asian dishes, Worcestershire sauce, anchovy paste, beef broth or demi-glace.
After rounds of testing, miso paste was the winner. I know it may sound a little strange to add miso paste to mashed potatoes – but don't tell that to one of the most famous restaurants in Las Vegas! (Here's my recipe for Miso Mashed Potatoes).
Surprisingly, miso paste added the richness and savoryness that the recipe had lacked. It helps pull together all of the flavors – warming spices, sweet maple syrup, creamy pumpkin.
If you don't have miso paste, try 1 teaspoon of Worcestershire Sauce in its place.
By the way, this makes a perfect side dish for Thanksgiving or Christmas dinner!
Pumpkin Mashed Potatoes Recipe Video
More Pumpkin Recipes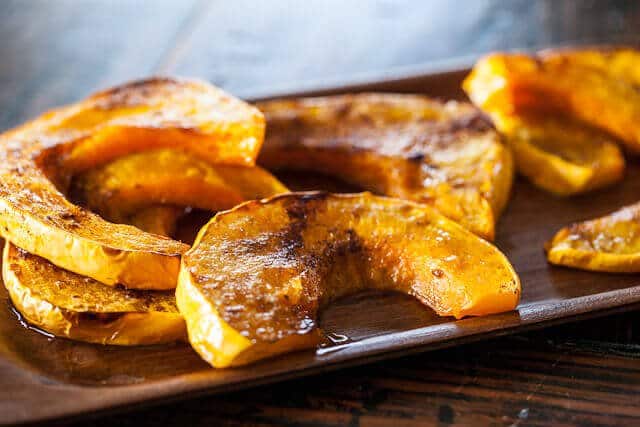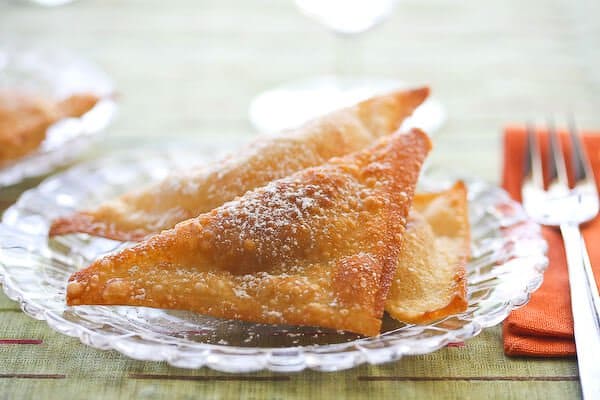 Pumpkin Mashed Potatoes Recipe
Regular or low-sodium miso paste is perfect. If you don't have miso paste, substitute with 1 teaspoon of Worcestershire Sauce.

Course: Side Dish
Cuisine: American
Servings: 6 people
Calories: 231 kcal
Ingredients
2 1/2 pounds potatoes or sweet potatoes peeled
2 tablespoons butter
1/4 cup heavy cream
15 ounce canned pumpkin
1/2 teaspoon ground cinnamon
1/2 teaspoon ground ginger
1/8 teaspoon ground nutmeg
1/8 teaspoon ground cloves
2 tablespoons maple syrup
2 tablespoons miso paste or 1 teaspoon Worchestershire sauce
1/2 teaspoon salt
freshly ground black pepper
minced fresh chives or parsley optional
Additional maple syrup to drizzle
Instructions
Put the potatoes in a large pot and cover with water. Bring to boil, turn to heat to medium-low and cook potatoes for 20 minutes or until you can easily pierce with a fork. Make sure when you cook the potatoes, that the water is a very low boil (a bubble burp every couple of seconds) - a big, rolling boil will make your potatoes mushy. Drain water.

Mash the potatoes. Mash and stir in the remaining ingredients to the mashed potatoes until smooth. Taste and adjust seasonings if needed. Drizzle with a bit more maple syrup just before serving.
Nutrition Facts
Pumpkin Mashed Potatoes Recipe
Amount Per Serving
Calories 231 Calories from Fat 72
% Daily Value*
Fat 8g12%
Saturated Fat 4g25%
Cholesterol 23mg8%
Sodium 465mg20%
Potassium 960mg27%
Carbohydrates 35g12%
Fiber 7g29%
Sugar 6g7%
Protein 6g12%
Vitamin A 11290IU226%
Vitamin C 24.5mg30%
Calcium 92mg9%
Iron 7.3mg41%
* Percent Daily Values are based on a 2000 calorie diet.