Healthy Hummus Recipe
Once a week, I head down to Sarasota to meet up with my friends for a "Sit and Spin" at The Good Yarn. My fiber-loving friends will understand what that means, and for the rest of you, it means that I hang out with friends while spinning wool on my Schacht Ladybug.
Other than cooking, photography and blogging, I also love turning wool, yarn, silk, alpaca, cashmere into beautiful scarves, sweaters and socks. It's turned into quite an obsession, my craft room is filled with wool freshly sheared and you'll never find me not-knitting in my spare time.
On the way to the yarn shop, I always stop by Simon's, a family-owned deli that was recently featured in NY Times 36 Hours in Sarasota. It's a dine-in/takeout place that's friendly to meat lovers, vegetarians and vegans. Yes, we all can get along!
If you're in town and have a chance to stop by, there are 2 must-eats. The Kale Tabouli (here's my version) and their hummus. Simon's hummus is clean, fresh, snappy from the garlic and lemon. What makes their hummus so tasty and fresh was NOT an addition of an ingredient, but actually quite the opposite.
In addition to leaving out a specific ingredient (watch the video below to find out), I've also lightened up the recipe by adding in plain yogurt to create a smooth, creamy hummus.
Healthy Hummus Recipe Video
Healthy Hummus Recipe
Servings: 4-6
Prep Time:5 minutes
Cook Time:3 minutes
Ingredients:
One 15-ounce can chickpeas (garbanzo), rinsed and drained well
juice from 1 lemon (about 1/4 cup)
3/4 teaspoon kosher or sea salt
1-2 cloves garlic, very finely minced
1/4 cup plain yogurt
3 tablespoons extra virgin olive oil, plus more for drizzling
1/4 teaspoon smoked paprika
minced fresh parsley


Directions:
In a food processor, combine the chickpeas, lemon juice, salt, garlic and yogurt. Process for 1 minute, then open the food processer and scrape the sides. Process for another minute. While the processor is running, pour in the olive oil. Taste and check for smooth consistency. If the hummus is too thick, add 1 tablespoon of water. Just before serving, sprinkle with smoked paprika, fresh parsley and drizzle with additional olive oil.
***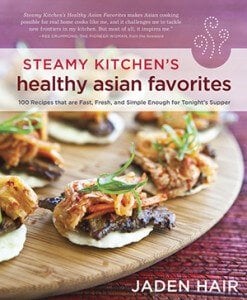 My new cookbook is available for purchase now wherever books are sold!
You can also pick up a copy on Amazon for $13.98!