This recipe for Curried Beef Dumplings is from Carla Hall's brand new book, Cooking with Love. Carla is a co-host on ABC's The Chew and a "Fan Favorite on Bravo's Top Chef All Stars.
What I love about this recipe is that it's sort of a cross between steamed sui mai (dim sum dumpling) and pan-fried potstickers. It's the best of both worlds! The beautiful fluted, flowery shape of the dumpling wrapper gives you a peek of the beef and curry filling. But they are pan fried so you get the nice crisp, browned bottom.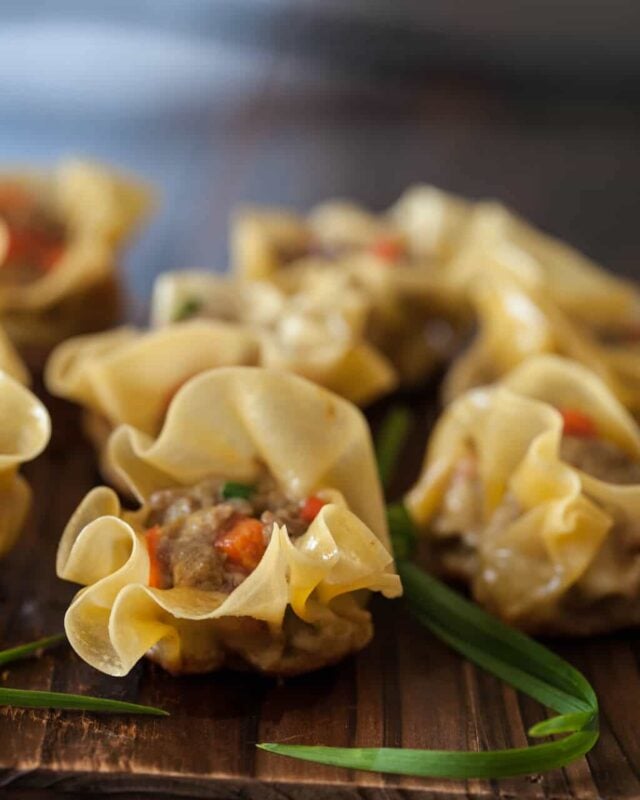 The curry spice used in these dumplings is mild (but feel free to use a spicer version). Yellow curry powder is made up of an array of spices: coriander, cumin, turmeric, chiles, mustard seeds, etc. You can make your own or buy either mild or spice at the Spice House.
Yellow curry powder is mostly associated with Indian cooking here in America, but did you know that it's used throughout Asia? Curry is simply a term for spice blend. The actual ingredients in yellow curry powder may vary a bit, but the powder is a main ingredient in Singapore Rice Noodle Stir Fry (a recipe in my new book!), Chinese curry stews and noodle soups.
Mom used make baked puff triangles filled with ground beef and spiced with yellow curry powder (I think she used S&B Curry Powder), so these dumplings remind me of her. At the store, look for "Yellow Curry Powder" or "Madras Curry Powder".
Curried Beef Dumplings Recipe Video
Thank you for supporting this site!
Curried Beef Dumplings
You can use either wonton wrappers (square, thinner) or gyoza dumpling wrappers (round, a little thicker). You can find these frozen at the Asian market (preferred over the refrigerated kind found in regular supermarkets near the tofu section - which are too "doughy" for my taste)
Dumpling wrappers (and dumplings) dry out very easily. Make sure you cover the unused wrappers and any folded dumplings with a barely damp towel or plastic wrap until you are ready to cook.
We loved these dumplings as little appetizers. There's no need for a dipping sauce (the dumplings are so flavorful with the warming curry powder!) but if you like one, try using Mae Ploy Sweet Chili Sauce, it provides a nice sweet and fruity contrast.
Carla's tip: Set up an assembly line! Or better yet, get your kids or friends to help you out. There's little difference between making 25 or 125, so why not make more and freeze for later? To cook frozen dumplings, no need to defrost. Just add 'em to the pan and let them cook for additional 5 minutes.
Recipe adapted from Cooking with Love by Carla Hall
Ingredients
3/4

pound

lean (90%) ground beef sirloin

1

teaspoon

grated fresh ginger

1-2

cloves

garlic, finely minced

1

tablespoon

yellow curry powder

1

tablespoon

soy sauce

1

tablespoon

cornstarch

1

teaspoon

kosher salt

1/2

teaspoon

dark sesame oil

2

large eggs, divided

1

red bell pepper, finely diced

1

stalk

green onion, finely chopped

cooking oil, for pan frying

40

round wonton wrappers or round dumpling wrappers (about 3-1/2-inch diameter)
Instructions
In a large bowl, combine: ground beef, ginger, garlic, curry powder, soy sauce cornstarch, salt, sesame oil, just ONE of the eggs, bell pepper and green onion. Mix thoroughly.

In a small bowl, combine the final egg and 1 tablespoon water and whisk to make the egg wash.

Place one wonton wrapper in your hand or flat on the table. Lightly brush a thin layer of the egg wash around the edges of the wrapper. Scoop 1 tablespoon of the beef mixture into the center of the wrapper. Pull the sides of the wrapper up and push together slightly to stick to the meat mixture. The bottom of the dumpling should be flat so it can stand up in the pan.

Repeat until all the wrappers and filling are used up, making sure to cover any finished dumplings and the unused wrappers with plastic wrap or a barely damp towel to keep them from drying out.

Dumplings can be cooked immediately or frozen for up to 1 month. If freezing, make sure they are not touching when they are first frozen, then once they're frozen, they can be gathered together and stored in a freezer bag.

To cook, in a large nonstick sauté pan or skillet, heat 1 tablespoon of cooking oil over medium heat. Add dumplings to the pan, making sure they are not too crowded. Cook for about 2 minutes, or until the bottoms are lightly browned.

Once the bottoms are browned, it's ready to finish cooking them by steaming. Hold the sauté pan lid (like a shield) to protect you from splatters. Carefully pour in 3-4 tablespoons of water into the pan and immediately cover. Turn heat down to medium-low and let the dumplings steam until they are cooked through and the water has mostly evaporated. This should take about 2 minutes.

Transfer the cooked dumplings to a plate and tent with a piece of foil to keep them warm. Repeat with the remaining dumplings. Serve immediately.