What you'll learn:
How to properly pleat potsticker dumplings
How to fry potstickers in batches
How to squeeze out water from cabbage (if you'd like to include them in your recipe) so you wouldn't have soggy dumplings
In college, my friends and I used to get together once a month and have "Chinese Potsticker" parties. The kitchen would be prepped to create 3 big batches of Chinese potsticker filling and the dining table would be converted to our potsticker wrapping session.
We'd make hundreds of Chinese Potstickers. A small batch to enjoy that evening and the rest of the potstickers go straight to the freezer for my friends to take home. They were soooo fabulous and it was our girly-bonding time.
These days, it's not my girlfriends who come over to pleat dumplings, but my little kids sit at the table wrapping the potstickers with Mommy. Love it!
Chinese Potstickers are really simple to make, and there are a few secrets that I'll share with you.
How to pleat potsticker dumplings
I'm piecing together several photos of dumpling making from different cooking sessions, so you'll have to excuse the inconsistent photo quality. Not to mention, these photos were from last year, before I learned how to use my camera's basic function, like FOCUS. 😉
These photos were taken when I handmade the dumpling wrapper – a feat that while delicious – to me is not worth the trouble, which is why I've not posted this before! The handmade wrappers are thicker than what you'd buy at the store.
Spoon about 1 teaspsoon of filling in the middle of the wrapper. Use your finger to brush the cornstarch slurry all around the outer edge of the dumpling to act as your "glue" to hold the potsticker together.
Bring up opposite sides and pinch the dumpling wrapper in the middle.
You'll only be pleating the upper half of the potsticker. In this photo, all my pleats will be made on the upper half of the potsticker.
Start with your right side. Hold the potsticker in your hand. Fold and pleat as shown above. Pinch tight. You'll do 3 pleats just like this on the right side. Then repeat on the other side, but in the opposite direction, so that all your pleats are pointing towards the center. See how my pleat points towards the center? This creates a crescent effect. The next time I make potstickers, I'll have to take a few more photos, because it's easier to learn by photos than in words.
Pinch all pleats tight – there should be no open spaces, otherwise your filling will fall out.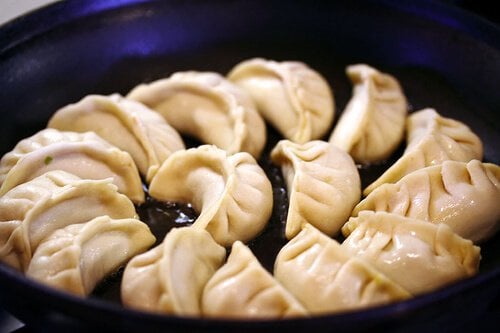 Now fry the potstickers in batches (read my instructions below in the recipe)
Sidenote:
While my Pan Fried Pork and Shrimp Potstickers Recipe below does not call for cabbage, if you do want to include cabbage in your dumpling, make sure you salt the cabbage, let it sit for 15 minutes and squeeze all the water out of the cabbage. Watery cabbage = soggy dumplings. Look how much water comes out after 15 minutes of salting:
The salt draws out the water. For every handful of shredded cabbage, use about 1 teaspoon of kosher salt (1/2 tsp table salt), mix well, let sit for 15 minutes at room temp. Place salted cabbage in cheesecloth and squeeze water out. You could also just do this in your hands too, if you don't have cheesecloth.
Pan Fried Pork and Shrimp Potstickers Recipe
Ingredients
FOR THE POTSTICKERS:
1

package

of frozen dumpling skins, defrosted overnight in refrigerator or 40 minutes room temp (do not microwave or set in water)

3/4

pound

raw shrimp, shelled and deveined

3

stalks

green onions, cut into 2 inch sections

1/2

cup

canned bamboo shoots

1/2

pound

ground pork

2

tablespoons

soy sauce

1/2

teaspoon

kosher salt

2

tablespoons

cornstarch

1

teaspoon

freshly grated ginger

1

tablespoon

rice wine (or dry sherry)
FOR THE SLURRY:
1

tablespoon

cornstarch mixed with 1/4 cup water in a small bowl

water

cooking oil
FOR THE DIPPING SAUCE:
1

teaspoon

Asian chili sauce

1/4

cup

soy sauce

2

teaspoon

sesame oil

1/2

teaspoon

sugar

1/2

teaspoon

rice wine vinegar
Instructions
Wash the shrimp and pat very dry. In a food processor, add the shrimp, green onions, bamboo shoots and pulse several times until the shrimp is chopped to about 1/4 inch. In a large bowl, combine the shrimp mixture with ground pork, soy sauce, salt, cornstarch, ginger, rice wine. Mix well.

Spoon 1 teaspoon of the filling onto dumpling skin. Brush a bit of the cornstarch slurry all around the edge of the dumpling skin. Fold over and press to secure edges. Make sure edges are sealed tightly. Shape the dumpling so that it has a flat bottom. Cover loosely with plastic wrap so that it doesn't dry out.

When you are ready to cook, heat a large nonstick pan with 1 tablespoon of cooking oil over medium-high heat. When the oil is hot but not smoking, add the dumplings, flat side down, not touching, to the pan. Let fry for 1 minute until the bottoms are light golden brown. Pour 1/4 cup of water into the pan and immediately cover with a tight fitting lid. Turn heat to medium and let the dumplings steam for 3minutes. Open lid and let the remaining liquid cook off about 1 minute. Cut into a dumpling to make sure that the filling is cooked through. Remove to plate, wipe the pan clean with paper towels (or wash) and repeat with remaining dumplings. Serve with dipping sauce.
More Chinese Recipes to Explore:
Best Chinese Potsticker Wrappers from Scratch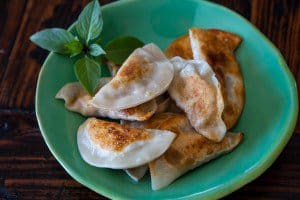 Mushroom Tofu Potsticker Recipe
Ground Beef with Beijing Sauce Over Noodles
Stir Fried Shrimp, Eggs and Peas + Stir Fry Secrets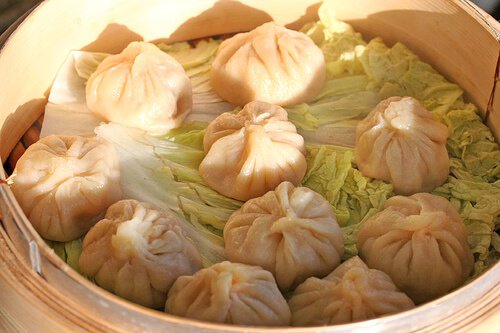 Xiao Long Bao – Steamed Shanghai Soup Dumplings
Wonton Noodle Soup