Chinese Fried Wontons
Chinese Fried Wonton Recipe
Chinese dumplings, especially Chinese Fried Wontons, are probably one of the most convenient and versatile foods to keep around.
1- They go from frozen to appetizer or dinner in just a few minutes.
2- You can pan fry/steam (like potstickers/gyoza), deep fry, boil or steam.
3- They'll store in the freezer for months. Dumplings are my emergency food (unexpected hungry visitors!), midnight snack (shhhh….don't tell anyone) and my emergency dinner (crap! what can I make for dinner that takes 15 minutes?)
4- You can use any type of ingredient your little tummy desires. Shrimp, beef, lamb, tofu, mushroom, kale, spinach, carrots, etc. etc.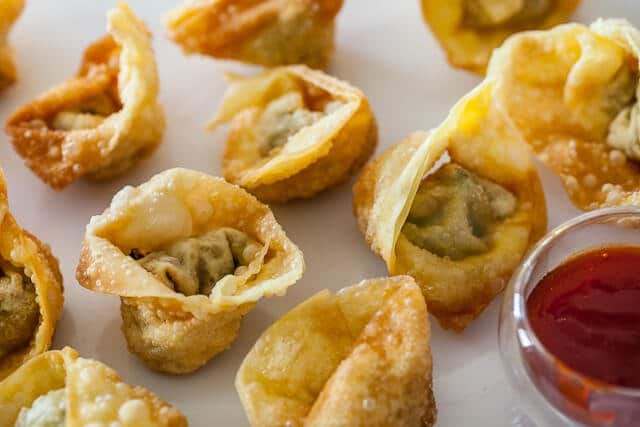 And if you make it a "dumpling party" where you invite your friends and family to fold up a crazy batch, it's also entertainment 🙂 Not only can you eat them the same day, but everyone gets to take home a batch to store in the freezer.
I don't deep fry the dumplings much, but if I'm frying up a batch of My Mother's Famous Chinese Egg Rolls (and here's a vegetable version), then we most definitely make double duty use of the oil to make Chinese Fried Wontons.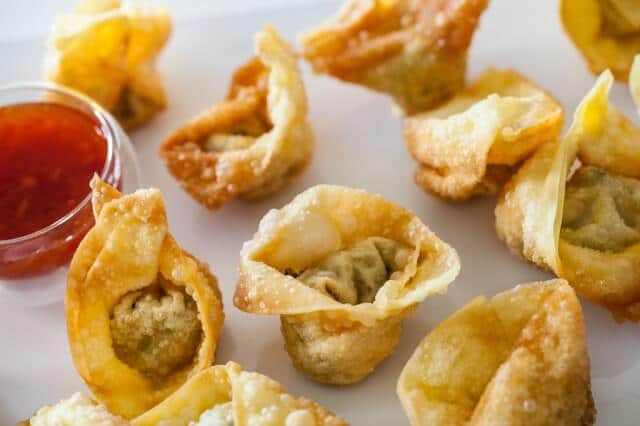 In this batch below, I used kale from the garden and ground turkey. But have fun, throw in whatever chopped vegetable that you like, whatever meat (or not) that you have on hand. Make up a big batch and save some for the freezer!
Chinese Fried Wontons Recipe Video
Chinese Fried Wonton Tips
Vegetable: I used kale in my video, and kale is NOT a water-dense vegetable. If you are using a water dense vegetable, like Napa cabbage, spinach and even regular cabbage, you will want to get rid of as much water from the vegetable as possible to avoid soggy wonton. Shred or finely chop the vegetable and place in a large bowl. Sprinkle generously with salt and toss. Let sit for 10 minutes. The salt will draw out a lot of the moisture from the vegetable. Take a handful of the shredded vegetable and squeeze hard to discard the water.If you are using frozen spinach, defrost, then squeeze out and discard as much water as possible. No need to salt.
If you want to boil the wonton instead of frying, bring a pot of water to boil. Add in a batch of wonton. When the water returns to a boil, pour in 1 cup of cool water. Bring to a boil again. Add one more cup of cool water. Bring to a boil. Repeat one more time. Now your wonton is ready. Same procedure if you are adding the wonton frozen into the water. Drain and serve with dipping sauce. Substitute broth for water if you want to serve wonton with the broth. Throw in some noodles and vegetables to make wonton noodle soup!
Dipping sauces – I love ready-made chile sauces like Mae Ploy Sweet Chili Sauce, Lingham Chili Sauce, Chinese chili-garlic sauce or rooster sriracha sauce. You can also make your own.
Chinese Fried Wonton Recipe
Servings: 50 wontons
Prep Time:25 minutes
Cook Time:10 minutes
Ingredients:
1 pound ground meat (chicken, turkey, beef, lamb, pork)
1 tablespoon grated fresh ginger
2 cloves garlic, finely minced
1 stalk green onion, chopped
1 tablespoon soy sauce
2 tablespoons oyster sauce
2 cups finely chopped kale (leaf only) or vegetables of your choice
1/2 cup water
1 egg
50 wonton wrappers, defrosted
cooking oil for frying


Directions:
In a large bowl, add the meat, ginger, garlic, green onions, soy sauce, oyster sauce, curry powder and kale and mix well to combine. To make the egg wash, in a small bowl, add the water and egg and whisk with a fork.
To assemble the wontons, place a wonton wrapper flat in the palm of your hand. If frying, add 1 teaspoon of mixture to the center of the wrapper. If boiling, add 1 tablespoon of the mixture. Dip a finger in the egg wash, and paint all 4 edges with the wash. Fold the wonton in half, corner to opposite corner to make a triangle. Seal tightly all around. Make sure there are no air pockets or holes in the wonton. Fold the longer two triangle points together and seal to make the wonton shape.
Place folded wonton on a clean, dry plate or baking sheet and cover with plastic wrap to avoid drying out. When wontons are all folded, you can store or freeze.
To fry wontons, add 1 to 1 1/2 inches of cooking oil to a wok or pot. Heat the oil until it reaches 375F. Add a few wontons to the oil to fry, turning occasionally until they are golden brown. Remove them to a draining rack placed over a baking sheet so they can drain excess oil.
To boil wontons, see the recipe direction #6 from the Pork and Spinach Wontons recipe.
TO STORE:
- If you want to freeze the wonton, place all the UNCOOKED wonton flat on a plate. Do not crowd. Cover with plastic wrap and freeze. Once the wonton are frozen, you can gather them up and store in freezer bag. This ensures that the wonton freeze individually (otherwise if the wonton froze and stuck together, it would be nearly impossible to cook.
- When ready to cook frozen wonton, they can go from freezer to simmering broth. Follow exact same cooking instructions. Since the wonton is frozen, it will take longer time for the broth to return to a simmer -- so it's self timing!
***
***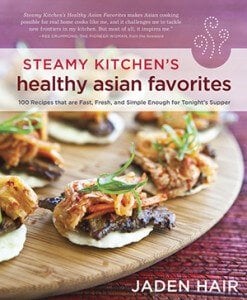 My new cookbook is available for purchase now wherever books are sold!
You can also pick up a copy on Amazon for $13.98!