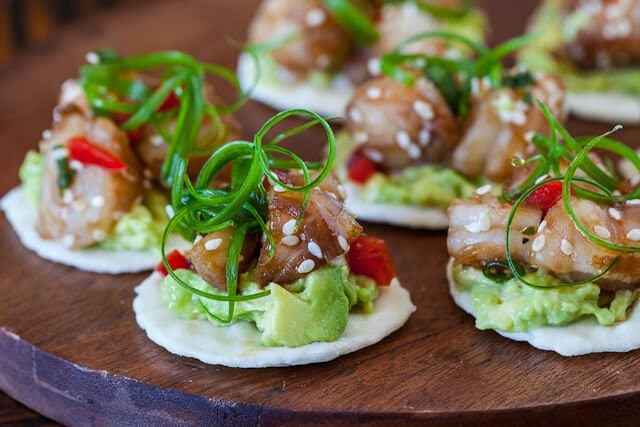 If you're not familiar with Gaby from What's Gaby Cooking, let me give you a little introduction. Gaby LOVES avocado (we were in Mexico a couple of times together and she snarfed an entire bowl of guacamole the size of a soccer ball in one sitting!), is the only woman I know who can look totally glamorous in 95F Austin heat at an outdoor bbq and Gaby is FUN. Loads of fun. You can't help but be goofy around her!
Left to right, that's me (dork), Elise & Guy of Simply Recipes, Gaby and Catherine of Weelicious.
Gaby's brand new book, Absolutely Avocadoes just came out. If you're a fan of the avocado, this is a must-get book. There are recipes for breakfast, lunch, dinner and even dessert.
Avocado in dessert!? Yep – Avocado Chocolate Chip Cookies and Pound Cake with Avocado!
I've made one of her recipes from the book – Gaby's original recipe used sushi tuna on the rice cracker, but I've substituted with pre-cooked salad shrimp from the market. It's the perfect finger-food for avocado lovers, like me.
Wasabi Shrimp with Avocado on Rice Cracker Video
Want to know how to make these fun curly green onions?
Wasabi Shrimp with Avocado on Rice Cracker
A quick 15 minute appetizer featuring avocado! Adapted from Gaby Dalkin's Absolutely Avocados cookbook.
Feel free to use sushi-grade ahi tuna instead of the shrimp.
Ingredients
1

stalk

green onion, green part only

1

tablespoon

soy sauce

2

teaspoons

sesame seeds

1

teaspoon

prepared wasabi paste (or more)

1/4

teaspoon

sesame oil salt and freshly ground black pepper, to taste

1/2

pound

cooked shrimp, peeled, deveined and chopped

1/2

stalk

green onions, chopped thinly

1/4

red pepper or red chili, finely minced

2

ripe avocados 1/2 lime, squeezed

24

rice crackers
Instructions
In a bowl, add a handful of ice cubes and cold water to cover. With a small or medium sharp knife, cut green onion stalks into 3" lengths. Slice the green onion lengthwise into long thin strips, as thin as possible (see video). Place green onion slivers into ice water. Set aside while you continue with rest of recipe.

In a bowl, whisk together the soy sauce, sesame seeds, wasabi, sesame oil, salt and pepper. Add in the cooked shrimp, green onion and red pepper and toss to coat. Cut the avocados in half lengthwise. Remove the pit from the avocado and discard. Remove the avocado from the skin and place the avocado into a separate bowl. Add in the lime juice and use a fork to mash the avocado.

Spread avocado on each cracker. Top with a spoonful of the wasabi shrimp. Garnish with green onion curls.