While these may not look like your normal cutely folded potstickers, let me assure you that these are 100% even better. Not only are they easier and faster to fold (No delicate crimping of pleating), they have MAXIMUM crispy crunchy surface!
Double win for sure.
We ended up folding 100 of these babies. 25 to eat straight away and the rest went into the freezer for a rainy day – which in tropical sunny Florida, means every single afternoon for 30 minutes. Those unfamiliar with Florida summers might think that a daily afternoon shower equals a "refreshing wash", but in reality, it feels like every rain drop is made of wet flannel, blanketing the atmosphere with a heavy, muggy sigh.
Okay, it's not that bad. It just feels like it this morning.
Circling back to the recipe, the Mushroom Tofu Potstickers are also healthy (isn't anything with tofu considered healthy?), qualify for easy finger-food (you can eat them with 2 fingers) and best of all, dip-able. The red in the photo is Lingham's Hot Sauce, which is not really that spicy – sort of a combo of sriracha and sweet chili sauce – but even better.
My friend and fellow Asian food blogger, Rasa Malaysia, says " There are countless hot sauces out there, but I don't think any are as versatile or as addictive as Lingham's, which has been produced in Penang, Malaysia, for over a century." Here's rest of her description in Saveur Magazine.
No preservatives, no gluten, no artificial coloring, all natural.
Look for Lingham's in your local Asian market. I've found a handful of retailers online to purchase, but of course the prices are a bit higher.
Wanna know what I'm craving for? LINGHAM CHILI CRAB!
Mushroom Tofu Potstickers Recipe Video
***
Mushroom Tofu Potstickers Recipe
Potstickers are so easy to freeze! Once you have folded the potstickers, lay them in a single layer on a pan or plate (something that will fit in your freezer). Cover with plastic wrap and then you can lay another layer on top. Just make sure that each layer has plastic wrap in between so that the dumplings don't stick to each other. When potstickers are completely frozen, you can gather them all up and store them in a freezer bag.
When ready to cook frozen potstickers, do not defrost (you'll end up with soggy mess). Follow the instructions to cook the potstickers below. Add an additional 3 minutes to the "steaming" time to completely cook the frozen dumplings. They'll turn out perfect.
Ingredients
3

cups

cabbage, shredded on large holes of box grater

8

ounces

tofu (any firmness), crumbled

4

ounces

fresh shiitake mushrooms, stems removed, chopped

2

cloves

garlic, finely minced

2

teaspoons

grated fresh ginger

1

tablespoon

fresh basil, finely chopped

2

tablespoons

soy sauce

1

package of 50 dumpling wrappers

1

teaspoon

cornstarch + 1/4 cup cool water

3

tablespoons

cooking oil, or more if needed
Instructions
In a large mixing bowl, add cabbage, tofu, mushrooms, garlic, ginger, basil and soy sauce. Mix well.

Prepare the cornstarch slurry: whisk together the cornstarch and water in a small bowl.

To wrap: Place a potstickers wrapper flat in one hand. Place 1 heaping teaspoon of the potstickers filling mixture in the middle of the wrapper. Dip a finger in the slurry mixture and paint along the outside of the wrapper. Fold over to a half-moon shape. Pinch along the outside of the wrapper to close the wrapper completely around the mixture.. Repeat until all potstickers are filled and closed.

Lay folded potstickers in a single layer. Cover with plastic wrap to keep them from drying out. (See headnote re: freezing)

When ready to cook, in a non-stick skillet, heat 1 tablespoon of oil over medium high heat. When the oil is hot, add potstickers in a single layer along the bottom of the pan. Cook until browned on one side, about 2 minutes. Flip and brown the other side equally.

Using the pan cover as a shield from splattering, add 2 tablespoons of water to the pan and cover immediately. Steam potstickers for 3-4 minutes. Uncover skillet, you should see almost all of the water has evaporated. Remove potstickers, then wipe pan dry with towel and repeat for remaining batches.
More Dumpling Recipes
Best Chinese Potsticker Wrappers from Scratch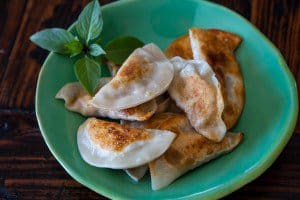 Mushroom Tofu Potsticker Recipe