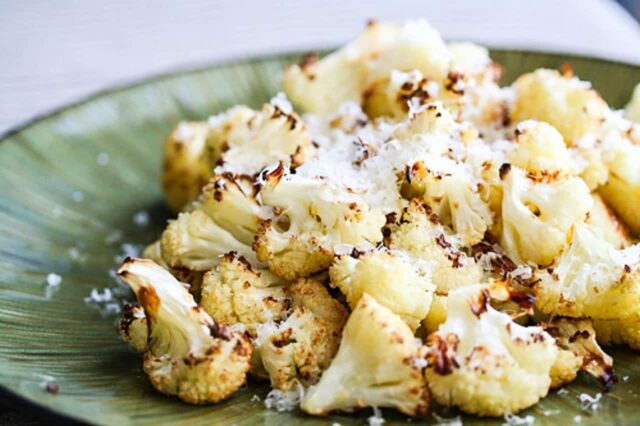 Cauliflower is one of the most versatile vegetables – you can eat it raw, steam, boil, mash, fry or roast. Roasting the cauliflower is easy, cut the florets into bite-sized pieces (the smaller you cut them, the faster they cook), toss with olive oil.
Roast the cauliflower for 30-40 minutes. They'll get slightly browned at the bits, and transform into a nutty, earthy vegetable that even the pickiest of eaters will like.
I like to top the roasted cauliflower with a snow of grated parmesan cheese.
Roasted Cauliflower Recipe
This same recipe can be used for broccoli as well, though broccoli cooks a little faster than cauliflower.
The smaller the florets you cut, the faster the cauliflower cooks. I try to cut them the size little larger than a quarter.
Ingredients
1

head

of cauliflower

2

tablespoons

olive oil

grated parmesan cheese
Instructions
Cut cauliflower into small, evenly-sized florets. Place on baking sheet and toss with olive oil. Roast for 25-35 minutes until tops are a little golden brown and florets are soft. Check to make sure the cauliflower are cooked through. Remove from oven and top the roasted cauliflower with grated parmesan.
Perhaps more side recipes?
Roasted Cauliflower with Bacon and Garlic Recipe
The Pioneer Woman's Buttermilk Biscuits Recipe