20 Minute Sriracha Sauce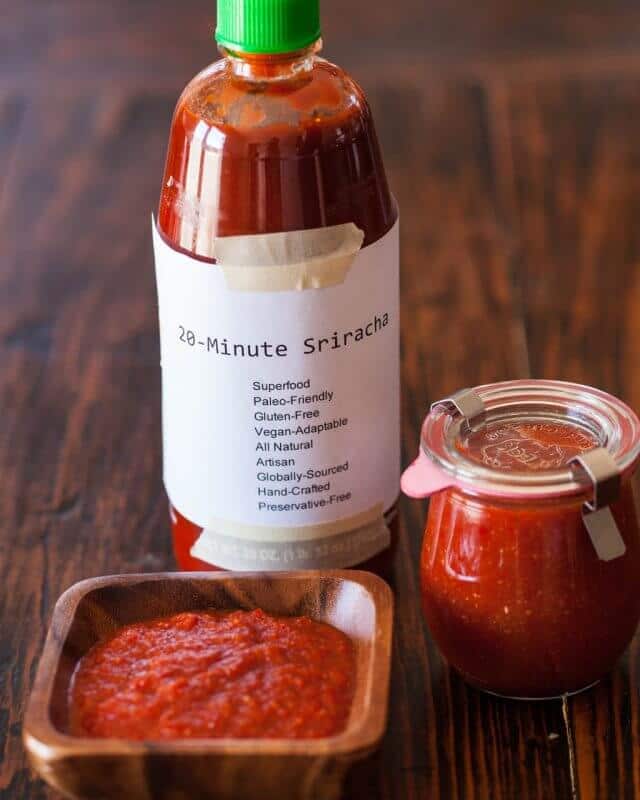 Like my label!? LOL
Back before Sriracha was a "thing" – we just called it "red sauce" and squirted it on just about everything, including scrambled eggs.
The original "rooster brand" Huy Fong recipe was so perfect that they had a virtual monopoly at Vietnamese restaurants and competitors didn't even try to imitate their formula. Fun fact from Forbes: Huy Fong Foods has seen a 20% increase in revenue nearly every year since its founding in 1980.
After the news of the temporary shutdown of Huy Fong operations in Irwindale, California, the people of the Internets went crazy. Apparently, the fumes from cooking thousands of pounds of chiles were becoming unbearable for Huy Fong's residential neighbors. (We hear they've resumed shipping, but I haven't been able to confirm this.)
It's actually easier than you think to make your own Sriracha – a food processor and medium pot is all you need. If you're used to just squeezing the rooster bottle (heehee) for your hot sauce fix, you'll be shocked at how many more flavor profiles you can get from homemade.

You can make your sauce thinner if you like – run the sauce through a blender to get it less chunky. But I likey mine chunky 🙂
While I love the original Huy Fong sauce, it's missing balance and depth.
Here's what good  flavor translates to – a balance of the 5 S's:
Salty
Savory
Sour
Spicy
Sweet
I'd also add in a B – bitterness – but people don't like that "B" word (plus it doesn't start with an "S" ruining my awesome convenient and catchy teaching moment (eye roll and head shake).
The perfect condiment should have all of these flavor elements. Here's why this 20-Minute Sriracha recipe that I've modified from Nom Nom Paleo Cookbook is perfect:
Salty and Savory: choice of fish sauce, coconut amino or Bragg's. Not only do these sauces provide a salty flavor, but they all have "umami" which adds savory notes.*
Sour – vinegar
Spicy – chiles. But not too spicy. I like using s combo of hot peppers and mild peppers. If a sauce is too spicy, you can't taste anything else on your plate.
Sweet – honey, and sweetness of peppers
Plus, the bonus of homemade is that your sauce is so much more vibrant, bright and full flavored. You'll want this sauce on your eggs in the morning. in your noodle soup, on your meatloaf, in your stir-fries.
*Bragg's Liquid Aminos is found in health food stores, Whole Foods and most major supermarkets have this too. Look near the BBQ sauces and Worcestershire sauce. Love this stuff. I've been using this in place of soy sauce and fish sauce on everything. It's healthier, non-GMO, gluten-free, non-fermented. Every homemade salad dressing I've been making lately has a Bragg's in it! Good stuff.
*Coconut Aminos is a new ingredient for me. I found it at my local health food store. It's raw, gluten-free, 100% organic, dairy-free, vegan, soy-free and contains 17 naturally occurring aminos. I like this just as much as Bragg's. Give it a try!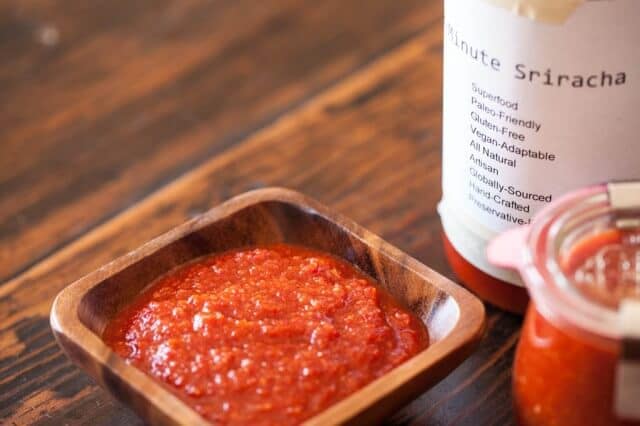 Big thanks to Nom Nom Paleo Food for Humans Cookbook by my friends Michelle Tam and Henry Fong for another stellar recipe. LOVE this cookbook, I can't recommend it enough and have purchased copies for my friends.
None of us are Paleo dieters, but the recipes are so versatile and delicious that anyone can benefit from this book! Every recipe has a photo, most with vibrant step by step photos.
If you haven't already, check out the Cauliflower Bacon Fried Rice that I've made from the Nom Nom Paleo.
——-
Watch how easy it is to make this homemade Sriracha sauce!
20 Minute Sriracha Sauce Recipe Video
 ***
20 Minute Sriracha Sauce Recipe
Servings: 3 cups
Prep Time:5 minutes
Cook Time:15 minutes
Ingredients:
1/2 pound fresh red jalapeno peppers
1/2 pound fresh mini sweet snacking peppers
7 garlic cloves, smashed and peeled
1/3 cup apple cider vinegar (or white or unsweetened rice vinegar)
3 tablespoons tomato paste
4 tablespoons honey
2 tablespoons fish sauce, Braggs Liquid Aminos or Coconut Aminos
Directions:
STEP 1: In a food processor or high speed blender, add all ingredients and blend until smooth.
STEP 2: In a medium saucepan over high heat, pour the sauce in and cook on high until it begins to boil. Reduce to a simmer and cook for 10-15 minutes. Taste and adjust with additional honey, vinegar or Bragg's (or whatever you're using) if needed. You're looking for a nice balance of flavor. Fry an egg and try a spoonful on it. Tastes wonderful? Turn off heat and allow sauce to cool completely.
STEP 3: Transfer the sriracha sauce to jars. Sriracha will keep for 2 weeks in the refrigerator. Better yet, can them and store in pantry!