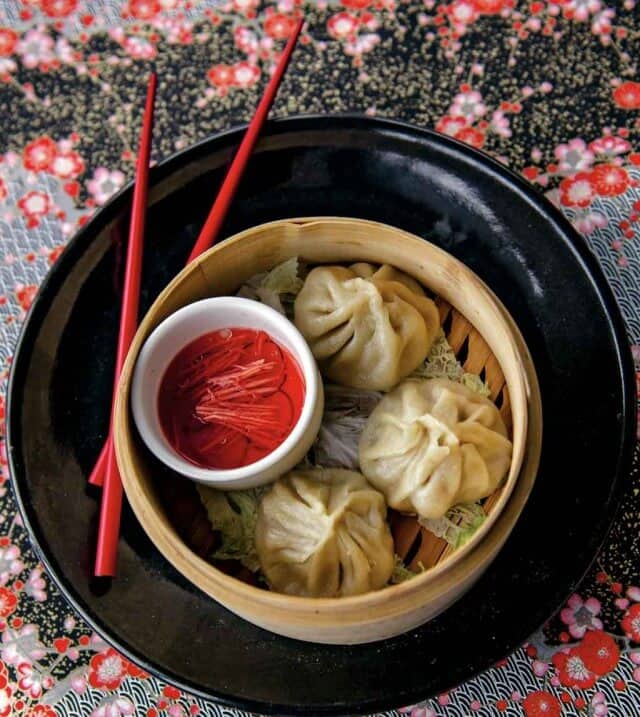 Chinese Soup Dumplings, or Xiaolongbao is a MUST TRY at least once! It's a long recipe, the dumpling skin is hand made and the filling requires several hours of chilling. But it's so worth it! These are the real deal. This is an authentic Xiaolongbao recipe from Top Chef star Lee Anne Wong from her new book, Dumplings All Day Wong.
Have you ever tried Xiao Long Bao? These are Chinese Soup Dumplings, steamed dumplings that contain a rich broth trapped inside the parcel of the folded dumpling. This dish should be on your must-try foods!
So, how does the liquid, or soup, get inside the dumpling? It's gelatin, baby. A concentrated, rich soup made with pork belly and ham is set with gelatin, so that the liquid becomes a solid. Then it is mixed with ground pork, crab and shrimp, along with green onions and ginger.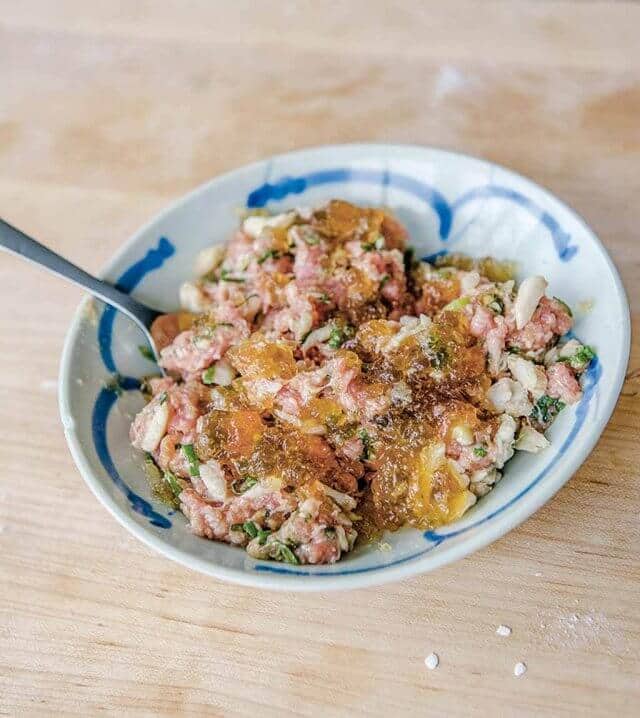 A dough is hand-made, rolled out and filled.
Then pleated and folded.
To make little dumplings.
Once the dumplings are steamed, the soup turns back into liquid. How do you eat such a dumpling? Very carefully! Place a dumpling on a large spoon, preferably a Chinese soup spoon, which is deep enough to capture all of the soup. Take a little nibble, let some of the steam escape (so that you don't burn your mouth), and also let some of the soup spill out into the spoon. Take small bites of the dumpling, eating and sipping at the same time.
This recipe is from Lee Anne Wong, Top Chef finalist from the very first season. I remember watching Lee Anne, cheering her on from my couch, "Go Asian sister, go!"
After watching Lee Anne, I had serious thoughts about going to culinary school, even filling out the application forms at a brand new culinary center institute up near my home. But instead of spending $60,000 a year in culinary school fees, I started Steamy Kitchen instead.
These days, I'm getting asked by culinary schools to come TEACH their students! I think I made a wise decision.
But, Lee Anne Wong inspired me to move in the right direction – a career in food and cooking.
Dumplings All Day Wong
The recipe for Chinese Soup Dumplings is from Lee Anne's new book, Dumplings All Day Wong. Included in the book are dozens of Lee Anne's favorite Asian dumplings, with step-by-step photos (like the ones above.)
Here's a description:
Folds such as Potstickers, Gyozas, Shumai, Har Gow, Wontons and more, along with countless fillings and different cooking methods such as steaming, pan-frying, baking or deep-frying, allow you to create awe-inspiring dumplings in innumerable ways. With friends and family begging to come over and try a new dumpling recipe from the master again and again, this book will be a go-to in your kitchen for years to come.
[content_band style="color: #fff;" bg_image="https://steamykitchen.com/wp-content/uploads/2014/11/chinese-soup-dumplings-recipe-5-640×717.jpg" parallax="true" border="all" inner_container="true"] [custom_headline style="margin-top: 0; color: #fff;" level="h4″ looks_like="h3″]Xiaolongbao[/custom_headline]
My very first xiaolongbao was at the original Joe's Shanghai, which resides on Pell Street in New York City's Chinatown. I had read all about their famously plump and juicy steamed delights in many various local food publications, so I was compelled to try them for myself. Forewarned by many who had devoured before me, I knew to be careful with the first bite, as these dumplings were notorious for the hot broth inside that could easily burn and injure. Whatever your plan of attack is, these will surely become a favorite, as they are mine. No kidding, the sky could be falling, but if I have a dim sum steamer full of xiaolongbao, I'll be fine. These dumplings take a whole day or two to make, so get the soup stock going first. By sundown, you'll have fresh soup dumplings in the comfort of your own home—what I consider to be one of the true secret keys to happiness. -Lee Anne Wong
[/content_band]
Recommended Equipment
These bamboo steamers are inexpensive and you can set them on top of your wok.

If you don't have a wok, use this steamer ring! I own one of these and set this on top of a large pot filled with water. Then I set the bamboo steamer stacks on TOP of the ring.
Chinese Soup Dumplings Recipe (with Pork & Crab)
A note on chicken feet: Chicken feet happen to be great for making stock because of the natural gelatin and collagen they contain, and the price is usually pretty low if you can find fresh or frozen chicken feet. Wings are my other option as I find the meat can be pulled from the bones later on and used for a variety of recipes, and the meat adds great flavor to the stock.
Ingredients
SOUP GELATIN
2

tablespoons

(30 ml) Shaoxing rice wine, chilled

1

tablespoon

(15 ml) soy sauce

1

tablespoon

powdered gelatin or agar agar

2

pounds

(900 g) chicken wings and/or feet*

8

ounces

(225 g) pork belly, with skin

4

ounces

(115 g) Chinese ham or bacon

8

cups

(2 quarts) water

3

whole green onions, minced

1

inch

(2.5 cm) piece ginger, thinly sliced

3

cloves

garlic, lightly crushed
FILLING
8

ounces

(225 g) ground pork

4

ounces

(115 g) crabmeat, cleaned and picked through, or shrimp, peeled, deveined, minced

1/2

cup

(25 g) minced scallion, white and green parts

2

tablespoons

(30 ml) soy sauce

1

tablespoon

(15 ml) Shaoxing rice wine

1/2

tablespoon

(7.5 ml) sesame oil

2

teaspoons

(10 g) sugar

1

teaspoon

(5 g) salt

1

teaspoon

(5 g) finely grated ginge

1/4

teaspoon

ground white pepper
SOUP DUMPLING DOUGH
2

cups

(200 g) packed all-purpose flour

1

cup

(235 ml) boiling water

1

tbsp

(15 ml) sesame oil
DIPPING SAUCE
2

inches

piece ginger, peeled

1/4

cup

(60ml) red vinegar (or Chinese black vinegar)
Instructions
To make the gelatin:
In a small bowl, combine the wine and the soy sauce and refrigerate. We'll use this later with the gelatin.

Rinse the chicken and pork under cold water, then pat dry with paper towels. Using a large knife or cleaver, chop the chicken wings and feet in half to expose the bone. Dice the pork belly and ham into large chunks. Combine with the water, scallion, ginger and garlic in a large stockpot. Bring the water to a boil and then reduce to a rolling simmer. Skim the foam and impurities that rise to the surface of the stock for a clearer broth. Cook the broth, uncovered, for 2½ hours. Strain the stock through a fine-mesh sieve or colander lined with a lint-free towel into a clean pot. Discard the solids (or pull the braised meat from the wing bones and chop and use for dumpling filling, stir-fry, salad, stew or sandwiches). Place the strained broth back on the burner.

To the chilled wine/soy sauce mixture, stir in the gelatin powder. Pour this mixture into a shallow baking dish. Pour the hot soup into the baking dish and use a fork to stir and whisk. Allow this mixture to cool enough to stop steaming, then cover and place in your refrigerator. Chill the stock for about 2 hours, until it is completely cold and set, like Jell-O. Using a fork, scrape up the gelatin and gently mash it to break it up into small pieces. You can also place in freezer to speed up chilling.
To make the filling:
Combine the ingredients in a bowl. Mix well. Stir in the soup gelatin until it is well distributed. Cover and refrigerate the filling until ready to use.
To make the dough:
Place the flour in a bowl and make a well in the center. Pour the boiling water and sesame oil into the center of the well and stir with a fork or pair of chopsticks until the dough begins to come together. You may need to add more water if it is dry, or if the dough is sticky, a touch more flour. Once the dough comes together, turn it out onto a lightly floured surface and knead lightly for 3 to 4 minutes, until it can be kneaded into a smooth ball.

Working on a lightly floured surface, roll the dough into a 2-inch (5-cm)-thick rope and divide the dough into 10 even pieces. Roll each piece into a 1-inch (2.5-cm)-thick rope and cut into 4 pieces, for a total of 40 pieces. Keep the dough covered in plastic wrap and refrigerate all but just the few pieces you are currently working with.

Using a small rolling pin, roll each piece of dough into a 4-inch (10-cm) circle about 1⁄16 inch (0.2 cm) thick.
To make the dumpling:
Add a heaping tablespoon (12 g) of filling to the center of the wrapper and wet the edges with a pastry brush or your finger. Begin to gather the edge of the wrapper and make tiny overlapping pleats, keeping the center of the dumpling as the focal point, until you have gathered all of the dough and the dumpling is formed. Gently pinch the pleats to seal the dumpling. Store on a lightly floured tray, covered with plastic wrap. Refrigerate the dumplings (as you go) or freeze as needed.
To steam the dumpling:
Arrange the dumplings at least 1½ inches (4 cm) apart in a dim sum steamer lined with blanched napa cabbage leaves or place a 3x3-inch piece of parchment paper under each dumpling. Place the dim sum basket over several inches of water in a wok (the water should reach just below the bottom tier of the first basket). Bring the water to a boil and steam the dumplings for 6 to 8 minutes, adding more water to the bottom pan as necessary. Serve hot with red vinegar dipping sauce.
To make the dipping sauce
Use a vegetable peeler to peel the ginger into very thin strips. Then, use a chef's knife to thinly julienne the strips. Combine with the vinegar.
More Xiaolongbao Recipes
This Xiaolongbal Chinese Soup Dumplings Recipe is one I posted years ago! Warning – it's sorta porn-ish.
Chinese Soup Dumplings – from Serious Eats
Steamed Shanghai Soup Dumplings – The Woks of Life