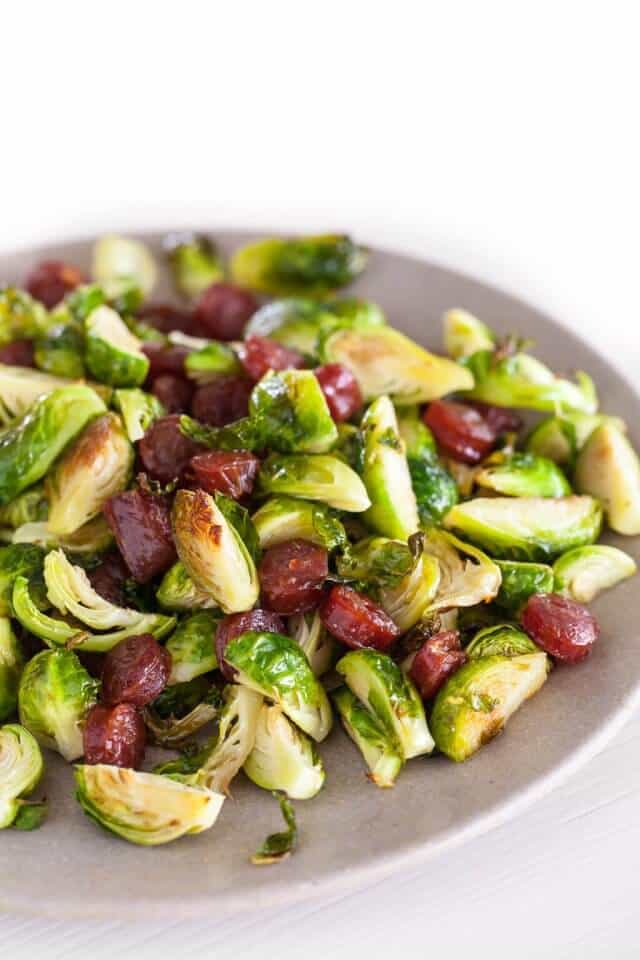 What you'll learn:
Savory-sweet, smoky and intensely flavorful Chinese sausage (lap cheong) pairs well with roasted Brussels sprouts.
Only 5 ingredients, less than 20 minute recipe
Cooks in one pan, all in the oven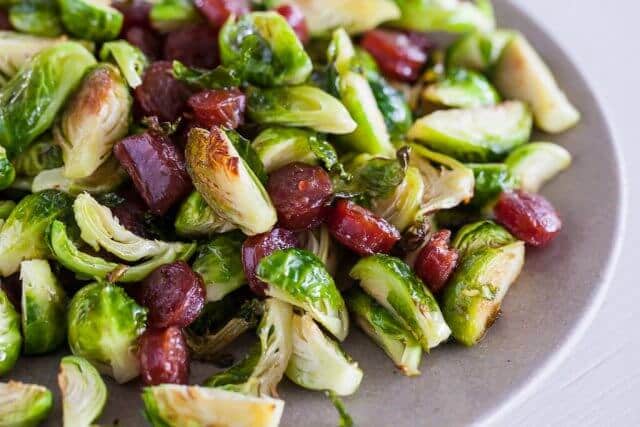 What is Chinese Sausage?
Chinese sausage is unlike any meat you've ever eaten before. "Lap Cheong" 臘腸 is made from pork and is marinated and smoked. You can also find Chinese sausage made from duck liver or pork liver too (darker deep reddish/brown color).
Flavor: sweet-salty, smokey, savory and unctuous with little pockets of fat that just melt during cooking. Think of candied bacon. Or when maple syrup from your pancake pools onto your thick bacon. That's about the closest I can get to a description.
How to store Chinese sausage
Most Asian supermarkets will stock Chinese sausage – since it's dried, cured and smoked, the package will last for over a year if unopened (also check the expiration date on package). You can also freeze the package for a long time If you've opened a package and only use a few links, wrap the remaining tightly in plastic wrap and refrigerate for up to 6 months or store in freezer.
I like to keep at least 1 package in my pantry at all times, it's so easy to just throw a few links into my steaming rice (see below for recipes and instructions).
Kam Yen Jan (see photo) is the brand that's the most popular (and it's a product of U.S.A.) If you're not near an Asian market, you can buy Chinese sausage on Amazon for about the same price as the markets.
Since Chinese sausage stores very well in the pantry, refrigerator or freezer, don't be afraid to buy the 3-pack from Amazon. In addition to this recipe, here are more ways you can use Chinese sausage.
Recipes with Chinese Sausage
Chinese Sausage Rice with Sweet Soy Sauce
Crab and Chinese Sausage Fried Rice
Chinese Steamed Buns Make the bun dough, wrap the dough around a Chinese sausage (like pigs in a blanket! Then steam.
Cooking with rice: If you are cooking your rice,
How to Cook
First, preheat your oven to 400F. Wash and trim your Brussels sprouts, cut them into quarters for faster cooking.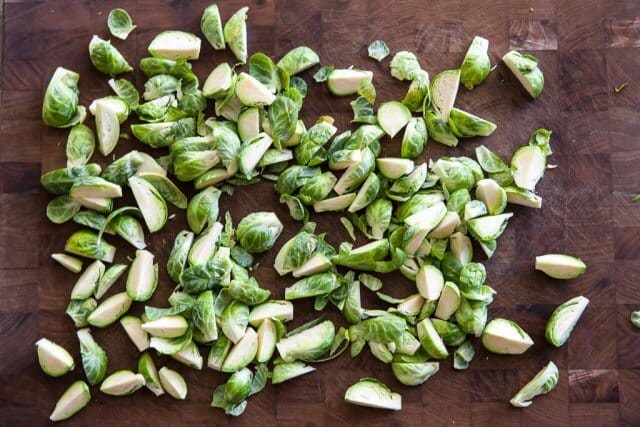 Cut the Chinese sausage into 1/2″ pieces. Keep the ingredients separated on a baking sheet. The Chinese sausage cooks faster than the Brussels sprouts, so this will make it easier to remove from pan. Toss ONLY the Brussels sprouts with a little cooking oil. The sausage does not need oil (it's got plenty of fat!)
Roast in oven for 7 minutes, or until the Chinese sausage is slightly browned, and you can see the fat sizzling on its surface. Remove pan from oven and scoop out the Chinese sausage to a plate.
Return Brussels sprouts to oven to finish roasting for another 5-10 minutes (depending on the size of your Brussels sprouts).
The Brussels sprouts are done when they are lightly browned and tender. Season the Brussels sprouts with the fish sauce (or soy sauce). You an also you Bragg's Liquid Aminos, Tamari (Gluten Free) or Coconut Aminos (Paleo friendly). The Chinese sausage do not need any seasoning.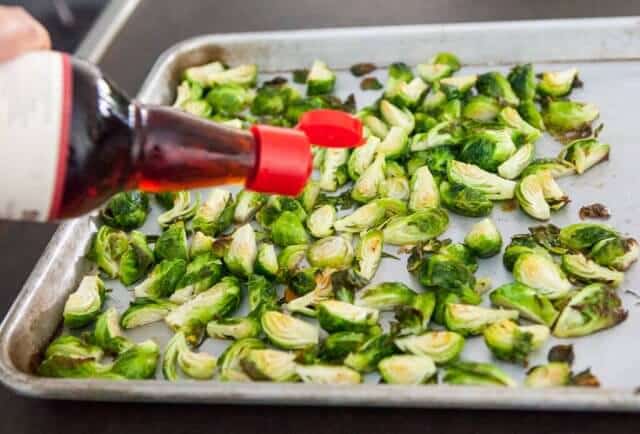 Toss with the Chinese sausage and serve.
Recommended Products
Here is the Chinese sausage that I buy, and my favorite brand of fish sauce. Did you know not all fish sauce is the same? Here's a free guide to my favorite brands of Chinese sauces.

Roasted Brussels Sprouts with Chinese Sausage Recipe
Tips: Chinese sausage is very flavorful! Be careful of how much fish sauce or soy sauce you add to the brussels sprouts. Just a touch is enough.
Do not toss the Chinese sausage with any cooking oil. The sausage cooks faster than the Brussels sprouts, so make sure you keep them separate on the baking sheet.
If you don't have Fish Sauce, substitute with soy sauce, Bragg's Liquid Aminos, Tamari (Gluten Free) or Coconut Aminos (Paleo friendly).
Ingredients
1

pound

Brussels sprouts, trimmed and quartered

1

tablespoon

cooking oil

4

links

Chinese sausage, cut into 1/2" pieces

1/2

teaspoon

fish sauce (or soy sauce)

freshly ground black pepper, to taste
Instructions
Preheat oven to 400F. On a baking sheet, toss the quartered Brussels sprouts with the cooking oil. Make some space on the baking sheet for the Chinese sausage. The Chinese sausage will cook next to the Brussels sprouts, but do not mix them together.

Add the Chinese sausage on the baking sheet. Bake for 7-10 minutes (make sure the sausage does not burn). Remove baking sheet from oven, remove Chinese sausage to a serving bowl, set aside. Give the Brussels sprouts a toss, and return them to the oven to bake for an additional 5-10 minutes, until tender and lightly browned. Timing depends on size of Brussels sprouts - pierce with fork to see if tender.

Drizzle the fish sauce over the Brussels sprouts, season with black pepper and toss well. Add the Brussels sprouts to the serving bowl with the Chinese sausage and mix well.