Chinese Sausage and Rice Recipe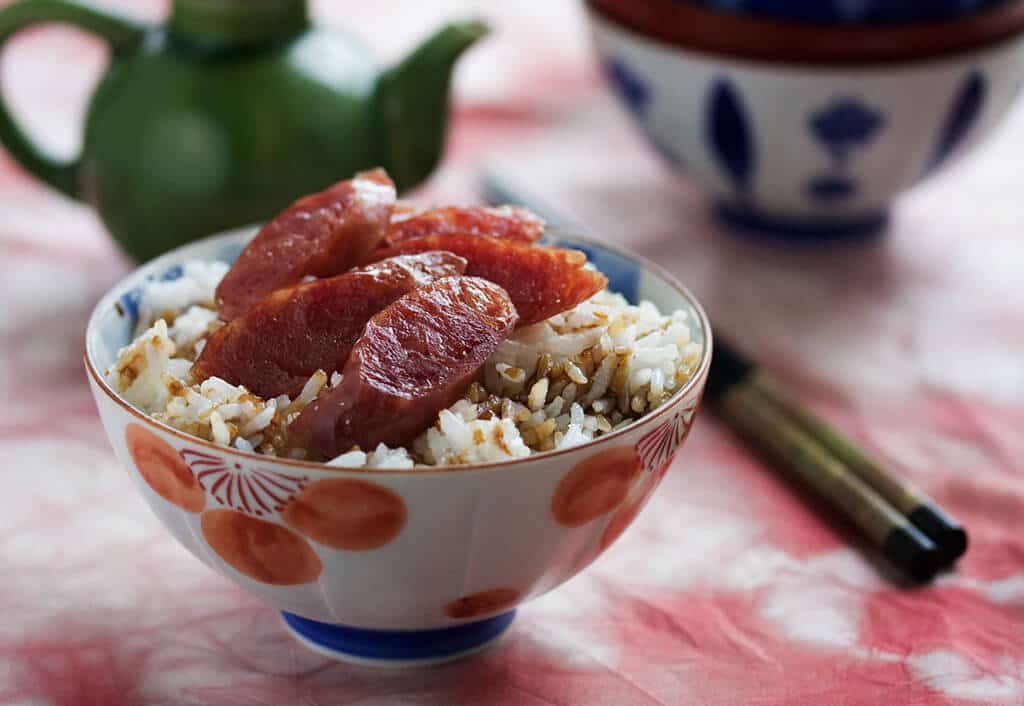 My parents came to visit us last week, a pitstop on their way to a Transatlantic cruise and vacation. Normally, when they come visit, Mom will call a week before to get "my list" of things to bring – Asian foodstuffs that I can't buy in my Florida markets but that she can find near her home in Las Vegas.
This time though, their luggage was limited and I could only request what could be hand-carried. I asked for probably the most rude things to hand-carry on a plane — Chinese Preserved Salty Fish (Chinese Fried Rice with Salty Fish will be an upcoming recipe and video).
Mom surprised me with two other items: special brand of Chinese sausage from Canada and 2 pounds of fresh Chinese Roast Pork from the #1 rated place in Las Vegas – BBQ King.
You know your parents love you when they dare to bring such possibly pungent delicacies on the plane. Thank goodness that the salty fish was triple wrapped and sealed tight.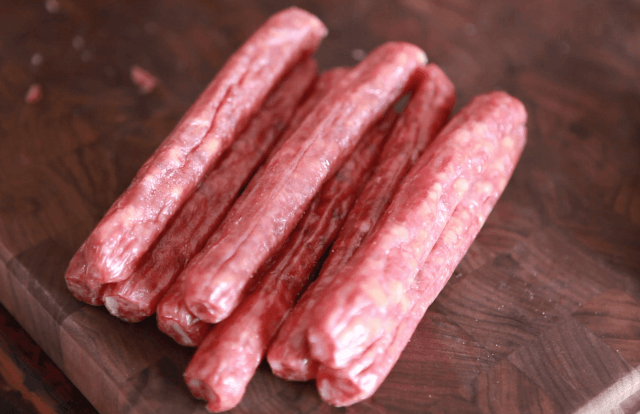 Chinese sausage is unlike any meat you've ever eaten before. "Lap Cheong" 臘腸 is made most popularly from pork and is marinated and smoked. You can also find Chinese sausage made from duck liver or pork liver too (darker deep reddish/brown color).
Flavor:  sweet-salty, smokey, savory and unctuous with little pockets of fat that just melt during cooking. Think of candied bacon. Or when maple syrup from your pancake pools onto your thick bacon. That's about the closest I can get to a description.
Most Asian supermarkets will stock Chinese sausage – since it's dried, cured and smoked, the package will last for over a year if unopened (also check the expiration date on package). You can also freeze the package for a long time If you've opened a package and only use a few links, wrap the remaining tightly in plastic wrap and refrigerate for up to 6 months or store in freezer.
 If you've got a Chinatown in your area, sometimes you'll find Chinese sausage hanging by string like the photo above! (photo source)
Okay, now how to cook with Chinese sausage!? The simplest way is to just snuggle a few links into your rice grains and they will cook up along with the rice. Once cooked, just slice and eat.
I also love dicing Chinese Sausage for my fried rice like this:
(The Chinese Sausage Fried Rice recipe is in my first cookbook, The Steamy Kitchen Cookbook now available in paperback for $16.35 at Amazon)
Years ago, Mom taught me how to make Chinese Sausage with Sweet Soy Sauce drizzled on the rice and it's still one of my all-time favorite Chinese dishes. (Actually, I think Scott and the kids would also agree it's theirs too) This recipe is also in my first cookbook – but I'm sharing it with you below.
Here's a new video to show you how to cook the sausage with the rice!
Chinese Sausage and Rice Recipe Video
How to Cook Chinese Sausage with Sweet Soy Sauce Recipe
Servings: 4
Prep Time:5 minutes
Cook Time:20 minutes
The Sweet Soy Sauce is optional - trust me, the Chinese Sausage will have plenty of flavor alone. Cook the Sweet Soy Sauce while your Chinese Sausage and rice cook.
Ingredients:
For the Chinese Sausage and Rice
2 cups uncooked rice, washed and drained well
4 Chinese sausages
For the Sweet Soy Sauce
1 tablespoon cooking oil (grapeseed, canola, vegetable, rice or peanut)
2 cloves garlic, smashed
1 shallot, roughly chopped
1/4 cup soy sauce
2 tablespoons dark soy sauce
1 tablespoon rice wine (or dry sherry)
2 tablespoons sugar
2 tablespoons water
1/4 teaspoon sesame oil


Directions:
Chinese Sausage and Rice Directions
Fill a pot with the rice and enough water to cover by 3/4". Snuggle the sausages in the rice grains. Turn the heat to high. When the water near the edge of the pot starts bubbling, cover the pot and reduce the heat to low. Cook for 15 minutes.
Turn off heat and keep covered! Let it sit with the lid on for 5 minutes to finish the steaming process. Remove the sausages (careful, they are hot!) and slice them on the diagonal into 1/2-inch-thick pieces. Arrange the sausages on top of the rice and drizzle the Sweet Soy Sauce on top. Serve extra Sweet Soy Sauce at the table for drizzling.
Sweet Soy Sauce Directions
In a small saucepan, add in the oil, garlic and shallot. Turn heat to low and let the garlic and shallot cook slowly until they begin to brown but not burn. Carefully remove the shallots and garlic and discard, leaving the flavored oil. Add remaining ingredients and simmer until thickened, about 2 minutes.