Chilled Tapioca Pearls with Sweet Coconut & Melon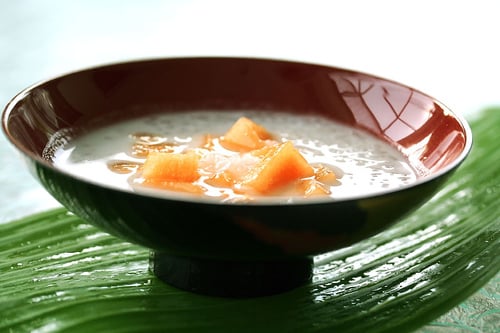 Looking back through my blog stats, this is by far the most popular recipe searched. There aren't a lot of Chinese cookbooks that feature this recipe, I wonder why? Its such a beautiful, exotic dessert. This is a recipe from my Mom – she used to serve this in the summer time to cool off. Usually its made with honeydew, but the cantelope was on sale, ripe and smelled so fresh! This isn't a very well-known dessert in Asian American restaurants, but it can be found in dim-sum eateries in Hong Kong as a perfect ending to a meal. We served this as dessert after our Korean BBQ feast. It was just the right dessert to enjoy to cool us down after all the smoky heat of BBQ.
Tapioca Pearls with Sweet Coconut & Melon
Servings: Serves 8
Prep Time:
Cook Time:
Ingredients:
3 cups water
1 1/2 cups sugar
2/3 cup 1mm small dried tapioca pearls
1 cup whole milk
2 cups full fat coconut milk
2 cups 1/2 inch diced melon (honeydew or cantaloupe)


Directions:
In a medium sized pot, bring the water and sugar to a boil. When boiling, turn the heat to low and stir in the milk. When the mixture returns to a boil, turn off the heat and stir in the coconut milk. Make sure that you are not boiling the coconut milk (which would make it oily) Remove from heat, let cool to room temperature and chill in refrigerator for at least 2 hours.
Soak tapioca pearls in cold water for 20 minutes. The pearls will expand and turn bright white. Drain. In a medium pot, add about a quart of water and bring to a boil. Turn off heat, add the drained tapioca pearls and stir constantly for 1 1/2 minutes. Immediately drain in fine mesh sieve and run cold water through the sieve to stop the tapioca pearls from cooking further. Combine with the coconut milk mixture and continue to chill in refrigerator. You can prepare everything above up to 3 days in advance.
To serve, ladle the sweet coconut milk with tapioca into a bowl and add a big spoonful of diced, fresh melon.