Put any kind of BBQ pulled pork to use in these simple Korean-style tacos that you can easily transform into a bowl!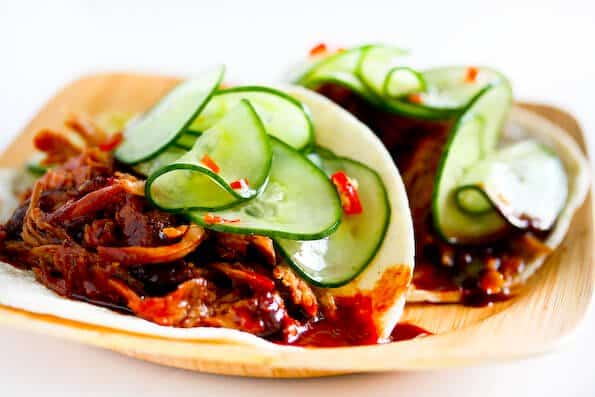 What kind of Korean Tacos are we taco-ing about?
We're taco-ing precooked pulled pork or chicken in this versatile recipe that honors leftovers in te way YOU want.
That's why we're also including a Buddha bowl alternative!
A Buddha bowl layers all the major components of a well-rounded meal that'll keep your attention piqued and your body happy! Start with the idea below:
For GRAINS – use something neutral enough to act as a backdrop for the bombastic meat and BBQ flavors. Also try quinoa or the mixed purple Korean rice you see crammed into steel bowls at Korean barbecue joints.
For VEGETABLES – we'll show you how to make barely pickled crispy, tangy cucumbers. Throw them in the fridge for an hour while you prep the rest. Coleslaw, pickled red onions, and even salad greens will also provide a much needed crunch and tang. Throw in steamed, sauteed, grilled, or even raw corn as a nod to the American end of the BBQ spectrum.
For PROTEIN – here's where your leftover pulled pork, chicken, or even–dare I say–brined jackfruit, come in! It doesn't matter how un-Korean the flavor–this recipe honors American BBQ meat from any region!
For SAUCE – the name of the game is gochujang. Read on to learn what Koji sauce will look like, and you might never stop making it!
For CRUNCH – buy cornbread crisps pre-packaged, and they'll double as a winning snack. But if you've got cornbread already, or cornbread mix, there's a quick recipe for making croutons with each scenario.
I hope you enjoy this Buddha bowl version! But what started it all? Read on to find out…
My parents live in Los Angeles and until just recently, so did my brother. About three times a year, I go back to LA to hang out with the family, get my In-N-Out Burger fix and get the very important big dose of smog and traffic. It's important because it gives me that fantastic talking point when the Los Angelenos ask me, "why the heck did you move to Bradenton, Florida?" Hmmm…well, let me cough the reasons!
Just a few days ago, my brother, Jay, packed his bachelor belongings in a moving truck and moved to Wichita, Kansas to start a brand new fancy job as a Doctor of Cardi-$dollar$-gy. At first, I was like, "Are you crazy? Giving up living in Beverly Hills to go live in Kansas?"
Not that I have anything against the good state of Kansas, it's just that it's a totally different lifestyle than the fast-paced, Botox'd, diamond-studded city of Angels.
Last night, Jay called. He'd just arrived after a couple days of driving to his new home, "Hey sis, you must come and visit. FOR THE BAR-B-QUE!!!" He went on to describe the pulled pork and smoked ribs that he's sampled in the past 24 hours.
That was a good enough reason to commit one of the most important holidays of the year, Thanksgiving, to haul my family to Wichita, Kansas for a week's vacation. And it got me thinking. Take award-winning barbequed pulled pork and combine it with an Korean style barbeque sauce and a puckery Asian cucumber relish. The result is something you'd find on the street corner of Cahuenga and Sunset Boulevard in Hollywood, the Kogi BBQ truck.
As I'm sure you've heard, Kogi is the hottest thing to hit the streets of Los Angeles (literally!), smashing standard taco truck fare with the zing and spice of Korean flavors. They use Twitter to announce their itinerary for that evening and serve hundreds of people at each stop. Sometimes, the lines form an hour before the truck even arrives and snakes carelessly around cars, fire hydrants and benches.
I haven't sampled their fare, I gave one of the owners, Alice Shin, a call and told her that I'd like to make a pulled pork taco from smoked pulled pork. Alice was able to nudge their chef, Roy Choi, into creating a BBQ sauce to match the deep smoky flavor of traditional BBQ'd pulled pork.
This recipe is mid-west meets Los Angeles. Good luck with your new adventure, my brother.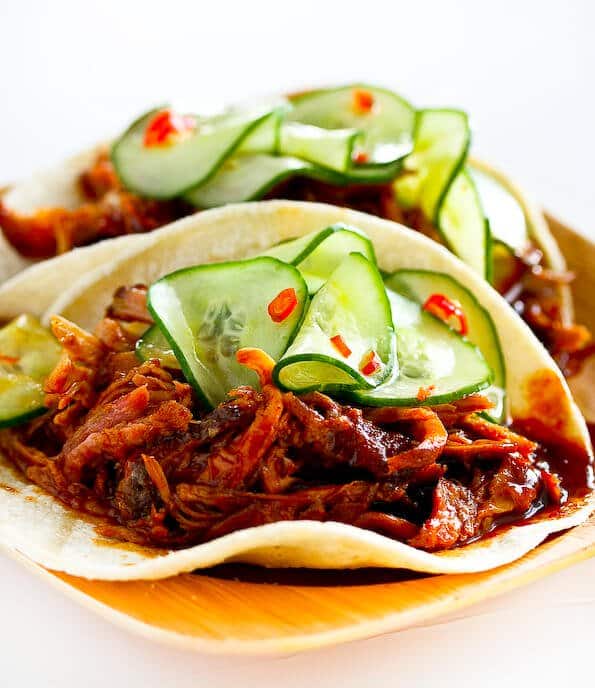 Korean Style Tacos with Kogi BBQ Sauce on Daytime TV
I would have loved to pair good ol' spicy kimchi with these tacos, but my local Asian store had really sad looking kimchi. So, last minute, I decided to create a quick cucumber pickle for television as well as the photo shoot.
Dr. BBQ and I tag teamed that morning on a Daytime segment – he made his very famous pulled pork smoked in the Big Green Egg in a Carolina Pulled Pork Sandwich with Spicy Tangy Slaw (I also posted the video) – and I took his leftovers to make these Korean Style Tacos with Kogi BBQ Sauce.
Hey, p.s. the video shows you what happens when you forget your dang mandoline and end up slicing cucumbers by hand in a hurry. They look like hockey pucks. Use a mandoline.
Thank you Sur La Table for providing the Shun Perfect Paring Knife and the beautiful Foldable Grilling Tools
***
Other great recipes from around the web
Kimchi Recipe by David Lebovitz
Bulgogi Kimchi Tacos by My Korean Kitchen
Korean Beef Tacos by Week of Menus
Korean Short Rib Tacos by Tasty Eats at Home
Kimchi Pork Belly Pizza by No Recipes
Korean Style Tacos with Kogi BBQ Sauce Recipe
This is a great way to use your leftover pulled pork or roasted chicken. The BBQ Sauce from Kogi BBQ was created by Chef Roy to be strong flavored enough to match the smokiness of BBQ'd pork or roasted chicken. You can add use kimchi (spicy pickled Korean cabbage) to top the tacos, or make a quick cucumber pickle like I have. The recipe for the quick cucumber pickle is below.
Ingredients
1

pound

cooked pulled pork or cooked shredded chicken

12

corn or flour tortillas

1/4

cup

prepared store-bought Korean Kimchi

(optional)
For the Quick Cucumber Pickle
1

large English cucumber

or 2 Japanese cucumbers, sliced very thinly

2

tablespoons

rice vinegar

1/2

teaspoon

sugar

1/2

teaspoon

finely minced fresh chili pepper

or more depending on your tastes

1

generous pinch of salt
For the Kogi BBQ Sauce
2

tablespoons

Korean fermented hot pepper paste

gochujang

3

tablespoons

sugar

2

tablespoons

soy sauce

1

teaspoon

rice wine vinegar

2

teaspoons

sesame oil
Instructions
Make the Quick Cucumber Pickle: Mix together all the Quick Pickle ingredients. You can make this a few hours in advance and store in refrigerator. The longer it sits, the less "crunch" you'll have. I like making this cucumber pickle 1 hour prior, storing in refrigerator and serving it cold on the tacos for texture and temperature contrast.

Make the Koji BBQ Sauce: Whisk all BBQ sauce ingredients together until sugar has dissolved and mixture is smooth. You can make this a few days in advance and store tightly covered in the refrigerator.

Toss the Koji BBQ Sauce with your cooked pulled pork or shredded chicken. Warm the tortillas and serve tacos with the Quick Cucumber Pickle.
Notes
I like using English cucumbers or Japanese cucumbers – the skin is thinner and they have less seeds. If you have a Mandoline Slicer it certainly will make the job much easier.
Nutrition
Calories:
503
kcal
Carbohydrates:
48
g
Protein:
34
g
Fat:
20
g
Saturated Fat:
6
g
Cholesterol:
102
mg
Sodium:
722
mg
Potassium:
625
mg
Fiber:
5
g
Sugar:
11
g
Vitamin A:
36
IU
Vitamin C:
3
mg
Calcium:
87
mg
Iron:
3
mg