Looking to make deep fried turkey without oil?
Every year, for the past 16 years, we've deep-fried a turkey for Thanksgiving. It took a near-accident around year 2 for us to realize that there must be a better way than to dangerously heat up 6 gallons of cooking oil on my front porch! In this recipe, you'll learn:
Impossibly juicy, never-overcooked turkey with crisp-crackling skin
Why we use Char-Broil Big Easy Oil-Less Turkey Fryer (by the way, this is NOT a sponsored post)
PROs and CONs of Char-Broil Big Easy Oil-Less Turkey Fryer
Why we DON'T recommend brining for deep fried turkey without oil.
Years ago, we purchase the Char-Broil Big Easy Oil-Less Turkey Fryer, and since then, we've purchased 2 more. One for my brother's house and another after we moved to Nevada (we donated our old one to a friend). For $99, it's the best investment we've ever made for a happy, good-eatin' Thanksgiving with perfect, fool-proof turkey.
PROS of the Char-Broil Big Easy Oil-Less Turkey Fryer
This machine is an infrared fryer, and is powered by a propane tank, the one from your BBQ grill will work just fine.
The 16,000 BTU burner produces heat that circulates in the chamber surrounding the turkey, so that turkey cooks evenly. Okay, so to be fair, this technically, this isn't "deep frying" a turkey, but the results are nearly identical to deep fried turkey: moist, juicy meat (even the breast!) and a crispy skin that is impossible to replicate in the oven.
Here's what we like about the Char-Broil Big Easy:
No oil needed. Previously, when deep-frying a turkey, not only did we have to buy 5 gallons of cooking oil, but we needed to discard of 5 gallons of used cooking oil afterwards. No oil is needed with the Char-Broil.
Compared to oven-roasting, using the Big Easy saves us so much time. Oven: 4 hours Big Easy: 2 hours (10 minutes per pound).
Fast heat up and cool down time: 60 seconds to heat up and the machine is already cool by the time dinner is over. In contrast to deep-frying with oil, you'd have to wait several hours for the oil to cool down completely.
Drippings are collected in a small container. With deep-frying in oil, no drippings.
Safe to use – No worries about tipping over or oil splattering (which has happened to us!)
Relatively inexpensive, worth the $99 investment for perfect deep fried turkey without oil, every year

.
CONS of Char-Broil Big Easy Oil-Less Fryer
As with all of our reviews, we list the dreaded CONs.
Only 1 year warranty. Fortunately, we've never had any trouble with our unit. But I'm surprised that the warranty is only for 1 year, especially when you only use the machine once a year.
Single use machine – we've never used the Big Easy for anything other than Thanksgiving turkey. It's a big machine, you'll need to store it in the garage or attic, somewhere out of the way. Sure, you can cook chicken or kebabs in the machine, but would you really lug out this massive thing just to cook chicken?
No stuffing – If you love stuffing your turkey for oven roasting, you'll find another way to make the stuffing/dressing. Personally, we've never stuffed our turkey, because it causes uneven cooking anyways. We've always made dressing in a 9″x13″ baking dish in the oven.
Basket and cooking pot are a pain to scrub at clean. The best way to clean the wire basket is to immediately scrub it while it's still hot. Don't try to put it in the dishwasher. The inner cooking pot also has to be cleaned…it's just large and awkward.
Must use outdoors. Weather is a factor.
Things to Consider
If you're thinking about using the Char-Broil Big Easy Oil-Less Fryer, here are things to consider:
Propane – You'll need to make sure you have plenty of propane. At least 1/2 a large tank. It would really suck to run out of propane when the turkey is not fully cooked! To be safe, just have a full tank ready.
Must be used outdoors – find a good spot that's NOT windy….maybe a shielded area away from wind and draft.
The colder your outside temperature, the longer it will take to cook the turkey. A 13-pound turkey takes us about 90 minutes to cook in Las Vegas or sunny Florida. The same-sized turkey took us an additional 20 minutes at my brother's old house in cold, windy Wichita, Kansas. If it's snowing or raining outside, you'll have do this under an overhang or covered patio.
Included with the Big Easy is a mesh lid. That lid is used during the last 15 minutes of cooking, to reflect some of the heat back and further brown the skin. In cold weather, you can use the mesh lid throughout cooking, to help keep more of the heat inside the cooking pot.
The first time you use the machine, you'll have to season the cooking pot. That just means rubbing it with cooking oil and turning on the heat to high.
Another Alternative?
If you're an apartment dweller, or just don't care about all the CONs I've laid out above, and you don't want to oven-roast the turkey, consider one of these two machines to cook your turkey, both with excellent results (and super-crispy skin) that rival the deep fried turkey without oil taste.
Ronco Rotisserie Oven ($127) I love this machine. We use it to make fool-proof, 1-step, perfect prime rib and to rotisserie chicken at home. The oven is big enough for a 12-pound turkey, though I would recommend going slightly smaller.
Nu Wave Oven ($95) Prior to owning the Ronco Rotisserie, this is what I used to make roast chicken. The chicken always came out perfect. One year, my Mom roasted her Thanksgiving turkey in the Nu Wave Oven. It was good, better than oven-roasted, but not better than the Char-Broil Big Easy or Ronco Rotisserie. This would be my 3rd choice. Plus, you can only roast a 10 pound turkey unless you have an extender ring.
If you're convinced the Char Broil Big Easy is right for you, you can find the link here:
Don't Brine Turkey!
Brining a turkey is a favorite technique for tender, juicy turkey for oven-roasting. This technique is fine for oven-roasting, but I would not recommended for deep fried turkey without out….or in oil. Brining a turkey involves submerging the whole turkey in a bath of salt and sugar for 24 hours. The ratio is 4 quarts water : 1 cup kosher salt : 1/4 cup granulated sugar.
You'll need to find a food-safe container big enough to fit the turkey and the brine. AND…you'll need to find the room in the refrigerator for this massive container. Or you can use a giant plastic bag (that doesn't leak) and a big clean bucket.
If you can't make that happen, the next best step is to use a clean cooler and lots of ice to keep the temperature at 40ºF or lower.
Here's the Problem with Brining Turkey:
Submerging the turkey in brine water means you won't get super-crispy skin. The skin is full of water, the meat just under the skin is full of brine water. If you decide to deep fry turkey WITH oil…that combination spells trouble Water + massive vat of boiling oil = danger. Lowering a brined turkey (even if you pat the skin very dry) into the oil will produce skin-burning splatters. The oil will continue to bubble fiercely for at least 20 minutes. It's dangerous.If you are making deep fried turkey without oil, the infrared heat will spend its time evaporating the water on the skin, instead of crisping the skin. Even if you are oven-roasting a brined turkey, it's difficult to get crispy skin, even if you turn up the heat in the last stage of cooking.
Brining a turkey in a cooler requires babysitting. You need to keep an eye on the temperature of the water, to ensure it doesn't go above 40ºF. Have a bag of ice on hand and refill with ice as needed. Adding ice also means you'll be diluting the brine, so you'll have to add more concentrated brine solution. Also, do you have room in the freezer for a big bag of ice?
Brining a turkey is a mess. The cooler has to be thoroughly cleaned and bleached before and after brining.
If you are still set on brining, count on starting the brine 2 days prior to Thanksgiving. On day 1, brine. On day 2, discard the brine, pat the turkey very dry inside and outside. Place the turkey in a roasting pan, and refrigerate, uncovered, for at least 12 hours. This process will allow the turkey skin to dry, to help you produce that desired crispy skin.
A Better Way to Ensure Juicy Turkey Without Brining
If you are making deep fried turkey without oil, a better way to create the most juicy and tender meat (and at same time, crispy skin), is to inject the turkey with the brine/marinade solution. Injecting deep into the meat of the turkey keeps the water AWAY from the skin.
We make a solution of water, salt, maple syrup, and just a splash of liquid smoke.
Whisk together until the salt dissolves:
1 cup hot water
1/4 cup kosher salt
2 tablespoons maple syrup
1 1/2 teaspoons liquid smoke
Then add in 1/2 cup of ice to cool the mixture down (and make it safe to inject into the turkey)
What is Liquid Smoke?
Liquid smoke is a natural seasoning that makes your food taste like it's been smoked. Woods, such as hickory or mesquite, are burned. Smoke is collected, condensed, and cooled. Water is added and the liquid smoke is bottled.
Some brands add flavoring and artificial colors, so try to stay away from those. My favorite brand is Wrights Liquid Smoke. There are only 2 ingredients: water and hickory smoke concentrate.
I love this stuff, but only in very small amounts. If you think, "ewww…fake smoke?" Well, it's made from real smoke, and chances are, if you enjoy bacon, smoked gouda cheese, beef jerky, smoked sausages….you've probably had liquid smoke.
Liquid smoke, just a tiny amount, gives the turkey the faintest hint of smokey flavor. This is definitely one of those ingredients that a little goes a long ways.
Injecting the Turkey
There's a right way and wrong way to inject a turkey. Do not just go injection happy like a mad scientist and puncture the turkey all over the place! Do not puncture the turkey skin. Going through the skin will just cause the marinade to leak out onto the skin, which is what you want to avoid.
Instead, go under the skin, and inject the turkey.
Just find spots where you can inject without going through the skin.
After injecting, place the turkey, breast side up, in a large pot. It's nice and plump, like turkey botox.
Refrigerate 2 hours (up to 24 hours) without covering. If you must cover, just use a sheet of tin foil and tent. This allows the skin to stay dry, which results in crispy skin.
Why is Injecting Better than Brining?
Skin stays dry, allowing for the skin to become extra crispy when cooked.
Takes up less room in refrigerator
Less messy than brining
Takes less time than brining- brining takes 24 hours, injecting only takes a couple of hours. NOTE: Some experts say that you can inject and then cook immediately. I would not recommend this for deep frying turkey. The 2-hour resting time allows the marinade to settle into the turkey meat. Excess marinade will leak out, which is what you want it to do, instead of leaking out into your boiling hot oil (for deep frying) or in the cooking pot (for oil-less frying).
When You Should NOT Brine or Inject the Turkey
If you buy a Kosher Turkey, there's no need to brine or inject the turkey. Kosher turkey has already been pre-brined as part of the kosher process.
Choosing the Perfect Turkey for Deep Frying Without Oil
We don't skimp on our turkeys. For a family-feast that only comes once a year, we like to get the best-tasting turkey that we can. Another important consideration is humanely raised turkeys. Our favorite brand is Diestel, a family-run, sustainable ranch in California.
Their sustainable practices have earned the company a 5+ welfare rating, the highest possible rating from the nonprofit Global Animal Partnership. You can find their turkeys at Whole Foods or on their website. The bird we used in the photos for deep frying turkey without oil is from Diestel – last year, they sent over a Pasture-Raised turkey and a fully cooked turkey for us to try. Since then, we've purchased a Diestel turkey from Whole Foods and plan on another one this Thanksgiving.
Also, if you're not into cooking a whole turkey, they do sell already cooked whole turkey, that you can just warm up in the oven and serve.
Deep Fried Turkey Without Oil Using Char-Broil Big Easy Oil-Less Turkey Fryer
First, calculate the time you need:
When ready to cook, pat turkey dry, inside and outside, once more. Brush skin of turkey with a bit of cooking oil. Season with your favorite salt-less or low-salt herb/dry rub poultry seasoning (remember, you've already injected with salt, so go easy on the seasoning if it contains a lot of salt.) Also, choose a seasoning that has little or no sugar…the sugar will cause the skin to burn. Best: make your own seasoning:
1 tablespoon paprika
1 tablespoon chili powder
1 teaspoon garlic powder
1 teaspoon onion powder
1 teaspoon dried thyme
freshly ground black pepper
Pour some cooking oil on a wad of paper towel, and rub the basket wires with the oil (this will help prevent the turkey from sticking to the basket). Place the turkey into the basket, making sure that the wing tips and drumsticks are nice and tucked in.
Preheat the Char-Broil Big Easy Fryer for a minute. Make sure that the unit lights up and it's getting hot before adding turkey, breast up.
If this is your first time cooking with the Char-Broil Big Easy, you might panic an hour into cooking. It's going to look like this for a long time. Will it cook in time? When will the skin crisp?
It's getting close…
We like to pull the turkey out when the deepest part of the breast registers 150ºF-155ºF. No higher than that. The turkey will continue to cook while it's resting.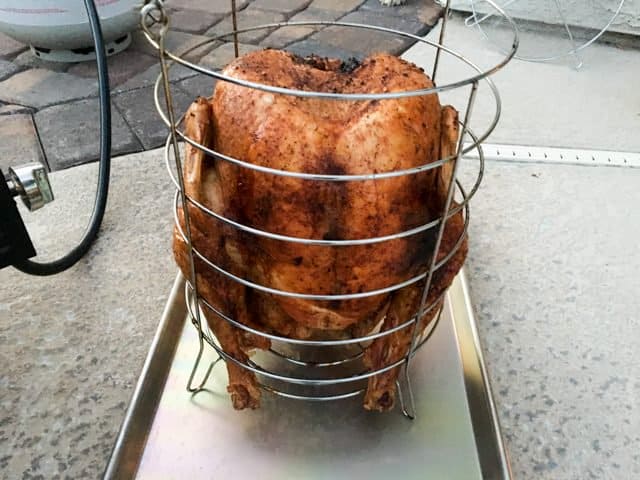 Take that bad boy inside on a large cutting board to remove it from its cage. It's a heavy beast, and you wouldn't want to drop the turkey on the ground.
If you followed my instructions to oil the basket, the turkey should plop right out.
Beautiful, crispy skin: Deep Fried Turkey without Oil.
The skin is thin, crackly-crispy.
And the meat is so juicy and flavorful.
How to Calculate Cooking Time
The Char-Broil Big Easy estimates between 9-10 minutes per pound of turkey. Don't only rely on your watch. Use an instant read thermometer to check temperature. Just use minutes per pound as a guideline.
Also, consider the weather conditions that you are cooking in. If it's really cold (like when were were cooking in Wichita), calculate 11 minutes per pound.
The basket will hold a 16 pound turkey. We've gotten the best results with a 12-14 pound turkey, which feeds plenty of people (with leftovers).
14 pound turkey x 10 minutes = 140 minutes cooking time (approx)
+ 120 minutes injection marinade, or you can do this overnight
+ 10 minutes hooking up Big Easy, testing connection
+ any additional time to accommodate cold weather
+ 15 minutes resting time before carving
What about Gravy!?
Don't worry! You can still make gravy. Simmer the neck and gizzard (inside the pouch stuffed in cavity of the turkey you bought), with fresh thyme, garlic, onion and bay leaves. We will use that stock as the base for the gravy. After your turkey is finished frying in the Big Easy, carefully slide out the drippings collection pan and add a couple spoonfuls of the drippings into your gravy.
Deep Fried Turkey without Oil - CharBroil Big Easy Turkey Fryer
If this is the first time using Big Easy, season the cooking pot prior to using, according to instructional manual.
Ingredients
For the Injection Marinade
1

cup

hot water

1/4

cup

kosher salt

2

tablespoons

maple syrup

1 1/2

teaspoons

liquid smoke
For the Dry Rub
1

tablespoon

paprika

1

tablespoon

chili powder

1

teaspoon

garlic powder

1

teaspoon

onion powder

2

teaspoon

dried thyme

freshly ground black pepper
For the Gravy
2

tablespoons

cooking oil

neck and gizzard from turkey

no liver (you can also use wing tips from turkey)

1/2

onion

chopped

3

cloves

garlic

keep cloves whole

1

quart

turkey or chicken stock

3

sprigs

fresh thyme

2

bay leaves

4

tablespoons

butter

1/4

cup

all-purpose flour

2

tablespoons

turkey drippings
Instructions
2 Hours Prior to Cooking Time, Inject the Turkey
Discard any plastic ties or plastic pop-up timers from turkey. To prepare the injection marinade, whisk together the hot water, salt, maple syrup and liquid smoke, until salt dissolves. Add in ice cubes to cool. Inject the turkey in several places, without puncturing the skin.

Place turkey, breast side up, in large pan. Refrigerate, uncovered for 2 hours, up to 24 hours. It's best to let the turkey un-chill a bit on kitchen counter prior to cooking - bring turkey to counter for the last 1 hour.
Prepare the Char-Broil Big Easy
Rub cooking basket with cooking oil. Brush cooking oil all over skin of turkey. Season turkey with dry rub, inside and out. Insert turkey into basket, with breast side up. Turn on Big Easy, make sure the flame is strong, and cooking pot is heating up.
Cook the Turkey
Lower in the turkey in the basket. Cook, uncovered, about 9-10 minutes per pound. During last 15 minutes of cooking, cover with the wire mesh lid to allow turkey to brown. The breast should register 150F-155F. Remove turkey and let rest for 15 minutes before removing from basket. **While turkey is cooking, make gravy.
Make Gravy
While the turkey is cooking, make the gravy. In a large sauce pan, heat the cooking oil over high heat. When hot, add in the turkey neck and gizzards. Brown the turkey on one side, then flip. Add in the onion and garlic cloves and continue to cook until onions are softened, and the turkey is nicely browned. Pour in the stock, add in the fresh thyme and bay leaves. When boiling, turn heat to low, simmer for 30 minutes. Strain, discarding solids. You should have about 2 1/2 cups turkey stock.

In a clean sauce pan, over medium heat, add the butter. When just beginning to bubble, add in the flour. Whisking constantly, for 5-8 minutes, until dark blonde roux is formed. Pour in just 2 cups of the turkey stock (reserve the rest) and whisk to combine.

Season the gravy for salt and freshly ground black pepper. To thin the gravy, pour in a little more turkey stock. To thicken the gravy, let the gravy continue to cook and reduce. To thicken in a hurry: in a small bowl, combine 1 tablespoon cornstarch and 1/4 cup water, stir to make slurry. Pour this into the gravy and continue to whisk until thickened.

When the turkey is finished frying, remove the drippings pan. Use a large spoon to discard the first top layer of fat/oil. Underneath the oil, you should find very flavorful drippings. Stir a big spoonful of the drippings into your gravy.