Kalorik Hot Stone Pizza Oven Review & Giveaway
This is a review of the Kalorik Hot Stone Pizza Oven, including both PROs and CONs (and a giveaway at the end).
Kalorik Hot Stone Pizza Oven Review
We've been hosting DIY pizza parties since the kids were babies. For several years, all we had was an oven and a Pampered Chef pizza stone. It made decent pizza, but our oven could never get hot enough for excellent pizza…the kind you get at your favorite local pizzerias.
Our next step was a Pizzeria Pronto Stovetop contraption. We got good results, but the intense heat of the pizza maker discolored our stovetop. The next experiment was with a Breville Crispy Crust Pizza Maker, which we LOVE….it produced brick-oven style pizzas with perfectly melted cheese on top and a crispy crust on the bottom.
This review is a similar pizza maker, by Kalorik, at half the price of Breville's. Both ovens perform similarly – a heating element on both top and bottom of the oven, and a pizza stone to get the crispest crust.
At half the price, will the Kalorik perform just as well? 
The Kalorik Hot Stone Pizza Oven comes with the oven, a pizza wheel and two large spatula things.
Pre-heating only takes minutes. I was surprised how fast the oven heated. There are temperature settings from 1-5, and also a timer setting.
How hot does this Kalorik Pizza Oven get?
SCREAMING HOT!!!
We placed the Breville and Kalorik side by side to compare.
How we DIY Pizza Parties
First, you'll need to buy pre-made pizza dough (ask at deli section of supermarket) or make your own.
I love making pizza dough, and we followed the recipe found in the Breville Pizza Oven booklet. At the local Italian mart, I bought 00 flour, which is used for pizza.
We lay out lots of different ingredients –
MEAT: sausage, ham, proscuitto, salami, pepperoni, cooked chicken breast, anchovies
VEG: fresh tomatoes, canned artichoke, roasted bell peppers, mushrooms, fresh arugula, fresh basil
CHEESE: shredded mozzarella, burrata, fresh mozzarella, ricotta
SAUCE/HERB: pizza sauce, pesto sauce, bbq sauce, olive oil, italian herb seasoning
Roll out a small piece of dough. With these pizza makers, you MUST have thin crust pizza (I'll show you why, later). Stretch, toss and roll out your dough to as thin as possible. Place pizza round on parchment paper and then choose your ingredients.
Oh, you can't put too much on the pizza…have a light hand when adding toppings.
Place the pizza in the pre-heated Kalorik Hot Stone Pizza Oven – WITH the parchment paper.
Close lid and set timer for 2 minutes. Now open and remove parchment.
Why? Because the parchment makes the pizza easy to slide and place onto the very hot hot hot stone. If an ingredient falls off, like a shred of cheese, it falls on the parchment, and not the stone. Any ingredients that fall on the hot stone will burn badly and is almost impossible to clean off.
You have to remove the parchment, 2 minutes into cooking, because the oven gets so hot, the parchment will burn, disintegrate, and flake.
The pizza will cook in minutes! Because there is a heating element on the bottom and on the top, the pizza cooks very fast.
Performance-wise, the Kalorik pizza oven matched Breville's oven. Similar temperatures, similar times for cooking pizza. The one difference I found: Kalorik oven is slightly shorter, and the oven heating element is closer to the base than Breville. Why is this important? As the pizza cooks, the pizza dough puffs up, and sometimes bubbles up. If the crust isn't thin enough, the dough will push the ingredients up higher, possibly touching the heating element. It will burn the ingredients, and also it's a pain in the butt to clean.
That's also why you don't load up the pizza with too many ingredients.
But it's a simple fix: keep the dough very thin and keep ingredients to a minimum. If the dough bubbles up, just open lid and pop the bubble.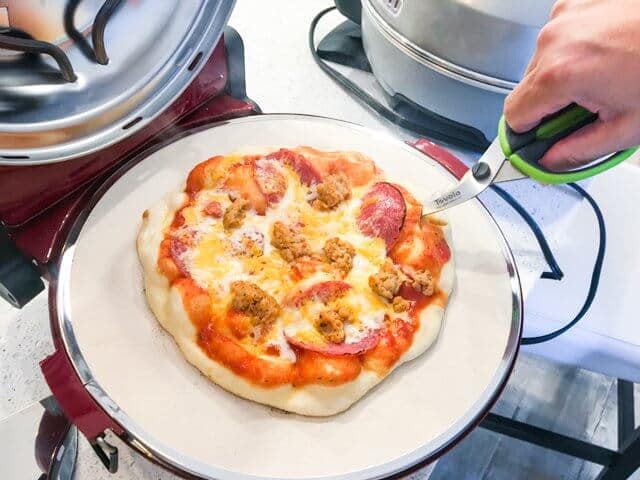 Pizza is ready!
Look at that crust!
At half the price of Breville, and for the weekend pizza party, this Kalorik Hot Stone Pizza Maker is worth it! In addition, you can cook frozen pizza in the machine, for a better than oven experience.
Cleaning is simple….
As long as you didn't overload your pizza.
The stone is removable, so you can wash by hand when it cools. Just scrape off any burnt flour bits.
A few minor things
I didn't care for the paddles or spatula things that came with the machine. I'd recommend getting a folding metal pizza peel like this one ($16.50 on Amazon) – it's EASY to clean, handle folds in for storage and the thin metal peel is lightweight.
These little ear handles on lid get very hot (Breville has a big handle on top of lid)
But other than that….and the slightly shorter space between stone and heating element, the Kalorik Hot Stone Pizza Oven is a happy buy at $79.99 on Amazon!
Thank you for supporting Steamy Kitchen!
Even if you don't buy the product shown, starting your Amazon shopping here helps our small family business. We get a small commission from Amazon that helps keep this site running free!
Kalorik Hot Stone Pizza Oven Giveaway
---
Giveaway Ends: 2018-10-01
Number of Prizes Available: 1
Max Entries Per Day: 1
** Please add hello@steamykitchen.com to your contacts to help prevent email notifications from going into spam folders.
Never miss another Steamy Kitchen Giveaway!
Subscribe to our Giveaway Notifications
to keep up to date on all of our giveaways! We will even throw in a special gift when you confirm your subscription!
List of
Past Winners.
DISCLAIMER & OFFICIAL RULES: The giveaway product is provided by the sponsor of the giveaway and will be shipped from the sponsor directly. No purchase necessary to enter or win. Giveaway is open to people who are 18 years of age at time of entry and open to people worldwide. Steamy Kitchen and its sponsors only ship physical prizes to United States addresses. However, Steamy Kitchen reserves the right to provide an Amazon.com or Amazon.ca gift card for the value of the prize (at time of publishing) in lieu of shipping physical product due to shipping costs and logistics, especially for our international winners. Steamy Kitchen assumes no responsibility for late or misdirected entries due to SPAM, technological, or e-mail filtering issues or for prizes lost in transit. Winner will be notified by email, and must respond within 5 business days, otherwise winner will forfeit the prize and another winner may be drawn. For this giveaway, entrants can enter the designated number of times per e-mail address per day. The use of any system, robot, agent, or software to automatically submit entries in connection with this Giveaway is prohibited. Winners of giveaways are published on Steamy Kitchen, and winner's name and city/state/country are announced in Steamy Kitchen email newsletters. See rest of the Official Giveaway Rules.