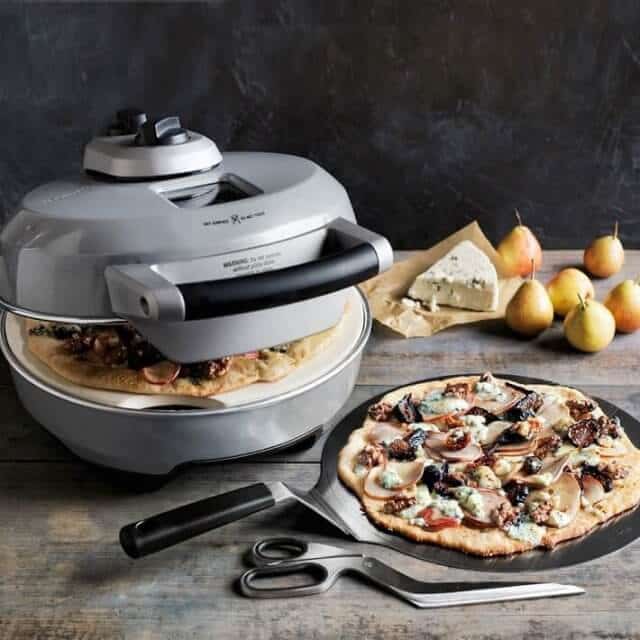 This is a review of the Breville Crispy Crust Pizza Maker machine, with both PROs and CONs. We've been testing this machine out for the past 2 months, hosting 6 pizza parties, giving this machine heavy use each time!  Photo above from Williams Sonoma, you can purchase the Breville Crispy Crust Pizza Maker for $149.95.
Breville Crispy Crust Pizza Maker Review
If you don't have a brick oven in your backyard, this machine will be the closest thing you can get to perfect pizza. I'm not saying this lightly, and am certainly not getting paid to rave about this machine. Yes, there are some complaints I do have about the appliance (detailed later), but I've never been able to consistently make fantastic pizza with bubbly, blistery crust until now. Pizzas are cooked in 6-8 minutes.
The Specs

Photo from Williams Sonoma
Size: The machine is actually pretty small, it's something that you can easily store in your small appliance pantry. Not heavy at all. 11″ x 18″ x 14″ high; 14 pounds
Power: 1200 watts, heats up to 660F, though our measurement was higher
Includes a pizza stone and recipe booklet
Using the Breville Crispy Crust Pizza Maker
We followed the recipe found in the booklet for pizza dough. I love that it called for 00 flour, which is the type of flour Italians use for pizza dough and hand made pastas. We make pastas and pizzas so often (even before we got this machine), that we purchase 00 flour in bulk from an Italian market. I've also seen it at Whole Foods and other fancy gourmet-type grocery stores. One time, in Florida, I was so desperate to buy 00 flour, that I asked, very kindly, my local pizzeria, if they'd sell me 5 pounds of their flour. Yes! They agreed.
If you don't have 00 flour, or don't care to look for it, you can just use regular, all-purpose flour.
Nathan's new job at Steamy Kitchen is to help me test products and review. He made the dough (it's easy) and decided that he wanted to roll out the pizza exactly 9 1/2 inches, so that it would fit the machine. He traced a template onto parchment.
…and rolled out the dough.
PRO: Breville's specs say that the Crispy Crust Pizza Machine heats up to 660F, but we measured the stone to be almost 700F, certainly hotter than I could ever get my oven or BBQ grill!
Top the pizza sparingly, and make sure you leave plenty of space on the edges. If you over-fill the pizza, it won't cook evenly and the ingredients will spill out on the pizza stone.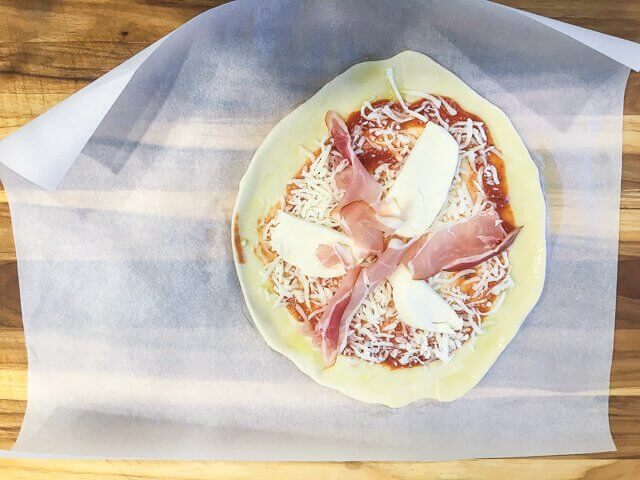 Slide the pizza with parchment and set timer for 1 minute.
If you leave the parchment in too long, it burns. So, after 1 minute, just yank out the paper.
Five minutes more, and the pizza is done.
This one is mine: ricotta, fresh mozzarella and basil. See the blistery crust? Absolutely beautiful.
More pizzas (sorry for photo quality, these were taken on different days, different pizza parties and on my phone).
Prosciutto, ricotta, artichokes, garlic olive oil.
Tomato sauce, mozzarella and salami.
Tomato sauce, fresh mozzarella, goat cheese, beets and then topped with fresh baby arugula and drizzled with truffle oil.
PRO: On each pizza, crispy, blistery crust. Bottoms are all evenly cooked. It's really hard to replicate this in any other home appliance!
Only Thin Crust Pizza
The Breville Crispy Crust Pizza Machine really shines with thin crust pizzas. You *can* make thicker crust pizzas, but I wouldn't recommend it.
CON: The machine only gives you about 1 3/4″ of space between the pizza stone and the heating element. Even with thin crust pizza, if my dough happens to puff up too high, the dough will touch the heating element, smoke and the crust will burn in that spot.
But the pizza is stilllllll deeeeelicious.
Hard to clean machine
CON: While the Williams Sonoma pretty photos above show a shiny clean machine, after a few uses, the stone will naturally darken and the machine will discolor. The upper lid with heating element is really a pain in the butt to scrub. The heating element is not removeable, so you just have to do your best.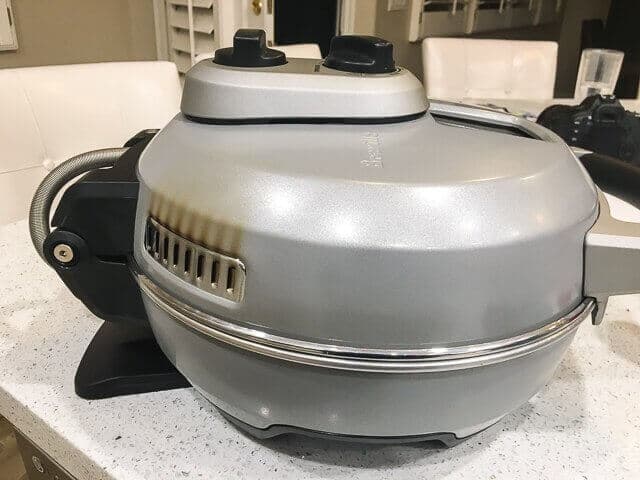 But a darkened stone is nothing to worry about – it's "well seasoned!" Just use a metal spatula or pastry bench scraper to scrape off the charred bits. I don't like using soap on my stones (I think porous stones absorb the soapy taste), so I just scrape and rinse.
My small gripes about the machine won't deter me from enjoying phenomenal pizza. I whole-heartedly recommend the machine!
Host a Pizza Party
Invite friends over and have a pizza party. Each batch of dough from the included Breville booklet will make 4-6 pizzas. We double dough batch for a party for 8 adults. Have at the counter:
Cheeses: shredded mozzarella, fresh mozzarella slices, ricotta, goat cheese
Greens: Fresh baby arugula, baby spinach
Herbs: Fresh basil leaves, fresh thyme sprigs, dried garlic/italian herb combo
Veg from jar: Roasted bell peppers, marinated artichokes, roasted beets, pineapple chunks, olives, banana peppers, roasted garlic cloves, sun-dried tomatoes
Anchovies
Meats: prosciutto, ham, pepperoni, cooked shredded chicken, cooked sausage
Sauce: Pizza sauce (we like Trader Joe's), BBQ sauce, pesto (we like Trader Joe's Quinoa Pesto), honey
Fresh veg: sliced mushrooms, skinny asparagus (split fat asparagus lengthwise in half), red onion slices, tomato slices, roasted or sauteed wild mushrooms
Fruit: sliced pears, sliced apples, sliced figs
Olive oil
Nuts – pine nuts, walnuts
On all pizzas, brush olive oil on edge of pizza dough. You can sprinkle come dried garlic/italian herb on crust as well.
Our favorite pizza combos:
BBQ Chicken Pizza – BBQ sauce, shredded chicken, red onion. After cooking, drizzle more BBQ sauce
Roasted Beets with Goat Cheese
Ricotta, Artichoke & Fresh Arugula – pile on the fresh arugula after cooking, sprinkle with a little sea salt and drizzle with good olive oil
Ricotta and Fig, drizzle with honey after cooking
Pear and Gorgonzola, drizzle with honey after cooking and top with walnuts
Tips for a Pizza Party:
Remember that the pizzas cook in about 6 minutes, so you want all your ingredients thinly sliced or already cooked.
Thinner pizza cook better – aim for 1/4″ thick when rolling out. Use your hands to stretch the dough – the more you use the rolling pin, the flatter your pizza will be. I handle the dough very gently, starting with a few rolls, then switching to hand stretching with knuckles. Spinning the pizza in the air is fun, but I'm not coordinated enough to pull that off without making it fly like a frisbee.
Keep toppings spare. Overloaded pizzas will be soggy or will burn.
Draw a 9 1/2″ circle on parchment paper and use that as your guide. You can slide the pizza from peel to the stone with the parchment, but pull out the parchment after 1 minute.
Have a few salads to serve and other nibbles to eat – each pizza takes 6 minutes or so. If you are relying on only pizza to feed your guests, they'll be hungrily waiting for their turn to cook their pizza.
If your pizza dough starts rising too high in certain spots, open the machine, use a sharp paring knife and pop the dough bubble. If any dough or ingredients touches the heating element, use a spatula or back of butter knife to just scrape off the ingredient to prevent burning/smoking.
Thank you for supporting Steamy Kitchen!
Even if you don't buy the product shown, starting your Amazon shopping here helps our small family business. We get a small commission from Amazon that helps keep this site running free!
Currently Amazon sells the machine (there are only a few left), and you can also go to any Williams Sonoma.
Breville Crispy Crust Pizza Maker Giveaway