Hello my friend!

So, I owe you all an apology.

1. If you've been on the sitethe past 2 weeks, it's been a bit glitchy. We had to change to a new website server host – I was with my old host for 12 years and the past couple of years, their level of service has declined.

The day I made the decision to switch, Steamy Kitchen mysteriously went down! Conspiracy? Coincidence? LOL well, who knows!

Moving servers is kinda a big deal – it's like picking up your entire house and its contents and moving the whole thing to a different city. It has finally stabilized and all is good.

2. I've been getting emails from longtime readers, wondering where I've been and if I've been okay! It turns out a big chunk of my favorite people have not been getting my weekly emails!

It was probably my fault – every time I send out an email, it goes to just under 50,000 people on the Steamy Kitchen list. I use a service that helps me identify who I'm emailing to, and I probably did something wrong in a setting!

I toggled a few switches, and hopefully, this email will reach everyone.

3. If you enjoy our giveaways – we've also had to switch our technology that runs the giveaways (meaning, I don't just pick a name out of a hat to choose winners!) as our old system was on its last legs.

Over the years, we've had to do so many work-arounds, patches just to keep up with how the site and my audience needs have evolved. My biggest fear was that it would break!

We're still getting used to the new system….I know it was running super slow and hiccuping a bit, and I thank you so much for your patience.

Don't worry, all your entries from prior have been ported over. We've got lots of eyes on this – between myself, DeAnna (Steamy Kitchen web developer) and ViralSweep co-founder, we are contantly monitoring everything.

Change is difficult. I know. During crazy times like this, it seems the world is crumbling at the edges. People, including myself, crave familiarity and stability.

I'm sorry for so many changes at Steamy Kitchen…these were things we had to do to keep the site running!

The past two weeks of changes has been a little tough. I catch myself at times holding my breath, in 'fight or flight' mode.

And then I look at Duke, who is so happy, always loving, has no worries other than "where's the ball!?" and all is ok again!
BAKED GARLIC PARMESAN CHICKEN WINGS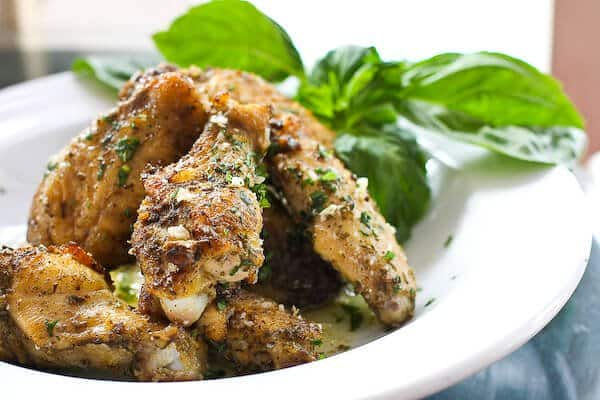 Make these wings! You can bake them in the oven, or air-fryer. The recipe is from Chef Jesse in Mount Dora, Florida. This is his most popular appetizer at the restaurant and it's so simple to make. I use shaker grated parmesan. If you don't have fresh parsley, just use your favorite dried herb seasoning mix. Get the recipe.

–
What are you grateful for today? Is there anyone you need to reach out to and just say hello, I'm thinking about you?

Sending you hugs and basket of happy sunshine.

Jaden & Dukey-boy
STEAMY KITCHEN CURRENT GIVEAWAYS
NEW GIVEAWAYS!
– Masterbuilt Tabletop BBQ Grill
– Acer Chromebook Laptop

THIS WEEK'S WINNERS

We have 2 winners so far (out of 20) for the instant win $10 Amazon gift card (have you played?)
– Pam Halpert from Dry Run, Pennsylvania
– Morgan Maples from Brooklyn, NY
MEET WINNERS!
– Nancy Tardif from St-Joseph-De-Beauce, Quebec was sent the prize for HP Laptop
– Pam Halpert from Dry Run, Pennsylvania was sent $10 Amazon gift card
– Morgan Maples from Brooklyn, NY was sent $10 Amazon gift card
– Chris McPeters from Earl Park, Indiana was sent Miko Massager
– Thomas Owens from Oak Lawn, IL was sent the T-Fal Cookware Set
– Donna Mae Hatmaker was sent $100 Walmart Gift Card
– Marion Barber from Calgary, Alberta was sent the Power Air Fryer Oven
– Josee Blagdon from Victoria, BC was sent $25
– Crystal Coffman from Albany, GA was sent $25
– Elaine Gauthier from Canada was sent $25
– Linda Withrow from Marietta, GA was sent the Bia Watch
– Connie Lafata Holmstedt from Redondo Beach, CA was sent the Apple iPad
– Karen Sollazzo from Canada was sent the prize for the Ninja Blender
– Colleen Kleinsteuber from Kitchener, Ontario was sent the prize for the 50″ Smart TV by TCL

GIVEAWAYS IN PROGRESS

ENTER GIVEAWAYS

NEW:
– Masterbuilt Tabletop BBQ Grill
– Acer Chromebook Laptop

ENDING SOON:
– Ninja Air Fryer
– Fitbit Versa 2
– Shiatsu Back Massager

MORE:
– $500 Winter Cash Giveaway
– iRobot Roomba Vacuum
– Instant Pot Duo
– $100 Mastercard gift card
– TCL 40″ Smart Television
– $100 Walmart Card
– Fitbit Versa 2
– Dyson Handheld Vacuum Cleaner
– Instant Pot Duo Air Fryer
– Kindle Paperwhite
– All in one Foot Spa Bath Massager
– Lenovo Laptop
– Henckels Knife Set
– Indoor Outdoor Inflatable Mega Movie Projector Screen
– $100 PetSmart Gift Card
– Apple Watch
– Smoking Gun
– Costco Executive Membership 1 year
– Costco $100 Gift Card
– Apple iPad
– $200 Target Gift Card
– Apple MacBook Air
– Honeywell Germ-Free Humidifier
– Kodak PIXPRO Digital Camera
– $100 Amazon Gift Card
– Ninja Foodi Grill
– Fitbit Versa 2
– Insignia 43″ Smart LED Fire TV
– $100 Free Groceries
– Twenty Winners for $10 Amazon Gift Card