After 6 weeks of testing, here's our review of the Hestan CopperBond Cookware 10-pc Set (and a giveaway at the end).
Hestan CooperBond Review: Ultra Premium Cookware
The Hestan CopperBond cookware combines the beauty, timelessness and superior conductivity of copper with the sturdiness and practicality of stainless steel.
5-ply bonded construction with a polished copper and 18/10 stainless-steel exterior and a thick 100% pure copper core sandwiched by two layers of aluminum.
Induction friendly with wrap-around stainless steel base.
Flush rivets inside the cookware for easy cleaning (one of my favorite features).
Heat safe up to 600F.
We received the 10 piece set from Hestan to review. The set includes:
8.5 in. Skillet: 8.5 in. diam., 1.5 in. high; 2.05 lb.
11 in. Skillet: 11 in. diam., 1.75 in. high; 3.19 lb.
1.5qt Saucepan: 6.75 in. diam., 3 in. high; 2.94 lb. with lid.
3qt Saucepan: 8.5 in. diam., 3.5 in. high; 4.06 lb. with lid.
3.5qt Sauté Pan: 10.75 in. diam., 2.75 in. high; 5.59 lb. with lid.
6qt Stockpot: 10.75 in. diam., 5.0 in. high; 5.39 lb. with lid.
Hestan is a California company, based in the beautiful Napa Valley. In the 1970's Hestan pioneered hard-anodized aluminum cookware, which led to innovations in the nonstick cookware industry.
You'll find Hestan in some of the most acclaimed chefs' restaurant kitchens, including Chef Thomas Keller's French Laundry, Bouchon and Per Se.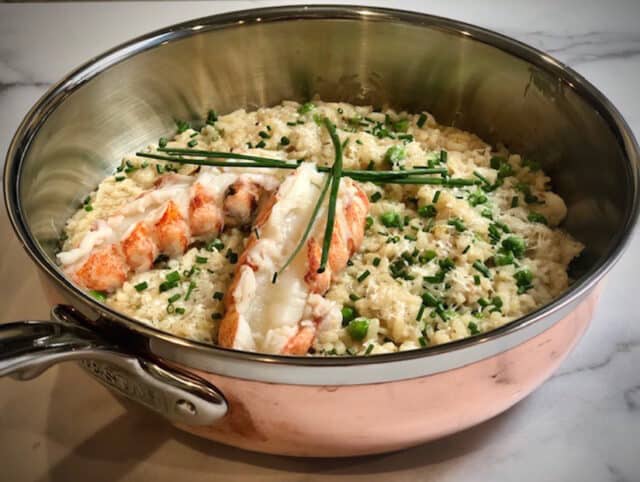 You might be familiar with copper pans hanging from a kitchen ceiling rack, as sort of a decoration. Copper looks absolutely stunning. But may be impractical for home use, as it reacts with acidic foods, producing a metallic taste.
But combining stainless steel in the cookware makes the CopperBond part of your everyday cooking. Other thoughtful design elements include flush rivets on the inside of the pan, drip-free rims means no-mess pouring and the magnetic steel base allows you to cook on induction stovetops.
This set is my absolute dream set. Precision cooking with the beauty of copper in my kitchen (on my stovetop….not just hanging as decoration!)
Video Review: Hestan CopperBond Cookware Set
As with any of my reviews, I'll list the cons of the Hestan CopperBond.
The handles can get hot during long cooking.
They do require more TLC than some cookware. You'll want to keep that copper shiny! But the polishing is super easy, and only takes a couple minutes per piece.
We are very familiar with the Hestan cookware line, as we have previously reviewed Hestan NanoBond Titanium cookware set, the Hestan NanoBond wok, and the Hestan NanoBond Essential Pan.
I. love. Hestan. I have two sets of cookware in my kitchen: A set of durable non-stick cookware – I have 2 teenage sons who really are too lazy to hand-wash cookware (grrrrr…..can you see the steam coming out of my ears?) This is the set they use when they cook like Tasmanian devils in the kitchen.
The other set is for me. My Hestan NanoBond set and the wok.
"But Jaden, what about this Hestan CopperBond set!?"
I've given the set to my Mother for Mother's Day. She's been ooohing and aahhhing about this set from the day I opened the box. Her kitchen is the perfect kitchen for this gorgeous set to be fully appreciated and loved.
Mom taught me how to cook, how to lovingly create a feast for my family. Once a week, me, the boys, my brother and the dogs all go to Mom's house for dinner. There's always at least 5 different dishes, plus rice, plus some sort of homemade Chinese soup.
Mom always manages to cook a dish that's special to each person.
"Jaden, I know you love this braised turnip, I made this for you!"

"I made your favorite fried shrimp!"

"I remember you have been feeling sick, here's special soup for you."
I love my Mom. Cooking and preparing food to nourish the people she loves is her life. So, the Hestan CopperBond belongs in her kitchen.
And….I know that one day, this set will be passed down to me.
You can find the cookware set from either Hestan's website or from Williams Sonoma.
Hestan CopperBond Giveaway
We are giving away one piece from the cookware – my favorite pan, which is the 3.5qt Sauté Pan, with lid (MSRP $500, on sale for $279)